Meanwhile, you can check out the best promo codes available now:
CODE

Verified

40% Off Offers Goibibo promo code

Go to the offers section at Goibibo and save even 40% and more! There is no need to use any Goibibo promo code to get the deal.

CASHBACK 70 INR CASHBACK CASHBACK

CODE

Verified

25% Off 1st Order | Macys coupon

Make an order for the first time at Macy's and receive 25% off Macys coupon when subscribing.

CASHBACK 1.3% CASHBACK CASHBACK

CODE

Get 20% Off for 3 First Months | Novakid India coupon code

Score 20% off the first three months, online classes, at Novakid. (Copy & apply the Novakid India coupon code at checkout).

CASHBACK 8 USD CASHBACK CASHBACK

CODE

Verified

20% Off Credit Card | Macys coupon

Open A Macy's Cards & get 20% off your purchases today and tomorrow from Macy's!

CASHBACK 1.3% CASHBACK CASHBACK
Black Friday: Hit or miss?
Picodi.com analysts checked how interest in Black Friday sales has changed over the years and conducted a survey among internet users to find out:
what buyers think of Black Friday,
why some people don't like it,
how many people are trying to shop on November 26, 2021
and which product categories are most popular among customers.
Big drop in interest
In 2020, Black Friday took place for the first time during the pandemic. Data obtained from Google Trends shows that the number of search queries related to Black Friday sales decreased by 37% last year. In India, the Black Friday peak was in 2019, and the decline in interest is already noticeable in 2020.
47% of the survey respondents confirmed their participation in Black Friday in 2020. Others didn't shop on Black Friday for various reasons: 21% didn't need anything, 9% complained about unexciting discounts, and 6% — about the lack of interesting products on sale. The pandemic also contributed to the decrease of interest in sales: some buyers preferred to avoid crowds (9%) or had a precarious financial situation (17%). Moreover, 38% of respondents forgot about Black Friday.
What buyers (don't) like Black Friday for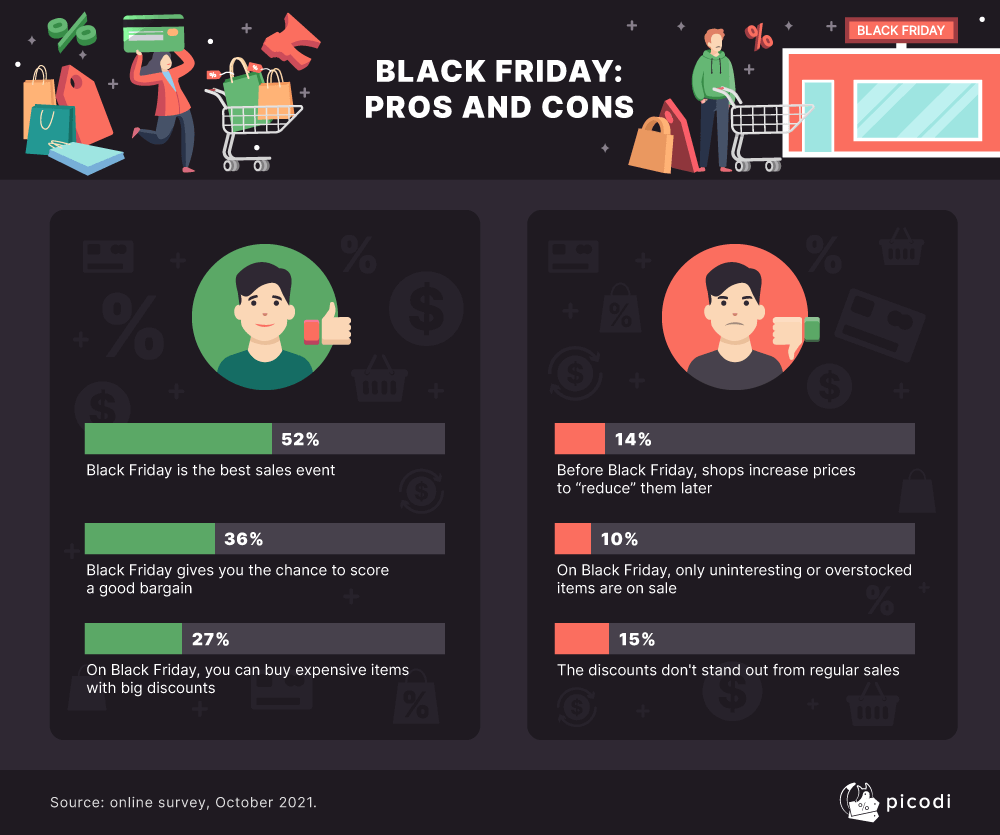 The results of the survey indicate that among Indians there is a more positive than negative attitude towards Black Friday sales. More than a half of Indians agreed that Black Friday offers the opportunity to make purchases on very favourable terms. 52% say that Black Friday is the best shopping holiday, and 27% say that Black Friday is an opportunity to buy expensive things much cheaper. On the other hand, 14% of respondents see fraudulent manipulation of product prices, when the price of an item is raised before the sale and then 'lowered'. 10% believe that products discounted on Black Friday are uninteresting or slow-moving, and 15% indicated that the discounts on Black Friday do not stand out from other sales.
Black Friday 2021: what will we buy, how much will we spend
50% of the survey respondents declared their willingness to participate in this year's Black Friday. 10% rejected the opportunity to participate in the sales, and 40% are still undecided. Among the factors that would encourage shopping on Black Friday, the possibility of getting a discount on a desired product is most frequently chosen (43%). Better discounts would convince 27% of respondents, and additional cashback, i.e. a return of part of the amount spent, would encourage 16%. However, 14% of people would not be convinced by anything.
We asked decided shoppers which products they are most interested in purchasing on Black Friday. Clothing and footwear (41%) came first, electronics and household appliances came second (27%), and cosmetics and perfume (23%) came third. The average customer is prepared to spend ₹6,500 on Black Friday purchases, compared to ₹8,400 in 2020.
Methodology
The report uses archived data from the Google Trends platform and online surveys conducted on October 15–31 2021 and August 28–September 13, 2020.
Public Use
Would you like to share information about Black Friday in India with your recipients? You can freely use the infographics presented in the report and distribute the results and conclusions of the report for both commercial and non-commercial purposes, indicating the author of this study (Picodi.com) with a link to this subpage. For more information or higher resolution infographics, please contact: research@picodi.com
Learn about Black Friday 2022 in other parts of the world
Popular stores and brands you can save money on with Picodi