Malaysia Airlines ◦ coupons ◦ August 2017
Here you can find the latest Malaysia Airlines promotions
Malaysia Airlines coupons, codes and deals that you've missed:
Similar promo codes, coupons and discounts
Sign up for the newsletter at KLM and be the first one to know about special promotions and great deals.…
Already used by 22 people

ongoing
Join Flying Blue at KLM, earn miles and enjoy special benefits! Click to start saving money from today.
Already used by 2 people

ongoing
Keep an eye on Tripsta's Deals section and never miss a good deal on air travel!
Already used by 1 people

ongoing
Book your flight to a wide variety or international destinations at Wego and enjoy saving money!
Book your flight to a wide variety or international destinations at Wego and enjoy saving money!
Download Qatar Airways mobile app and enjoy special discounts with your bookings made via the app. Download…
Discover Scotland and make giant savings thank to Etihad Airways! Travel to Edinburgh from Kuala Lumpur…
Keep an eye on JetRadar's deals section to never miss a good offer!
Keep an eye on American Airlines' Daily Specials to stay up to date with the best deals and promotions.
Malaysia Airlines promo code reviews by Picodi users:
shop.opinion.alert.success.label shop.opinion.alert-description.success.label
shop.opinion.alert.error.label shop.opinion.alert-description.error.label
More about Malaysia Airlines:
Malaysia Airlines coupons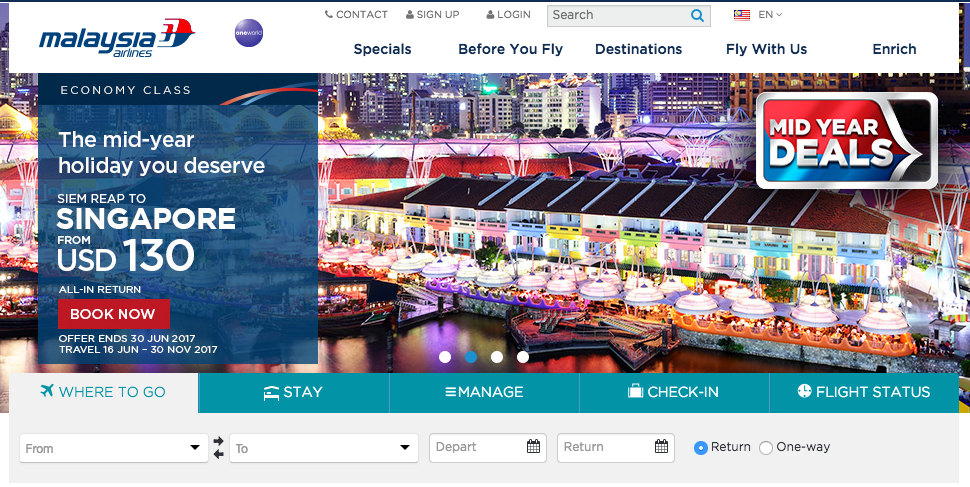 Exactly seventy years ago, Malayan Airways came into being. It was renamed as Malaysian Airways right after Malaysian independence. Malaysian Airways ceased its operations in 1972, giving birth to two airlines – Malaysian Airline system (MAS) and Singapore International Airlines (SIA).
Since September 2015, the airline has been managed by Malaysia Airlines Berhad and it is the national carrier of the Malaysian country. It offers travelers the best way to fly from, to fly to and around Malaysia. This airline symbolises the amazing diversity of the country as it captures the rich Malaysian traditions, cuisines, culture and warm hospitality with its service on board. It has opened up more destinations in the country than any other carrier. Along with its alliance, Malaysia Airlines offers a seamless experience in traveling to more than a thousand destinations in over one hundred and fifty countries, offering frequent flyer rewards and special privileges. It also offers access to over six hundred and fifty airport lounges in the world.
Branding
Malaysia Airlines has been using the slogan, `Going Beyond Expectations' from the nineteen nineties to about ten tears back in terms of international branding. It rolled out a Business Transformation Plan nine years ago. Its airline designator code MH, as allotted by International Air Transport Association, also stands for Malaysian Hospitality. It emphasises the hospitality extended by the cabin crew. Since 2013, a new slogan is being used, stating `Journeys are made by people you travel with'.
Sponsorships
A three-year deal of sponsorship has been signed by Malaysia Airlines with Liverpool Football Club that belongs to the Premier League. This agreement has given the right to Malaysia airlines to become the Official Partner of Liverpool Football Club. A six-minute video is always broadcast when the matches are held at Anfield which is the Club's home ground. It is being broadcasted between the 2016 and 2019 seasons.
Frequent Flyer Enrich Program
The frequent flyer program of Malaysia Airlines is known as Enrich. It is involving a variety of carriers, credit card issuing companies, banks, retailers and hotels all over the world. In September 1987, the Esteemed Traveller program was introduced by the airline.
Discount Codes and Promotional Offers
Malaysia Airlines offers for June 2017 and beyond include all-inclusive flight privileges which feature a thirty-kilogram baggage allowance for travelers, credit card charge waiver and free meals given in flight. Another offer is available that allows redemption of 30% Enrich Miles within Malaysia. These offers could be activated by visiting Picodi regularly!