Your perfect holiday
When you ask ten different people to imagine their perfect holidays, chances are they tell you different things. It makes sense because different characters and work schedules require a different approach to free time. However, there is a way to combine those different ideas with one solution that allows them to relax in the right way. By merely visiting Ctrip, all of them can book their perfect holidays in only a matter of minutes. You can do it too.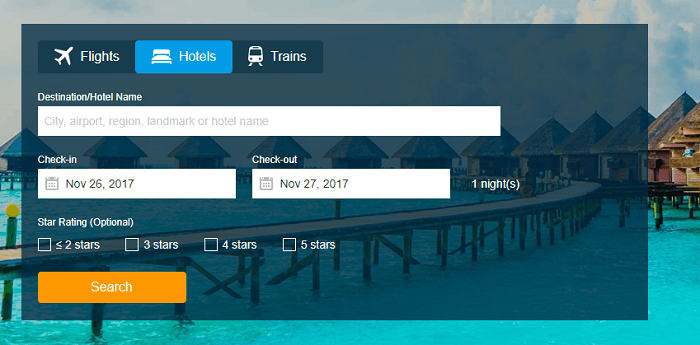 Picodi wants you to recharge your batteries in the way you see fit, but it also understands you need to count every cent you spend. Fortunately, all you need to do to save plenty of money is subscribe to the website and find the best deals possible.
Get the trip of a lifetime.
It has been proven that we need holidays to maintain our health and wellbeing. It has also been stated by the scientists that workers who get their annual holiday and aren't bothered with work stuff while away come back as much more efficient employees. This is why a vacation is something more than just time off work and money spent in the process. If you need a holiday finder that can give you everything you could need, Ctrip is it.
So where do you start? Agree with your boss when is the best time for you to go away. If you have done that (unfortunately, neither Ctrip nor Picodi can help you with that), you can go to the website and look for the best offer for you and your family or friends. For example, if you have a place to stay because someone else has recommended it to you or you have had it for years, and you wouldn't want to go anywhere else, look for available flights. Similarly, if you have received a free ticket or you're flexible with flight dates, you can just search for possible accommodation. It is purely your choice. Not a fan of planes? Ctrip has also got a wide range of train tickets for those who cannot or don't want to fly high.
You might also want something a bit more comprehensive, such as a package vacation. This is a perfect solution for all those busy people who just don't have time to look separately or they get their holiday allowance on the spot and cannot plan anything upfront. Everything will be sorted out for you, and you won't have to worry about any aspect of your vacation.
You might wonder what sets Ctrip apart from all the other holiday providers? The name itself tells it all as each letter stands for their values and mission statements. Customers are at the heart of what Ctrip does; teamwork is what allows them to work efficiently, respect is what brings more and more customers and clients back, integrity is the value that creates the environment of fairness and partners – only the most respected and recommended can provide their services on the website. If this is what you're looking for in your travel agent – you have just found it.
Ctrip discount codes
You don't need to do much to go on a holiday of a lifetime. Talk to your employer, sit at your desk, subscribe to Picodi and:
Find the best deals which are offered on this website. There might be plenty of them so read each one carefully. You should pay attention to terms and conditions and the expiration date.
Click on one deal and see if there is any discount code available. In such a case, copy it, however, if there isn't any, just go to Ctrip's website.
If the deal is about a specific offer, you will be taken straight to it. If it isn't, you can proceed to look for your perfect trip.
Set up your requirement and look for deals. When you see one, click on it and read the information carefully. If you like it, click on it and follow the instructions on the screen. Leave your discount code here, if applicable. Your price should drop.
Leave your details. You can also contact the holiday provider via one of the stated means if you need more information. If you don't, confirm your purchase and pay.
Go on your perfect holiday!
Trip, just like last year, will be participating in the Black Friday 2019 and Cyber Monday 2019 sales this month. Make sure to check regularly for new deals related to both events!