More about Redbus:
Redbus Malaysia promo codes
Do you like to travel without much hassle? Do you like just to go wherever the imagination takes you? If so, you don't always want to go through all the fuss related to booking a plane ticket. A bus, therefore, is the perfect solution! Now you don't have to go all the way to the station to purchase a ticket and waste your time for all the fuss related to it. The Red Bus can help you find the best connections throughout and between Malaysia and Singapore.
Picodi knows how crucial it is to manage your expenses well, but it also recognises that travelling is often necessary. It helps you get the best of the two by publishing a large number of deals every single day. When you subscribe, you gain unlimited access to all of them and they are delivered to your mailbox.
Red Bus for you
Red Bus is currently the best tour operator if you're going to travel through Malaysia or go to Singapore. However, the company is also present in other countries, like Colombia, India, Indonesia and Peru so if you're planning to go there – you can use it as well. Join 8 million of customers that have already tried it and love it for their travel!
Red Bus allows you to be flexible. If there are any changes you need to make in your booking, the system will allow you to do it quickly and conveniently. Simply enter the details of your reservation and confirm the changes you want to make. As long as there are seats available, you'll be happy with the service. What if you need to cancel? Changing your plans can be stressful enough so as long as you use the service, you will receive the refund.
If you need to hire a bus for some reason, Red Bus can also help you with that. Why would I need my own bus, you might wonder. One occasion can be a family celebration when you need to move the entire family and a whole bunch of friends from one place to another, it's much more convenient, and it helps to have everything and everyone in order.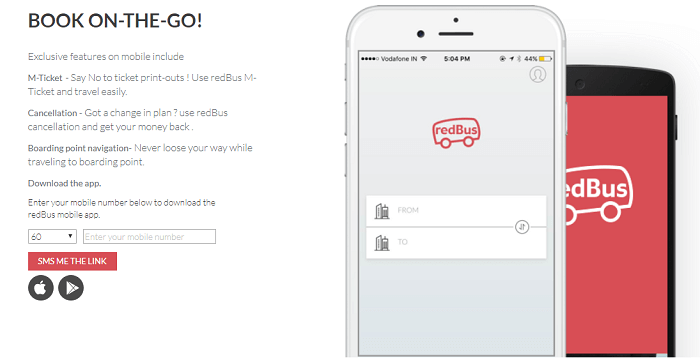 You can use the service as an individual, but you can also partner with Red Bus to expand your own business. For example, if you're a tour operator, you can give your customers a varied offer of journey options. What does it mean? You get the live ticket booking, which means your agents get access to the free seats and global inventory. That's very useful if you sell international travel to any of the countries covered by Red Bus. As a partner, you can also receive help at any time from the round-the-clock assistance. It will only benefit your business from now on.
What about savings? Every little helps so check out the available promotions that are published on the main site. You can save money with coupons or receive cashback just to get that little bit back in your pocket. Don't have the time to sit in front of the computer and book your tickets? Download the online app on your phone and reserve your seats on the go. Make the best of the online technology.
Red Bus promotions
If you want to save even more money and you want to do it conveniently, don't hesitate to:
Redbus, just like last year, will be participating in the Black Friday 2021 and Cyber Monday 2021 sales this month. Make sure to check regularly for new deals related to both events!
Subscribe to Picodi do gain access to a multitude of deals and offers, delivered to your mailbox.
Click on the link in your mail and go to Picodi to view all of the great promotions. When you find you're particularly interested in, check the expiration date, read terms and conditions and click on it.
Should a promotional code appear in front of you, copy it and save.
Go to Red Bus' website and start booking your tickets. Enter the departure and destination stations, the onward and return dates and click 'search.' You will receive details of the time of your possible travel, how many seats are available and how many are there by the window, and the customer reviews. With all of this, you will be able to make an informed decision.
Remember that some tickets may or may not be refundable. You will find this information before you decide to book a specific ticket.
Follow the instructions and book the seat. Enter your promotional code when asked.