More about Thread Theory:
Beautiful fashion
Effortless fashion – is that even possible in this day and age? One that compliments your body and is feminine, but at the same time, meets the conditions of the contemporary world? If you want to love what you wear and not wear what the society tells you to, check the Thread Theory's catalog of beautifully-made and stylish clothes that your body will love. Dressed to the occasion, you will stun everyone you meet.
If you're looking for incredible savings for your fashion sprees, look no further. Picodi can equip you with essential tools for cheaper spending – promotions, codes, and vouchers. With such a big selection of deals, your Thread Theory shopping will cost you less, and you will be much more satisfied with the outcome.
Thread Theory
Every garment starts with a design and thread. From the initial idea to the result, the Thread Theory will show you how to dress beautifully and stylishly for any occasion. Just click on one of the categories, and you will be taken to the world of feminine fashion that makes a statement of its own.
If you're all about the trends and you always want to look as if you stepped off a fashion runway, check out New In. Clothing that meets the latest and combines it with the classic are all placed in this category and you are spoilt for choice from mini to maxi dresses. All the other garments, from tops to bottoms will complement the unique character of your body type.
If you're planning the big day in your life that is your wedding, you don't need to spend thousands of dollars on your attire. Shop for a stunning dress and dinner outfit at the Thread Theory for an elegant and stylish look everyone will remember. Take your bridesmaids for an online shopping spree and have fun while doing it. Don't forget about the accessories to finish your look. Comfortable shoes will take you anywhere you want, and an elegant bag will keep all of your essentials handy.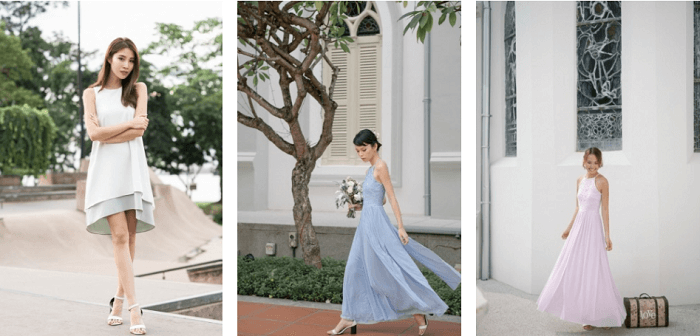 If you want to see what it's like to wear Thread Theory's clothing and be fashionable at all times, check out Signature line. Clothes which bring uncompromised quality, detailed finishing and best fabric are all under one roof for you to choose from. A variety of colors and lines will allow all women find clothing that can beautifully hide their flaws and accentuate their high points.
And what if your budget is tight and you still want to look fantastic? Fear not, as the Sale section has got everything for which you could hope. Dresses in a range of styles and for any occasion are discounted to great prices to make them even more accessible to you. Fantastic prices for stunningly well-made clothes – that's Thread Theory's Sale.
So how do you find your perfect garment if there are just so many of them? It's simple – all you need to do is use the filters on the website if you're having trouble locating the clothes you want. Choose your size, style, and availability. You can use all of them or just one – it's totally up to you. Once you do that, only personalized results will appear on the screen, and you will be able to buy them instantly.
Thread Theory coupons
Now that you know everything you need to about the clothes, it's time to learn about saving money. It's straightforward, all you need to do is:
Subscribe to hear about newest offers from the store. When you visit Picodi, click on the deal you find the best and copy the coupon code you find on the screen. No code at this time? No worries, you will go to the store's website automatically.
Start browsing the catalog and look for items you wish to have. When you find one, add it to your bag. Continue shopping or review your order.
Add your coupon code when asked and confirm your order by making the payment.
Wait for the delivery to arrive.
If you like what you have just seen, check out more with Lazada and Zalora.