Shelflife ◦ promotions ◦ September 2017
Here you can find the latest Shelflife sale
Save on your Shelflife purchase and shop the products from the sale category. Click to start shopping.
Subscribe to ShelfLife newsletter and receive the best discounts and hot deals delivered to your inbox. Click below and sign in your email address in the Newsletter box on the landing page.
Shop for best sneakers and streetwear at ShelfLife and enjoy free delivery of your shoppings across all South Africa + Worldwide shipping option is also available.
Shelflife coupons, codes and deals that you've missed:
Similar promo codes, coupons and discounts
Shop Zando App and get 30% off on your first purchase thanks to Zando promo code from the landing page.…
Already used by 3323 people

ongoing
Shop Foschini Sale to get even 60% off on selected products. Head to the landing page to enter the discount…
Already used by 1698 people

ongoing
Shop Sportscene Sale to get even 75% off on selected fashion items. Head to the landing page to enter…
Already used by 1161 people

ongoing
Click to check the latest deals available in Ackermans and get a chance to save up to 80% off. Don't…
Already used by 399 people

ongoing
Shop at TBdress during Summer Sale and get 10% off on all your orders thanks to this TBdress coupon code.…
Already used by 27 people
Shop for Guess accessories including watches, necklaces, bags, rings and other with prices starting from…
Already used by 2457 people

ongoing
Get 20% off on all products at Markham if you are a student and show your student card in the store on…
Already used by 267 people

ongoing
Take extra 10% off on sitewide orders, thanks to this Rose Wholesale coupon code. Apply the code at checkout.
Already used by 54 people
Shop Flash Sale at Ericdress to get even 80% off on selected fashion items. Head to the landing page…
Already used by 3 people

ongoing
Take extra 10% off on sitewide orders, thanks to this Rosegal coupon code. Apply the code at checkout.
Spend Over $40 at FairySeason to get 5% off with this FairySeason coupon code. Simply upload when ordering…
Subscribe to emails at CHICUU and be the first one to get all the latest offers and promotions delivered…
Shelflife promo code reviews by Picodi users:
shop.opinion.alert.success.label shop.opinion.alert-description.success.label
shop.opinion.alert.error.label shop.opinion.alert-description.error.label
Shelflife: great Streetwear at great prices
Having your own data-style is something you're not necessarily born with. The good news is that there are people out there who can make sure you always look your best with the right clothes and accessories. To make ensure you have full access to the right attire, Shelflife went online and so you can shop on the internet for clothes that will fit you perfectly and any extras that you'll actually be able to wear.
Shelflife is a clothing and accessories store that has been well known for its extremely high quality products and excellent customer service. Its mission is to provide their customers with stuff that is comfortable, defining and durable. They've got some very well-known brands that people across the world have loved for decades.
To make sure you can take full advantage of what the store has to offer, take a look at Shelflife discount codes available at Picodi.co.za. This is a place where the best brands and companies advertise by simply giving you free stuff. You might want free delivery on one of your largest orders or perhaps go on an online shopping spree with a 50% off deal. Take your pick and rejoice in opportunities that internet stores give their customers.
What is Shelflife?
Shelflife is the go-to store if you're looking for the premier streetwear. It was founded in 2006 but quickly moved to the internet to sell clothes to international customers. It paid off, because people immediately loved to buy authentic streetwear at truly affordable prices. The store stocks only the best quality products so customers don't need to fear that what they get in return for their money is a fake.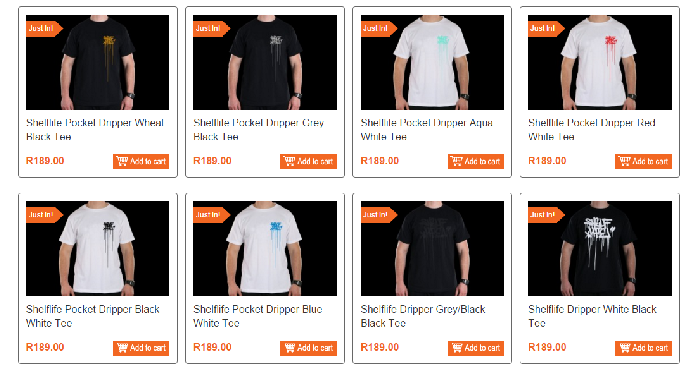 Clothes are more than just a piece of fabric you need to wear outside your home. Clothes can become a unique and ultimate expression of your data-style so staying true to yourself is easy with Shelflife. At these prices, anyone can be whoever they like. Shipping in South Africa is free but buyers from around the world can enjoy low delivery prices. Packages are sent within 1-2 days from placing an order and they are insured so that you don't have to worry about the quality of products you buy.
Shelflife Range
It doesn't matter whether you like to dress in streetwear from top to bottom, or just accessorise because you work in a bank, Shelflife has everything you need to emphasise your data-style. Perhaps you like to wear fun socks or belts with your suit to let the world know your personality, no worries then, because the store has a full range of great quality clothing. If you're a sneaker fan, you will love the vast selection of trainers by most well known and loved international brands, which will last for years. It is the embodiment of quality and price combo that you just won't find anywhere else.
The store has clothing and accessories range for men, women and children so your whole family can dress exactly the way they want to.
How to order at Shelflife
Ordering with Shelflife and Picodi is really easy. Here's a super quick info pack about how to take advantage of online shopping:
First go to http://picodi.co.za/shelflife and browse through current offers that Picodi and Shelflife has prepared for you. Pick one and click.
You will then be transferred to Shelflife website where you can take your time shopping. Whether you need a pair of sneakers in your size or a watch for your partner's birthday, it's all there. Choose the product you wish to purchase.
Don't worry that the pictures don't show the right product. All photos are taken onsite so what you see is what you get.
Go to cart, which is located in the upper right corner. The number next to it shows the number of items you've selected.
In the cart section you can decide whether you're happy with the order and redeem your Shelflife voucher code you got from Picodi. The price will be discounted accordingly.
Proceed to checkout and enter payment information. In the meantime you will be asked whether you'd like to select anything else. Shelflife accepts most payment options for online shopping including credit cards, debit cards, Paypal, and more. All payments are secure. Choose delivery options and there you have it.
Purchase done, here comes the hard part – the wait.
Now, since you've saved quite a lot of money shopping on the internet, don't stop there and take a look at some other deals that Picodi.co.za has prepared for you. You might be interested in Monica Vinader's jewellery that will complement your wear or perhaps Wrangler jeans for the most comfortable bottom wear ever. It's all there, just for you.
Watch what Shelflife stands for here: