ProBikeKit
Are bicycles the love of your life? Or maybe you gave up cycling the moment you were too big for your favourite kid's bike but you would like to try again? Maybe you're just a beginner willing to start a great adventure with cycling? Regardless of your experience, you need a high-quality equipment to fully enjoy the ride and you certainly don't want to ruin your budget on that. So, you want a good gear and a good price at the same time? You've come to the right place.
ProBikeKit is a British e-commerce company specializing in selling road bicycles, cycling equipment and accessories. It was founded in the late 1990s by a small group of cycling lovers who knew that no one can understand a cyclist as well as other cyclist. By combining professional approach with passionate hearts they created a fast growing company that was soon praised for the high quality of offered products, affordable prices and helpful customer service. ProBikeKit delivers to over 100 countries around the world and has thousands of satisfied customers.
Offer
 
The ProBikeKit offer includes hundreds of brands and thousands of top quality products. The website offers everything that you could need for your adventure with cycling, whether you're a beginner or an experienced cyclist. You can buy bikes and frames, wheels and tyres as well as various components and accessories. Apart from that, you can choose from a wide selection of professional cycling clothes and footwear. The broad offer of energy drinks, food and gels will keep you powered even through the wildest rides while products dedicated for training and performance will help you to top your speed and endurance. At ProBikeKit, you may also equip yourself with clothes and gear for running and triathlon because... why not?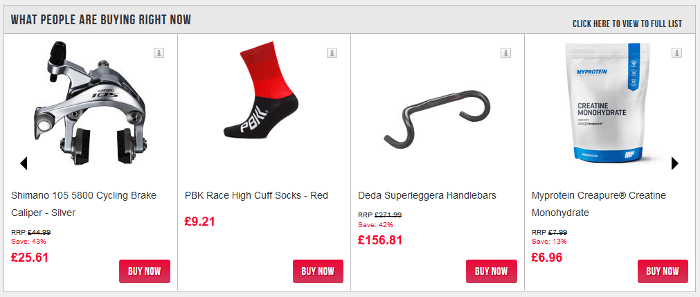 Shopping
 
To buy something at ProBikeKit, browse available categories or use a search box to find what you're looking for. Narrow your search results with various filters such as size, colour, and price. Click on a product to read its description. Choose size and colour and click on "Buy Now" to add it to your basket. In your basket, under the list of your products is a place for entering a discount code. Get one by visiting the Picodi website. Just find an offer for ProBikeKit, check the list of ongoing promotions and choose a code you want to use. Click on a green button to reveal it. Copy the code and paste into the box in your shopping basket back at ProBikeKit. After that, you may go to checkout. You will need to create an account to place an order. Enter your billing and delivery information, select a delivery option and payment method. Confirm and pay. Simple, isn't it?
Community
 
Whether you are "the-more-the-merrier" person or rather an enthusiast of long rides all alone, it's good to keep in touch with the community of similar cycling lovers. And you can meet such wonderful community at ProBikeKit. Follow them on Facebook or Twitter to catch up with other people for whom cycling is not just a hobby but a whole lifestyle. You can also visit ProBikeKit blog to read the latest news from the world of cycling, product reviews, info about incoming events and fitness advice. If you are at the beginning of your cycling adventure or just want to improve your current gear, it's good to read some buying guides prepared by ProBikeKit experts. From the choice of the best bike, through the most useful accessories, to the most comfortable clothes – you will find information about all the factors you should consider before buying as well as all the difficult terms' explanations. If you have any questions that aren't answered in guides, contact customer service – they will be happy to help you.
Promotions
 
It may seem overwhelming to gather all the equipment that should be gathered to make your cycling as safe, comfortable and enjoyable as possible. But when you shop at ProBikeKit, you don't feel overwhelmed at all! Not only because you're guided by experts, but also because of unbelievably low prices and great promotions. Visit the Clearance section to find discounted products and keep an eye on frequent deals like free deliveries and huge sales. Sign up for a newsletter to not miss any of these sweet, money-saving opportunities. Get a friend to share a referral code with you to add a special discount and then refer your other friends to get even more discounts. And of course, don't forget to visit Picodi.com/uk for your dose of free discount codes!
There are many more awesome promotions for cycling lovers at Picodi! Check out our offer for Evans Cycles, Wiggle, and others.
Watch this awesome bike's review: