Wayfair
Nothing extraordinary in ordering your food online, right? It's something that we all already got used to. Shopping clothes online? Same. What about... furniture? Can we just replace countless hours of wandering from shop to shop and from alley to alley with sitting comfortably at home and finding everything we need in mere seconds? Well, yes... yes we can! Where? At Wayfair.
Wayfair is an online retailer selling home furnishing and decor items. It was founded in 2002 under the name of CSN stores by Niraj Shah and Steve Conine. The first offer included media stands and storage furniture but was quickly expanded to encompass other furniture and materials as well as decor products and home improvement goods. At the same time the company was growing rapidly, creating new websites and joining new markets. In 2011 the name was changed to Wayfair and all its small websites were merged into Wayfair.com. The company doesn't bother to build any physical stores – Wayfair team knows very well that the Internet is a future of shopping and is proud to offer a zillion things home.
A zillion things? Really?
 
Well, why won't you check for yourself? Better start now, because you have over seven million products from thousands of brands to check. And the offer is being expanded constantly. There are ten categories to provide you with everything you need for your home and garden. Everything is further divided into appropriate sub-categories for easier searching. It's no wonder that Wayfair claims that you can find everything you need on their website.
A future of shopping
 
Is buying furniture online really better than going to a store? Let's see... We want to buy, say, a bed. A solid, king size bed. As we don't need to go anywhere, we can stay in our comfy clothes with a mug of hot chocolate (or whatever we like) in our hand. One point for Wayfair. We look for a bed going through appropriate categories or just enter the phrase into a search box on the top of the page. And we are immediately directed to a page with a selection of king size beds. Did anyone get lost in a nearby wardrobe department? No? Guess it's another point for Wayfair then. On the left side of the page we can find a set of filters, slightly different for different products, to better customize our search. And after we find what we possibly want to buy, we have instant access to a detailed information, specification and customer reviews of every product. No need to read all the labels, no need look for a shop assistant (how do they hide so skilfully?), no need to... um... ask random bystanders for opinion? So... three full points for Wayfair.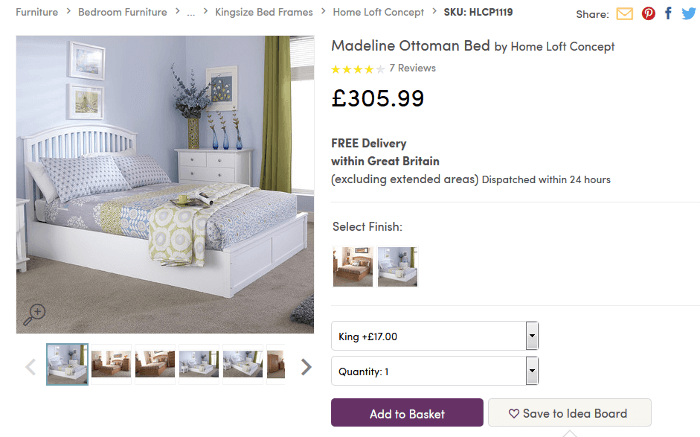 We browse such amount of products that would never fit in a real-life store – guess who's got one more point? And finally, we find our perfect king size bed and we want to buy it. We add our product to basket (imagine doing that in real life) and go to the checkout. Mind you, no long queues or problems with terminal – yet another point for Wayfair. To check out we need to register an account – well, it's one point for real-life shops then. Now, we need to enter delivery and payment details and we can place our order – here we have a tie. As we wait for our order to be delivered we can pass the time with counting. Didn't take long: seems like real-life shopping has just lost 7-1 to Wayfair. Do we really need to say more?
We do and we will
 
Because a simplicity, convenience and quickness of shopping with Wayfair is just the beginning. Wayfair people not only do their best to ensure that you quickly and easily find everything you need for your home. They want to guide you, help you choose the best options and inspire you to discover great designs and neat ideas. Click on "Get Inspired" on the top of Wayfair home page and you will find ideas and advice created for you. You can check gallery of already designed and furnished rooms, check interesting projects for DIY, read guides on buying, measuring, styling and find a while to visit Wayfair blog for fascinating stories, easy recipes, more guides and general tips and tricks.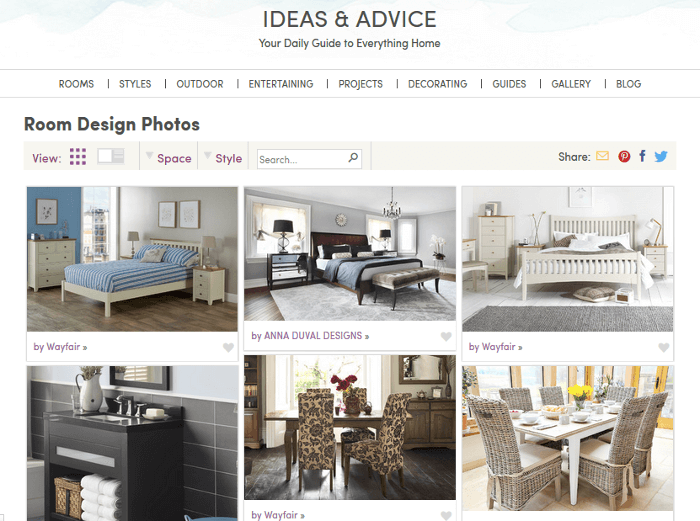 And yes, that's still not all. What else is there? Maybe amazingly low prices with outstanding discounts? Exactly. Wayfair team tries to keep their prices competitive but sometimes you're on a tight budget or just feel that you should save more... In such case you have a number of options. You can find a discount code on Picodi. You can refer your friends or review products to win Reward Dollars. If you feel lucky you can take part in Giveaway Sweepstakes for free and win a product from a random category. You can also buy from Wayfair sale offer that allows you to save up to 70% on your favourite products! So... what are you waiting for? Check latest Wayfair Black Friday offers at Picodi.
Picodi offers free discount codes also for other furnishing and decor stores. Check out Argos, Cath Kidston, Wilko and see it for yourself.
Every year Wayfair prepares special offers for Black Friday and Cyber Monday. 
All promo codes and discounts for Black Friday 2018 and Cyber Monday 2018 can be found on dedicated special pages.