About Homebase
Homebase is a British leading home improvement retailer and garden centre, offering more than 38,000 products for home enhancement, DIY needs, decorating, and garden. Together with its sister site Argos, Homebase is a part of Home Retail Group, a leading provider of home and garden products. For the time being, Homebase operates more over 340 large stores throughout the United Kingdom and Republic of Ireland (its sister store Argos owns more than 730 store and is considered the biggest general-goods retailer in the UK). Homebase employs around 19,000 people and serves more than 64 million satisfied customers a year and thanks to its online store homebase.co.uk this number is still growing. 
Homebase.co.uk is the best shopping destination for those who are looking to turn their house into home they will love. The site comprises a huge range of products separated into such categories as categories: kitchen, bathroom, furniture, homewares, lighting, floor & tiling, decorating, heating & electrical, DIY, tools & hardware, garden & outdoors. 
Homebase also offers a number of recognisable brands, including:
Habitant,
Laura Ashley,
Odina,
Schreiber, and
Qualcast,
Philips,
Morphy Richards.
Whether you are looking for kitchen furniture, a new floor lamp , or you plan to redecorate your entire living room, Homebase online store is the place you should immediately visit. On Homebase you will find a wide range of products and trends for your home. If you need some help or you are looking for inspiration, visit the "Inspiration & Advice" section where you can read some brochures, buying guides, tools and calculators and should facilitate the buying and decision-making process.
Looking for some inspiration? View one of the Homebase TV ad:
Let's not forget that Homebase is also known for its numerous discounts and vouchers created for customers. In the section "Latest Offers" you can learn about the products on sale or the latest promotions and discount codes. If you are a bargain hunter and a fan of Homebase products, visit Picodi.com/uk/ to get the up-to-date list of Homebase promotional codes and deals. All the information you need in one place! Read our short guide on how to buy on Homebase.co.uk using special codes.
STEP 1. Search for Homebase on Picodi
Visit Picodi.com/uk/ and search for Homebase.
STEP 2. Choose your offer
You reached the Homebase page and you can the list of valid Homebase offers (green colour). There are two types of offers: deals and codes. Click on the offer you find most interesting.
STEP 3. Go to the Homebase website
You are redirected to the discount area on the Homebase website. If you were tempted by the discount code, you will find the exact code you will need to enter in the promo code box at checkout.
STEP 4. Add selected products to the basket
Now, browse through the products covered by the promotion. If you find what you were looking for, add the product to your basket by click ADD TO TROLLEY. As you can see in the below example, Homebase won't let you forget about the code that is currently available for all the customers! Right in the product description, you learn that by using the code you can save 15% on your purchase! What a bargain!
STEP 5. Enter Homebase promotion code
Enter your postcode to check delivery availability. In the next step you will be informed if the items you want to buy are available for delivery.
STEP 6.  Double check your order
You are at checkout. Once again you can double check every single detail of your order. The most important is, of course, the subtotal. The costs of delivery were automatically added (£8.95). But wait a minute, there is a promotional code field! Type in or paste your discount code into the field 'Promotional Code' and then click APPLY. You will receive the message that "the discount has been applied to your order" and you will immediately notice that the order total is changed! Congrats, You've just saved £ !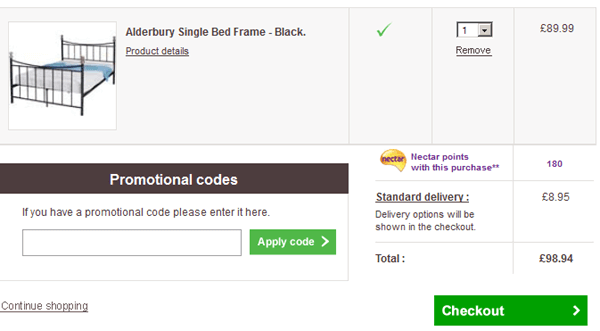 STEP 7. Enter delivery and payment details
You will be directed to a secure checkout page where you can enter your delivery and payment details. Fill in necessary information and go to payment. Next, grab your credit or debit card and make a payment.
STEP 8. Enjoy your savings
Enjoy your saved money and wait for the delivery.