More about Wild Wild Wet:
Go out and have fun!
Letting your kids spend time in the digital world for the entire day is not just unhealthy but it does nothing good for their relationships with friends and family. The same goes for adults who can't imagine their lives outside of work or the internet. If you don't want to let your children, friends and family forget about you, and you're looking for fun ways to spend time with them, don't forget about Singapore's largest water parks – Wild Wild Wet.
Picodi believes in the power of family and friends relations. And even though it is an online platform, it gives you discount codes and vouchers to places where you can go and have plenty of quality time with the people you love. Enjoy every second of it for much less.
There is absolutely nothing wrong with having fun. We are all so consumed with our work or school that we sometimes forget what it's like to have some proper relations with other people. We teach our kids to be successful in life and about the power of education but we forget about the fact that children need to have fun as well. It's the same for adults – work isn't everything and in order to maintain proper work life balance, we need to get off work and properly restore our energy levels.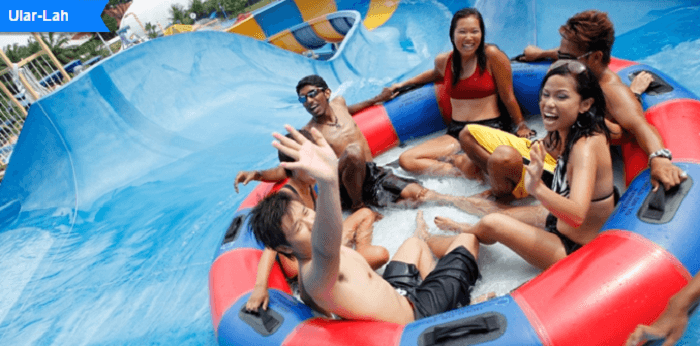 At the Wild Wild Wet you will receive a variety of services that will make your day especially pleasant. The most popular option is to purchase a day pass, in which you have access to all the standard attractions for the entire day. You can have fun, rest, eat and change clothes on site so there is no need to go out while you're having fun. If after a few occasions at the park you see this is the right way to spend your free time, you can sign up for membership which will give you access to plenty of other services. You can also rent a towel or a cabana float for an enhanced experience.
Do you want to make your child's, or even your own, birthday absolutely special? You can rent the park services for the occasion and ensure your guests will have as much fun as they can. The resort also gives you an option to solemnize your relationship onsite, which will add that special twist to the entire event. You will be able to stay at the executive room, have a free flow of hot and cold drinks, a buffet menu and theme decorations to your liking. Make this day even more special.
Everybody loves a bargain so why not check which ones are available at the moment? Click on promotions to see what your ticket can give you. If you prefer to go into the park in the less crowded times, you can pay less for off-peak admission and if you're a student – you won't have to pay the full price either. If you're an NTUC member, your tickets will also be cheaper as the resort wants to provide meaningful physical entertainment to you as well.
Have a company and want to organize an event at the park? No problem at all! Simply request specific areas and services, or ask what the park can give you within a package deal. You can celebrate a new member into your corporate family or send one off to their retirement. Anyway – you will receive the best possible price and they will have the best possible memories.
Wild Wild Wet promo codes
No need to worry about the costs as you can now easily save on quality entertainment at the Wild Wild Wet. All you need to do is:
Get a glance of deals offered just now by the resort. Choose one that you like the most and check its expiration date. It's important because if you're planning to visit the park in a few days or even weeks, the deal could be off.
Click on the deal and the promo code will be revealed. If there is none, you will be taken onto the park's website.
Start looking around the website to find the best option for you. If you have decided which one you want, go to the park and purchase your ticket. If you have a promo code, just quote it to the cash assistant. If you're a student, show your student ID to redeem your voucher.
Enjoy fantastic time with people you love!
Need even more fun? Check out vouchers and promotions to Sentosa or to Singapore ZOO. That's quality entertainment right then and there!
Look out for the best promo codes and deals soon! Wild Wild Wet takes part in such shopping events as Black Friday, Cyber Monday, 11/11 and 12/12. These are the biggest online sales of the year, and the best discounts can be found on our website - all in one place. Don't miss the chance to bag a massive bargain!