Your sale your way
Are you tired of online stores that offer only high fashion clothes at skyrocketing prices that normal people would never be able to afford? Do you want to find a place on the internet, where all the clothes are available at regular prices and you can still clothe all your family in good quality garments? My Sale is the place.

Picodi can help you get even more from the website. By subscribing to the website, you can gain access to only the most competitive promotions on the web and spend less than ever. Visit often not to miss any opportunity.
Your Sale
To view deals and offers from My Sale you need to register your account. This way you will effectively be informed about all of the promotions that pop up. Most people, depending on their personal circumstances, would like to be offered good quality fashion for the price they can afford. A student who works part time and thinks twice before they spend. A bread winner, who has a lot of expenses and needs to plan in advance. People who simply don't like to spend their money irresponsibly. All of them might have one thing in common – they want to get good value for money.
Women can find their favourite clothes with just a click of a button and not have to scour the net looking for clothes that fit, are well-made and don't cost a fortune. All you need to do is click on the sale tab to be redirected to the brand's section and pick from many of the categories. What's even better, you can style up for less with many different designer brands, from regular, approachable and inexpensive to high fashion like Versace.
If you're a man who values their money as well as quality, there is no better place to shop for clothes and beauty products than My Sale. Offers are updated daily, which means you will never have to worry about an invalid coupon and you won't have to waste time on the internet, in search of a deal. Buy everything from trainers for your afternoon session to a wedding suit, which will enchant your bride with elegance and style.
What about children? They are the joy of our lives and bring us much happiness but looking objectively, they cost a lot of money. When you think of it, they grow up extremely fast, their clothes stop fitting within a few months and you constantly need to find new toys to buy them. This is just another reason why you should visit My Sale at once. Your finances will not suffer a great loss anymore when you shop for kids' apparel and you'll feel better seeing them wear new clothes and playing with the latest versions of fantastic toys.
We want to live in nice a nice house, don't we all? We feel the need to surround ourselves with things that exemplify our personality and character, and it doesn't matter whether it's a semi-detached bungalow or a one bedroomed apartment. But furnishing your place can often be very costly, so instead of looking elsewhere, go straight to My Sale store. You will organise all your clothes and textiles in a convenient closet and you will equip your kitchen with handy tools for cooking and sharing a meal.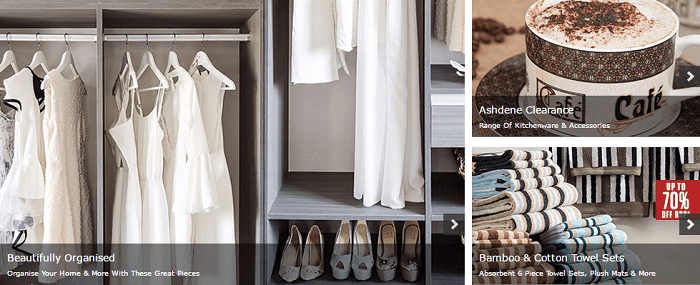 Beauty products don't always work the same way for different people. It all depends on the condition of the skin, on age and hormonal changes every person goes through at different stages of their life. Some people need to buy some more expensive cosmetics to achieve a satisfactory effect, while others can stick to good quality, inexpensive products. Whether you're one or the other, you can fill your beauty drawer with items from My Sale. Popular or high-end brands are all discounted and available on promotions.
My Sale coupon codes
Having your bank account full is a nice thing, especially if you have the luxury or purchasing the things you need and not needing to spend a fortune. Here's how you do this with Picodi:
Take a look at deals and offers, which are on right now on Picodi. Click on one deal and see if the code pops up. If it doesn't, you'll be taken straight onto My Sale's website.
Start browsing through the website. Use the general menu on the top of the page to determine the categories you need to look through.
If you want to, you can also try to find a specific product or a brand by entering its name into the search box.
If you see something you like, click 'enter sale' to see it in more detail.
Click on the product you want to buy and real all the details. Add it to cart, should you want to purchase it.
Click on the checkout to review your order and apply any coupon code you might have.
Enter your address, shipping details and pay using your card or PayPal.
Shopping on sale is now a regular thing for most people. Visit Picodi more often to see what's available!
If you are looking for even more sizzling discounts and promos, visit our Black Friday 2018 and Cyber Monday 2018 websites. Grab yourself a bargain straight away!