Have you ever whished to have every song every written downloaded and ready to play on your computer? That possible now with services like Spotify, Apple Music and Tidal. How about movies and TV shows on demand? Also available through VOD websites like Netflix and services like HBO GO, Amazon Prime or iTunes store. Same goes for eBooks, which are available to you on Amazon's Kindle Unlimited and Scribd. Now, imagine something similar with tasty takeaways. No, unfortunately it's not all-you-can-eat monthly fee J But close – it's a place with menus from thousands restaurants from whole Australia.
Why wasting time looking through ten different restaurant websites looking for something delicious when you can see it all in one place? It's not only time-saver, but also money-saver, because you can easily compare offers from various restaurants. It's like a proxy, so you only need to create one account to be able to use thousands of places instead of creating separate account on different sites to use them when you don't feel like cooking.
How does it work?
The procedure is simple. You start by creating an account and providing your data – those will be used later for delivery and payment. When you have an account you just use your credentials to log in either on the website or mobile app to start looking for something delicious. Right now you can look for food at more than 7,500 restaurants around Australia. Apart from saving time, there an added value – you can easily spot special offers and discounts that different restaurants offer in any given time and on top of that, you can also be a part of the Menulog community, so you can share your opinion about different restaurants and read other users' ratings. So, when you visit Menulog you should see very simple search bar – just enter your suburb or postcode and click "Let's go" and you will see every restaurant that delivers food to this location.
The list is quite long and useful – it's full of information like opening times, type of cuisine, users review and special offers. On the left there is a filter section where you can choose what kind of restaurants you are looking for. You can choose between pizza, Thai, Indian, Chinese and many, many more. You can also sort the results by user rating, delivery speed or others. When you find something that you like click "See menu" and browse for something tasty.
 Use "plus" icon to add something that you like to your order – it will be shown on the right side, so you always know how much money you'll need. When adding something you will be asked to choose some option like whether you like rice or noodle, sweet and spicy sauce or barbecue etc. When you click "place my order" you will be redirected to checkout. If you don't have an account you will be asked to provide some information like delivery address, contact details and payment options. There are multiple options like Visa, AMEX, MasterCard, PayPal and, obviously, cash. This is also the time to use Menulog voucher code. Just write it in proper box and hit "Place my order." You don't have to visit the restaurant's website – everything goes through Menulog portal.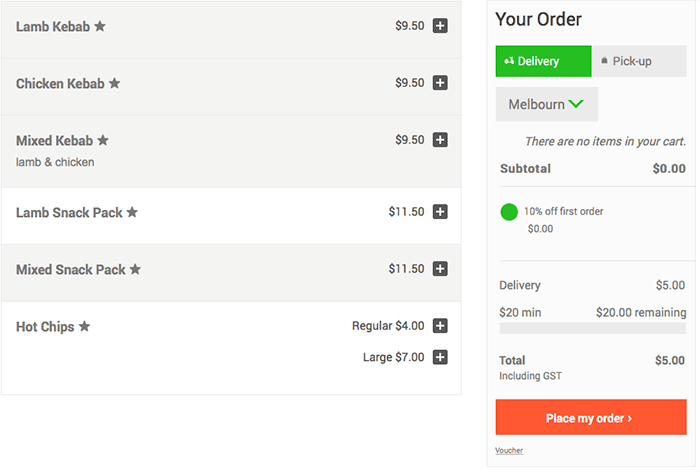 Menulog Gift Vouchers
There is an option to surprise your friends with Menulog Gift Vouchers. There are easy to buy and use codes – everything happens online. First, select amount and quantity of vouchers that you like to buy. You can choose between $10 and $50 in $10 increments. Then fill up your contact info and recipient's data and your payment method. The recipient will receive an email with the code, so he or she can start choosing from 16,000 specials in 7,000 restaurants.
If you are a restaurant owner and you would like to be a part of Menulog, there's a button "Add Your Restaurant +" on every page, register your business and find thousands of new potential customers. It gives you an advantage, especially if you didn't have online ordering before – now, Menulog will provide you with Incoming Order Terminal, which will work with their website, so you only have to worry about delivering great food to your new customers.
Enjoyed your meal, but still hungry? Try UberEATS and Domino's with modern delivery methods or go to McDonald's for more traditional ways of food ordering.