Makro ◦ discount codes ◦ May 2018
Here you can find the latest Makro voucher codes
Makro coupons, codes and deals that you've missed:
Similar promo codes, coupons and discounts

Provide your details on the landing page and take a chance of winning Takealot R1000 vouchers. Click…
Already used by 16580 people

ongoing
Head to the landing page to check the latest Aliexpress coupon codes which let you to save up to $50…
Already used by 466 people

ongoing

Sign up for Wantitall emails and collect your R50 off gift voucher valid on first order. Click to get…
Already used by 460 people

ongoing
Shop at Bottleshop to get special offers and save up to 50% on selected liquors. Click to start bargain…
Already used by 330 people

ongoing
Head to the landing page to find the latest Amazon coupons and save even 40% on selected products. Don't…
Already used by 218 people

ongoing
Save even 68% off on fantastic products at Bid or Buy's Deals of the Week section. Click below to grab…
Already used by 1129 people

ongoing
Zasttra.com offers Free Shipping on all orders. No minimum spend required. Click to get to the discount…
Already used by 271 people

ongoing
Subscribe for the newsletter at Flook to receive special R100 promo code on your first order over R500…
Already used by 146 people

ongoing
Don't miss out on New V3 Launch! Shop at Mantality and enter the code at checkout to get 10% off on your…
Already used by 24 people
Shop bundle deals available at Raru to save even 50% off. Head to the landing page to check the latest…
Already used by 125 people

ongoing
Get 15% off on all products across store using this special iToys voucher code. To avail the offer, apply…
Already used by 233 people

ongoing
Makro promo code reviews by Picodi users:
More about Makro:
Makro promotional codes
Makro is probably the largest South Africa's wholesale retail outlet that continues to grow from strength to strength. It specialises in offering quality food, electronics, houseware, camping and outdoor equipment and liquor. Makro is your one-stop destination for home products: small and large kitchen appliances, electronics (cameras, audio, televisions), computers, DIY, and much more. Makro offers competitive prices and regular money-saving opportunities.
Makro has 19 retail stores in South Africa. The idea behind the network is password: whole shopping in one store. The store is designed so that the customer can buy the best quality products at a good price. Therefore Makro offers you the range of 55 000 items. In addition to food and alcohol there are such sections as Home Entertainment, Computers, Furniture, Home decor and much more. The offer includes well-known brands and also uses wholesale. Stores are located in major metropolitan areas and are based on low costs. Competitive prices and a large selection of range causes continuous growth of interest. In addition, our Makro voucher code may be even more attractive offer. Shopping online store will prove even cheaper.
Makro deals and promotions 
Thousands line of products waiting for you at good prices. The website allows you to easily and quickly find what you are looking for. The product categories help you to easily and quickly go through the deal. Despite many offers well-organized page helps in shopping. In addition, Makro offer You a wide range of promotion. They are easy to find and organized in promotional catalogs. Hot offers are changed, from time to time. For your easy orientation is given range, from when to when the offer is valid. Besides, you will find on site, Makro promotion such as More4less, Last chance and Online exclusive. To complement the information on the Makro network promotion offers you the newsletter, so than you were kept informed of the coming changes.
Additionally, we offer you promotional codes that offer even more spice store. You can buy everything you need in one store, saving time and money.
Interesting facts: Makro history
In 1971 Makro opened its first store in Johannesburg Geermiston. It was the first cash & carry store in South Africa. They was also the first to use sophisticated tracking of sales and stock using IBM technology. Until 1989, opened five new stores. Massmart group as the cornerstone for Makro develops in the main group of wholesale and retail. Makro has introduced the SAP management system in 2001. It was a big leap forward. For Shop it was an edge over the competition in business management, commodity, customers.
In 2011, company merged with Massmart Walmart group based in the US. This merger has extended the offer of a variety of products and brands for customers.
In 2014 established e-commerce platform. This solution helped to increase comfort and bring the entire offer the buyer. Shopping at good prices in a close-up of promotional codes are even closer to you.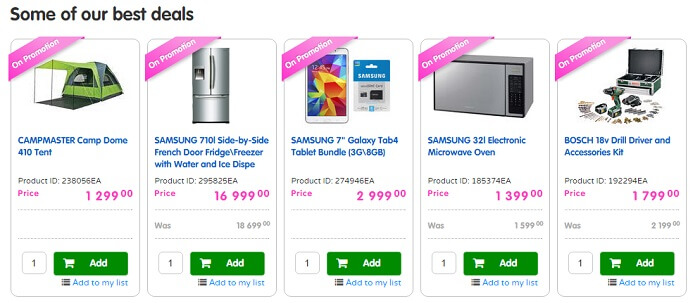 Makro's charitable activities
Makro shares its profits with the most needy. There are implemented various programs to support the important things. At least 1 % of profit after tax is given to deserving causes. Corporate social investment activities is focused on three areas - education , feeding schemes and Hiv / Aids. R1.425 million annually is awarded to schools for the purchase of teaching aids for students. Macro forward R1,4 million for a system of feeding children in over 15 schools.
Makro Green Stores
The newly opened stores feature the latest technology introduced in order to lower water consumption and energy. Older buildings are constantly rebuilt and improved with the latest technology. An important aspect is also planning space for native plants. In this way, parking spaces for shoppers provide shade in the summer. Compact fluorescent light used by shops Makro consume less electricity than incandescent bulbs. Do not heat up, this cooling system consumes less energy. Makro SA has won a prestigious award for its energy-efficient buildings.
How to use your Makro vouchers code
Shopping on the internet can bring even greater benefits in addition to the speed and convenience. Now, thanks to the discount codes you can get additional discounts on purchased by you range. Our service piccodi.co.za easily and quickly find additional discounts.
To make shopping at Makro you must have a customer card. To get it simply fill out a questionnaire and receive a card in the near each store. This means you can make your purchase online by logging with the data from the card. If you are already registered, simply view an offer on the website, the items you put in your shopping card. Do not forget to review the promotional catalogues. You will find there something for everyone.
If you have everything for today visit overview shopping card. Check that there is no need to introduce any changes.
In the vicinity of the total amount for your order, you will see a small window where you enter the coupon. Enter the code and click "Apply". If you apply your code, an eligible amount will be deducted from the total.
Remember to Like us on Facebook, invite your friends to join our community of discount shoppers!