Pavers
Pavers is a family-owned comfort shoes retailer. It has over 100 stores across the UK, a website and a 24-hour TV footwear shopping channel. The company was founded in 1971 by Catherine Paver who wanted to "find the perfect style for everyone's feet". Her sons, Graham, Stuart and Ian, joined the business later and helped to make a steady grow. Pavers became one of the leading British comfort shoes retailers, taking pride in offering great value for money, high quality products and service second to none.
Buying at Pavers
 
In the Pavers' offer you may find comfortable shoes for everyday use as well as all the hottest trends. Footwear is divided into Women's and Men's category. Apart from various kinds of shoes you can also shop bags and accessories which include shoe care products and kits along with a wide range of hats, gloves, scarves, socks and purses. You can find products by plenty of great brands including two brands owned by the company: Pavers and Bellissimo. All the offered products are carefully selected in terms of material, craft and design quality to ensure that you get only the best from the best.
Let's shop!
 
Before you start browsing, go to Picodi.uk and find an offer for Pavers.

Look for green buttons "Reveal the code" – they hide different discount codes which value and purpose is described on the left side of the button.

Click on the button to reveal the code. Copy it or memorize to save for later use.

Keep an eye on green buttons "Get the Deal" – they inform you about promotions currently ongoing on a particular website.

After you have a code, return to the Pavers website and start browsing.

To find a product you're looking for, browse available categories and narrow your search by applying filters like price, size, colour, brand and others. You can also use a search box on the top of the home page.

Click on a product's picture to go to product's page where you can read detailed description, information on delivery and returns along with customers reviews.

If you're not sure about the size you should choose, use the size guide provided by Pavers.

Choose colour (if different variations are available) and size and click on "Buy now" button.

In your basket, check your products and choose a delivery option. Delivery to the store is free as well as UK Standard Delivery for products worth £50 or more.

Here is also the place to enter your discount code that you acquired from Picodi. You can see the place encircled in red in the picture below.
After applying the code, you can proceed to checkout.

Enter your e-mail address and postcode. Specify your billing and delivery address and fill in necessary personal details.

Choose your payment method and place an order. After your payment is accepted, you will receive a confirmation e-mail and your order will be processed.
Pavers community
 
Like Pavers on Facebook or follow on Twitter to get all the news concerning special offers, new entries and hot deals. Visit Pavers blog to learn something new about different trends, the most popular brands and collections. Read useful guides and learn about interesting shoe facts to always know what's best to choose. Articles dedicated to women and fashion can give you style inspiration and new, great ideas. You can also read shoe care guides and chiropody advice available on the website. There is an option to request your free catalogue with all the hottest products currently in stock. If you prefer a digital version, it's also available and you can sort it by brand, colour and category for easier browsing.
If you want to help make the world a better place, you can do that with Pavers! Engage in one of their charity actions and help raise money for cancer research, children support and other local, as well as international, initiatives.
Promotions
 
People at Pavers strongly believe that high quality can go side by side with affordability. That's why, apart from really competitive prices, various sales and promotions are issued, to make sure that you can buy your favourite shoes cheaper than elsewhere. Check the Clearance category to find all kinds of footwear heavily discounted while not compromising on quality. Picodi's codes are another great option for saving your money while buying at Pavers. Don't forget to sign up for a newsletter to keep track on all the best deals and promotions.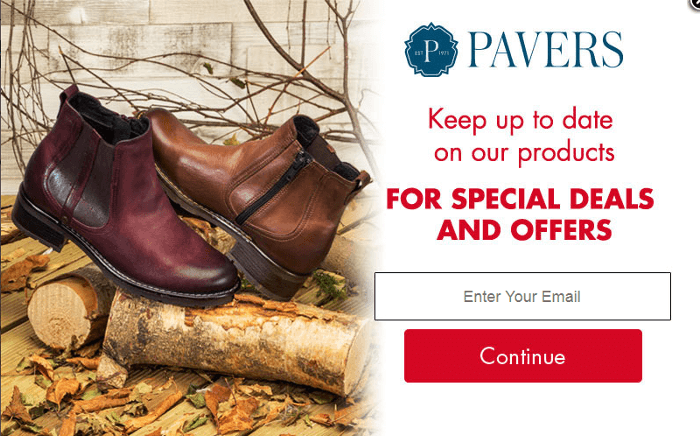 If you would like to find more discounts on  footwear shopping, check out Picodi's offer for Cloggs, Reebok, Deichmann and others.