Ecco discount codes
Everyone values comfort and would go a long way to find it. Sometimes it requires a great effort and amount of time. If you are looking for shoes that you won't want to change until they really need to be replaced – the last stitch is holding them together – we think you will find something in ECCO. In addition to leather quality, you will get an opportunity to save money while shopping at Ecco with our Ecco discount codes.
About Ecco
ECCO was founded fifty years ago, in 1963, in Denmark. Its founder was Karl Toosbuy. This is a company run by a family. When Karl Toosbuy died in 2004, the company has been since run by his daughter Hanni Toosbuy Kasprzak. But that's not all, her husband, Dieter Kasprzak, who is a shoe designer, is now the CEO of ECCO. Karl Toosbuy implemented very original and fresh ideas in the shoe industry. A new approach was present both in the designing of shoes and in the manufacturing technologies. The company is well-known all over the world and is valued for high quality products.
What makes them special
ECCO is well aware that when it comes to designing and manufacturing shoes, it's not as easy as it might seem. While creating shoes, they had in mind the distance we cover each day, the number of muscles and bones that need to move freely, the fact that with each step more or less twice our body weight is supported by our heels and that our feet perspire. That creates a challenge! ECCO is valued for finding ways to solve those problems. Their shoes are made of only specially selected materials, so that when you walk you barely feel you have something on your feet!
Interesting offer
ECCO has designed special technology called BIOM. BIOM shoes are targeted at people who like physical effort. They are thus perfect for running, hiking and other outdoor activities. What makes such a difference? The BIOM shoes are supposed to free your feet, i.e. remove the feeling that something is restraining you from moving freely. Thanks to this technology, your feet move in a more natural way.
As you have noticed, ECCO dedicates a considerable amount of time to people who like moving. On their website, there is a separate section for golf shoes and accessories. Not every footwear company specialises in such a narrow field. And that means that they are very good at it, since they don't manufacture the sports equipment in general, but only shoes and accessories for this particular discipline.
Apart from comfort, data-style is also very important for ECCO. Their offer includes shoes for every occasion, both formal and informal ones. There is no point in waiting any longer, time to begin the shopping!
At ECCO Store, you will find such categories as:
Womens shoes,
Mens shoes,
Golf shoes,
Biom,
Clearance,
Accessories,
Bags, etc.
How to use Ecco promotion codes
As we have mentioned shopping, it's time you knew the good news. Thanks to Picodi, you can spend less on the shopping with ECCO! All you need to do is to complete the following steps.
Step 1: Search for Ecco at Picodi
Go to the Picodi.com/uk/ and search ECCO.
You will find there two kinds of deals. One includes using a promotional code (follow the REVEAL THE CODE button). Everything will be explained a little later. The other involves discounts offered by the shop and you don't need to do anything special (follow the GET THE DEAL button).
Step 2: Select your discount
Go through all the available promotions and choose one of them.
means that we will have to enter the Ecco voucher code.
means that the code is actually not needed to buy something at a discounted price, because many products are already at new, lower prices.
Step 3: Go to the Ecco online store
You are now on the ECCO website. Grab your code and enter it into a special field. It will reduce the total amount of your shopping costs! Now you can begin your shopping!
Step 4: Pick your favourite pair of shoes
When you are finished with choosing your shoes, click ADD TO BAG.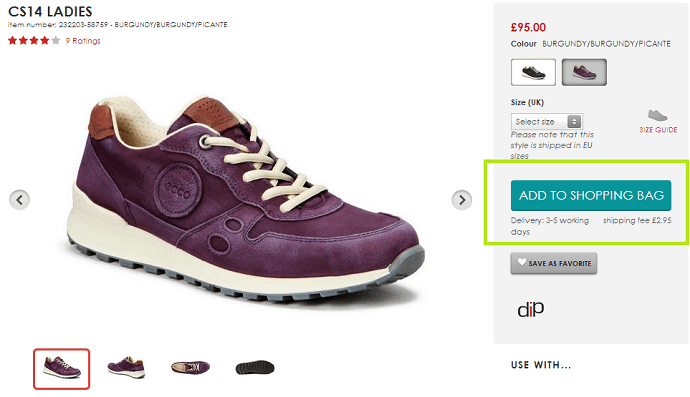 Step 5: Enter Ecco promotion code
In your bag, there is this special field that we have told you about. It's the same as in the picture below. Paste the Ecco promotion code there and proceed to checkout. You can already see that the price has been reduced.
Step 6: Provide important details
On the next page provide your email address. If you have already shopped there, enter your password. If this is your first time, you have to register.
Step 7: Make a payment
When you are done with registration, provide the delivery address and make sure that everything is correct. The only thing left now is payment. Everything is ready! Now you only have to wait for your order! Feeling a bit impatient? You can also check out the latest discounts for Deichmann, Debenhams, or Marks and Spencer!
The ECCO TV Commercial