Ocado
Picture yourself in the supermarket. What do you see? A loud crowd of people trying to avoid a collision in those narrow aisles? Kilometres of walking before you find what you need because somehow everything changes its place overnight? Spoiled kids crying and making a mess in front of their helpless parents? An eternity spent in checkout lines? Ugh, enough of that. It would be so nice if you could do your everyday shopping in peace and comfort. Without all that noise, hassle, pointless waiting. Nowadays, you can buy almost everything online. Why can't you buy food and daily use products that way? Well, as a matter of fact, you can.
Ocado was created in 2000 by Jonathan Faiman, Jason Gissing and Tim Steiner as a revolutionary idea of online supermarket. Ocado has no stores of its own, only warehouses from which products are delivered to the customers nationwide. The idea paid off and the company has been voted the best online supermarket in the UK by Which? readers every year since 2010. Along with the website Ocado operates an app available for iPad,  iPhone, Android and Kindle.
Fun fact: the name of the company has nothing to do with avocados. It is claimed to be an abbreviation of "order cat food and doughnuts only" which were the first two products available on the website.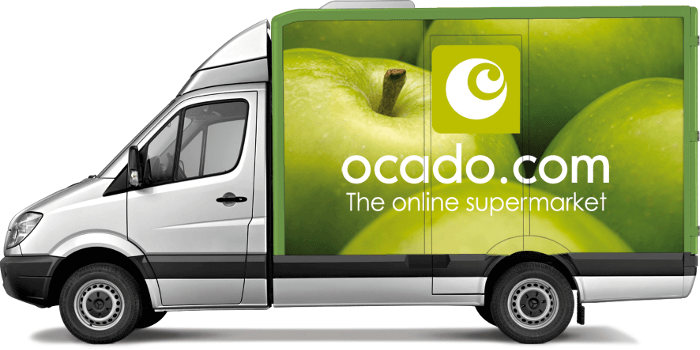 Offer
 
Ocado offers you everything that you would expect to find at a supermarket and more. The main difference is that you don't need to wander through the whole store to find what you need. Everything is neatly divided into specific departments and categories so that you can find whatever you want in just a few clicks. Another convenience is a Favourite list. Thanks to it you don't need to browse for the products you buy often, because you have them all listed in one place. If you don't want to go through any lists you can also use a search box and enter the name of the product you are looking for. Ocado Another feature missing from common supermarkets are customers' opinions. In a store you can ask someone what do they think about the product you want to buy, sure. But how does it compare to the whole rating system displaying feedback from thousands of customers? Add to that Life Guarantee that ensures your food to be as fresh as it can be, every day delivery and reservations for your orders to be delivered on a regular basis. Feeling convinced? Let's start shopping.
Shopping
 
To start shopping on Ocado website you need to register your account to check whether your postcode is in the range of deliverance. You can also register with your PayPal or Facebook account. After you have your account created, you can start browsing products. You can also type the name of the product you are looking for in the search box and you will get a list of matching items. Choose what you want to buy and remember that minimum order value for a delivery is only £40. You can see all your chosen products in your trolley. You can make a shopping list of them to save for later or add them to your Favourites. If you are ready, go to the checkout. During your checkout you have a possibility to use a voucher to pay less for your order. Just look for the page with a name "Vouchers and coupons" and enter your code. Fill all the required fields with your address and payment details and book a delivery slot. You can book it before you start shopping but keep in mind it will expire after 60 minutes if you have not checked out. Available delivery slots are displayed up to 21 days in advance so that you can carefully plan your shopping. You can also make a reservation on a particular slot to have regular deliveries at a time and date of your choice.
Promotions
 
As if high quality of products and prompt customer service weren't enough, Ocado ensures also that they have competitive prices. You can find all offers, deals and promotions listed on their website along with special Ocado coupons available on various occasions. Also, a Smart Pass program is issued which provides its members with exclusive offers and discounts, gifts, free samples and other benefits. Feel free to check out Ocado blog where you can find information on how to win attractive prizes and gifts. Another way of saving your money on your shopping is visiting Picodi.uk and getting free vouchers to use on anything you want from Ocado's offer. Visit our website regularly or sign up for newsletter to not miss any hot deals and free coupons!
Does the idea of easy and cheap online shopping sound appealing to you? Check out Picodi's offer on Sainsbury's, Tesco, Waitrose and more!