More about La Redoute:
About La Redoute
Founded in 1999, La Redoute is a part of Redcats (formerly known as the La Redoute Group), a group of commercial companies run by Jean-Michel Noir. The Group specialises in the online distribution of apparel, sport gear, home decor and furnishing products which they deliver in more than 150 countries. Now Redcats is responsible for over 17 American and European brands dedicated to men, women and children.
La Redoute is an online destination for the stylish women who value glamorous and timeless French inspired clothing, lingerie, shoes and accessories. The collections available at the La Redoute's online store (www.laredoute.co.uk) are inspired by the latest Parisian looks and the French designers' collections. At La Redoute you can also get the best guidance and advice on how to get the best French look, or you can learn what is currently promoted by the French top designers.
The Collection
The collection of La Redoute is exactly what you need to become a true Parisian! La Redoute will provide you with the latest women's fashion, including dresses, t-shirts and tops, skirts, trousers and cardigans as well as fine lingerie (balconette and basques bras), shoes, and essential accessories: from belts, handbags to leggings and jewellery to suit every data-style and occasion.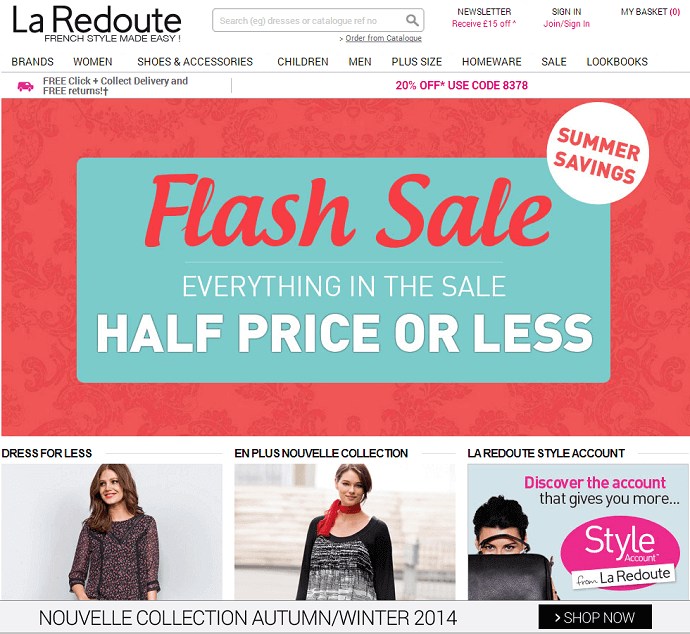 In addition to the womenswear, at the La Redoute online store you will find special collections for children and men, as well as special section for plus size clothing and homeware products. With La Redoute you can decorate your home according with the Parisian home data-style, with intimate bedroom, beautiful curtains and cushion of the best, most luxurious fabrics.
Brands at La Redoute
La Redoute also offers a number of brands such as
Laura Clement,
Mademoiselle * R,
Soft Grey,
Ellos,
Convers,
Morgan,
Prix Mini.
How to use La Redoute discount codes
What would you say about a beautiful straight cut dress with sequined shirt front? Wouldn't it be nice to wear this jewel of a dress to an elegant party or, even better, a night out in Paris? A little black dress never goes out of fashion – that is why it's a must in every French woman's wardrobe, so do not wait any longer! Let the shopping begin!
Step 1: Search for La Redoute on Picodi
First, visit Picodi.com/uk/ and look for La Redoute discount codes. Be a cheeky shopper and get what you want without spending much money!
Step 2: Choose the discount button
Take a good look at the list of codes and deals, and read closely the discount descriptions on Picodi.com/uk/. See anything you might want to use? If the answer is yes, click the green button to get to the La Redoute's website. Short instruction on the buttons:
means that we will have to enter the La Redoute discount code
means that the La Redoute discount code is actually not required
Step 3: Browse the La Redoute wide range of products
You reached the La Redoute online store. Now, search for the product you wish to have, what can be a real challenge since there are sooo many beautiful things at La Redoute! We know it takes time to decide. If you make up your mind, pick your favourite colour, size and quantity, and click the ADD TO BASKET button.
Step 4: Shop some more or proceed to checkout
You have just added a product to your basket! Now you can continue shopping to look for some accessories, or you can proceed to checkout.

Step 5: Enter La Redoute discount code
At the stage 1 of the checkout process ("Basket") you will see the field that says "My Special Offer" what naturally means, that you should enter a promo code you have found on Picodi.com/uk/! To get your discount, quote your La Redoute discount code and click OK. The discount will be automatically accepted by the system. You don't have to pay the full price for your order! Click continue to go to the next step.
Step 6: Choose a delivery option
The ordering process is not over as you will need to decide on the delivery method that suits you best – it is the stage 2 ("Delivery"). Choose a delivery option best for you and type in the address you want the package shipped to. To see where your order is, you can check your order on My Account. However, in order to view and track your orders, you must be a registered user of La Redoute.
Step 7: Make a payment
It is the high time to pay for your order! Fortunately you don't have to pay the full price, so it's much easier to grab your credit/debit card and finish the transaction, isn't it? Do you have a Credit Account at La Redoute? Yes? Then making a payment is a piece of cake! Just select MAKE A PAYMENT and enter your debit or credit card details using their secure connection (they accept most major credit and debit cards).
Step 8: Enjoy your purchase!
This is it! The checkout process is done and you can expect the package at your door any time now. Thanks for shopping with Picodi.com/uk/ and La Redoute! Want to Shop some more? Visit Debenhams, Ann Summers or Simply Be.
La Redoute video
Black Friday & Cyber Monday
Prices are plummeting by the day and amazing deals are coming out of every nook and cranny - Black Friday and Cyber Monday must be close! If you want to save big but don't want to spend the entire week scanning the internet for the best offers from La Redoute and other merchants, go to Picodi's Black Friday and Cyber Monday pages - all the deals are there already!