Zalando voucher codes on Picodi
Tired of running from one store to another in order to get a complete outfit? Since you've found Zalando, you don't have to do it anymore. Now you can easily find all things in one place. Do you need a daily casual outfit? Easy! Start with clothes and just browse through trousers, skirts, jeans, shirts, jackets, then add shoes and finally accessories and you are ready! Are you going to an elegant party? Just as easy! You can without any problem find the elegant dress and combine it with beautiful heels and purse. You can find men's, women's and children's clothing from selected brands and internationally renowned labels.
Apart from a wide range of high-quality products, Zalando offers excellent customer service and as-safe-as-it-gets online shopping experience. The online store is beautifully designed and easy to navigate. Once you have paid for your order, you can expect nothing but a prompt and absolutely free delivery to your door. Apart from that, you don't have to worry if the purchased products somehow don't satisfy your needs. Zalando will accept free returns within 30 days of placing your order.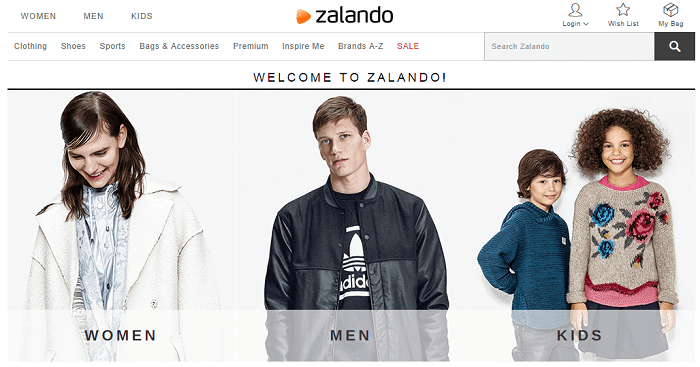 How to use Zalando voucher codes
What is even more important you can now purchase all those things at a lower price using discount codes. The following instruction will help you get through the shopping easily step by step. At the end of the page, there is also a short summary.
STEP 1: Search for Zalando at Picodi
When you have already decided you would like to save some money, you need to find the store by typing the name of the shop – ZALANDO in the search area on our home website.
STEP 2: Two types of Zalando discount buttons
Once you are on the site you can see available coupons. The green colour of the button informs that the promotion is valid and you can use the coupon to get a discount. There are two types of buttons:

This button informs about the special offer where the discount code is required. You will need to fill the code in the next steps (see more details below.)

This button informs about a general promotion for many products. In this case, goods are already at a lower price and no code is required.
STEP 3: Visiting the store with Zalando voucher code or promo
After you clicked on the offer you are redirected to the website of the shop. If you clicked on the
 button there is a discount code in the code frame, which you have to put in the appropriate place in the shopping basket of your order.
However, if you clicked on the
 button, you are also redirected to the subpage, yet there is no code in the code space; it is not required and the products are already at a reduced price.
Note: If you cannot see the website of the shop after clicking on the button and you can only see the frame, you have to uninstall AdBlock plug which does not allow you to go to the shop's website.
STEP 4: Shopping at Zalando
Now the most pleasurable moment: choosing products you are interested in! At Zalando, you have a great number of products to choose from in categories:
Footwear
Clothing
Accessories
Sports
The frame with the code is at all times with you so there is no need to write the code down or return to the first page. Finally, among all those beautiful clothes and shoes you pick the products you have always dreamed about and click "ADD TO BAG". Please remember to choose the size of the product.
You can continue your shopping by adding more things to the bag. It is possible to check how many products you have in your bag as in the brackets next to "My Bag" you can see the number of products and the total price of them. At the bottom of your bag there is also useful information regarding the estimated time of delivery (see purple frame below.)
STEP 5: Checkout process at Zalando
If you decided you selected all necessary products and you want to proceed then click "GO TO CHECKOUT" (red frame below.)
If you are a new customer enter your email address, click "NEXT" and follow the instruction you were sent to your email address. If you are a returning customer you need to login by entering your email address and password. Now, you need to fill your personal information required for delivery: name and address. 
STEP 6: Entering Zalando voucher code
In the next step, you have to choose a payment method and payment details: credit card number, expiry date, and security number. Below the payment details, you will find a frame with a question "Do you have a voucher code?". There you should enter the voucher code you've received from us and click "Redeem".
Finally, you can get pleasure from the fact that you got a good offer! Imagine outfits and sets you can make by combining your clothes, shoes, and accessories, not to mention multiple occasions you will wear them to go out and look amazing!
SHORT SUMMARY:
Open Picodi.com/uk/, type Zalando in the search area and choose the offer.
Select products by adding them to the bag.
Enter your delivery information: name, address.
Choose a method of payment and fill payment details.
In the shopping basket enter your Zalando voucher code at checkout on the confirmation page in order to activate it.
Wait for your parcel to be delivered.
If you're looking for even more fantastic offers on the items of similar categories to those of Zalando, feel invited to shop at our other partners - River Island, Debenhams, and Deichmann.
Watch the Zalando.co.uk Ad!
Every year Zalando prepares special offers for Black Friday and Cyber Monday. 
All promo codes and discounts for Black Friday 2018 and Cyber Monday 2018 can be found on dedicated special pages.