Booking.com ◦ discount vouchers ◦ April 2018
Here you can find the latest Booking.com voucher codes
Booking.com coupons, codes and deals that you've missed:
Similar promo codes, coupons and discounts

Use this promo code at checkout and save 20% off your next booking! Minimum spend is required: £10. T&Cs…
Already used by 307 people
Subscribe for Newsletter at Crystal Travel to get exclusive flight deals, offers and discounts. Moreover,…
Already used by 127 people

ongoing
Head to the landing page to shop for Ryanair gift vouchers from as little as £25. Click to start.
Already used by 88 people

ongoing

Don't miss this deal! Discover a wide range of competitions available at 16 25 Railcard and enter to…
Already used by 169 people

ongoing

Don't miss out on this offer! Take advantage of amazing 24 hours deals at Expedia. Click to get the deal…
Already used by 20 people

ongoing
Register and verify your student status to get 5% discount code and use it while booking. Take this deal…
Already used by 10 people

ongoing
Booking.com promo code reviews by Picodi users:
More about Booking.com:
Holidays of a lifetime
When you look for accommodation for your holiday stay, the main problem you usually encounter is the fact that the hotel is far away from local attractions you're most interested in. You either have to walk far in hot sun to get to the beach or you are far too close to night clubs and therefore can't fully enjoy your vacation. Booking.com lets you pick your place without much hassle and it's always just right.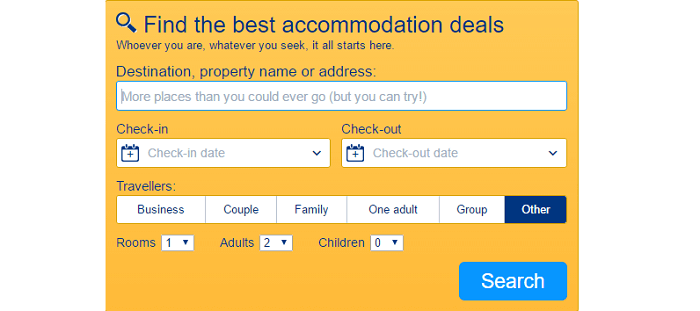 Are you a savvy shopper? Use Picodi.com/uk to guide you through endless arrays of promotional world in retail and travel. Discounts, offers and deals are anxiously waiting to be grabbed by you.
Book it!
Start easy by figuring out what standard should your hotel or bed & breakfast be. If you don't mind, you can simply check 'Unrated' and see what the system comes up with. Next, choose your accommodation type: should it be a self-contained apartment, where you'll have more privacy and the flexibility to cook your own meals, or would you rather stay in a luxury tent, where all you need to worry about is having fun? There are so many options that you might actually have a problem deciding!
 
Guests' reviews can be very helpful in picking the room at a specific venue so decide how many stars, according to them, it should have. Ratings are genuine and people who have already visited the facility usually give very specific information on what was great and what they would rather see improved. If you only care about sleeping in the room because you are going to spend most time outside enjoying local culture and sightseeing, it's probably better to check 'Unrated' or nothing at all.
 
Finally, choose which facilities you would like to have in your room. This may vary from two single friends going away for the shopping spree of a lifetime to a family with children who need more space and indoor entertainment. Next, pick the cities you'd like to visit and click 'Search'. All the rooms fulfilling your conditions will appear on the list in front of you. You can opt for looking at the lowest prices first as you might be able to find a true bargain.
Are you constantly on the go and don't have even a little any time to look for your perfect room online? Download the app and check available hot spots in the car, on a train, or in a queue at the shopping mall. Don't waste any more time just thinking about your holidays and start acting fast. You can easily book your room at the very same hotels or B&B's and enjoy the same quality of service. This feature is great for the busy ones, those who like things done in minutes.
What do you need Picodi for?
Booking.com vouchers found on Picodi can save you plenty of money, which then can be spent on entertainment or souvenirs onsite. Here's how you achieve that:
See available deals appearing on this website. Be sure the offer is ongoing. If it's got an expiry date, you need to act fast.

After clicking on the deal, you'll be taken onto Booking.com website, where you'll see all available rooms and be able to book them.

If you see the one you like and the dates of your time off correspond with the room's availability, book it immediately to secure your place.
Enter all the details you need for successful reservation: your name, address, card details.

You holidays have been booked and you can wait for that special time in a year to come.
 
Now, you probably wonder where all your holiday wardrobe is going to come from? Check discounts for ZARA and H&M, on Picodi of course.