Do you want to be more stylish and wear more exclusive outfits? Shop now at Stylebop using our discounts and promotional codes to get your dreamed clothes and accessories at a lower price! 
Stylebop is a luxury fashion retailer with over 250 designer brands in their offer, selling products of top names such as: Valentino, Marc Jacobs, Alexander McQueen, Emilio Pucci or Fendi. The company was founded in 2004 by brothers Mario and Thorsten Eimuth and expands every day into a bigger and better international trendsetting clothing store. Currently their range is global, reaching Europe, America, Australia, Asia and the Middle East with express delivery.
Here's a quick overview of Stylebop stock and their website. Read it and decide if you are interested!
The store provides wide selection of high quality menswear, womenswear, shoes, bags, accessories, jewelry and lingerie. You can shop by category, by Vacation Shop or by Look. What's really convenient is that after entering a specific category such as "clothing" you can choose more detailed results by selecting if you want to shop by designer, size, color or price. You can also look at some bestsellers and celebrity outfits to get inspired and enrich your wardrobe!
The first thing you should do after entering the website is select your country to get the correct pricing, delivery times and shipping costs. After that select the men's or women's section. View the new arrivals which are updated 3 times a week, check out the apparel for the new season and take a look at the Stylebop magazine. You might find some interesting stuff in there! If you are not the best at shopping for clothes make sure to check out Stylebop Instagram and Pinterest to find some ideas for future outfits!
Browse through several categories and even more subcategories of their products to choose the finest pieces of clothing or accessories for yourself. When you find something you like, click on the item to view more pictures and details such as material or care. After viewing a product the website gives you suggestions on what will look good with that piece of clothing.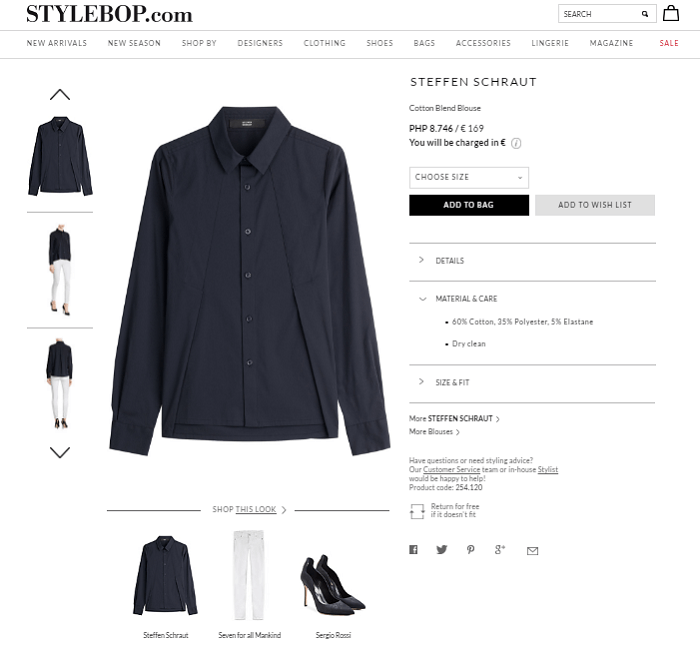 When you make the decision, select your size and add the product to your bag. Now go back shopping and after you add everything you want to buy, click on "My Bag" in the upper right corner. Review your total order and check if size and quantity of each item are correct. If you are buying something for somebody else, Stylebop already thought about saving you time and effort. Just select the option "wrap as a gift" under the product. If you want to finish your shopping proceed to checkout. Then you can log in or choose a quick checkout if you are a new customer. If you don't have an account you will have to put in all the required information such as your name, email, telephone number and delivery address. In the next step you have to choose the payment method, give necessary information, place your order and pay. Done! You just purchased some high-quality apparel! If you like to be up to date with the new trends and latest news in fashion you can sign up for Stylebop newsletter. 
If you want to improve your outfits but without spending tons of money, use our deals and promo codes for Stylebop now! Search for data-stylebop on our website and take a look at all the offers that are available at the moment. Now choose either a deal or a promo code. A deal with redirect you to the discount area at Stylebop website and a promo code has to be used during shopping. If you selected a deal, go and shop with the discount you chose! 
However, if you picked a discount code, here's an instruction on how to use it:
First click "Reveal the Code" and copy it to your clipboard, you will need it later. Go to Stylebop website and do your shopping as was described above. Once you are in checkout and you put all your personal information, paste the promo code under your purchase and click "go", here's a picture: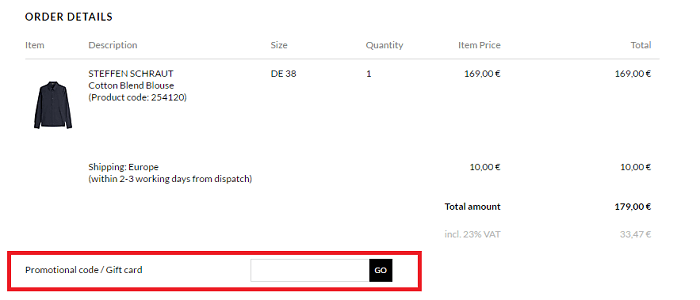 After that continue with checkout and do the necessary steps to finish your shopping at a lower price. Now you can enjoy both a new purchase and the money that you saved!
Visit our page regularly so you don't miss any new discounts and promotional offers for Stylebop!
If you liked shopping at Stylebop you might also like other stores such as: Zalora, Straightforward or GoBuy.