When you enter Ozsale website you might feel a little bit lost. Very simple and elegant front page doesn't immediately give away the nature of the content. All you can see are three simple advantages and slogans for members - same day customer service, hassle free returns and "shop with confidence." But what is it that they are selling? One may ask. Well, continue reading and you immediately know that becoming a free member of this site give you access to desirable brands in discounts reaching up to 80% with new sales coming every day! Sound amazing, but still… what do they sell? Well, look at the title of the website - "affordable designer fashion." That's all you need to know. Have you ever seen those fancy luxury designer fashion stores in big shopping centres? Have you every wanted to try something from them, but always thought that they are overpriced? You don't have to do that anymore. You can just become a member at Ozsale and explore the world of designer fashion and luxury clothing without the drawback of spending a lot of money. You can start by clicking on "Join now" button and providing your information - name and e-mail or you can click "Sign up with Facebook" to use your social media page as your login. Very simple. After logging in you are welcomed by a banner that says that the extend of discounts reaches up all the way to even 90%!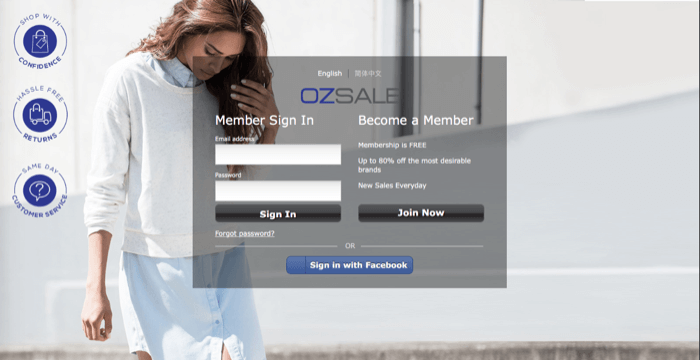 The idea is simple. When you are a member of Ozsale, every day you receive a personal invitation to some exclusive sales events. Those are not only for women, but men too. And they are not always restricted to fashion industry. There are some great opportunities from beauty products or wine, every day a new chance to buy something great at a discount. Ozsale team scattered all over the world work hard to find the best deals so you don't have to. Most of those deals are prepared exclusively for Ozsale members, so you won't be able to find them anywhere else. Every day a different sale event starts and this is your cue to buy start browsing. And you should be fast - more than half of the stock is gone within 48 hours from the start of the sale. Once the sale is finished, the brand owner sends purchased goods to… well, not you. To one of Ozasale's international warehouses. This is the secret of such a big discounts. The brand owner doesn't have to worry about shipping thousands of packages all over the world. It simpler for the manufacturer to send one big shipment to Ozsale, which will take care of the rest. As soon as they have all items in their hands, Ozsale will start distributing those things directly to buyers. So the delivery chain is a bit longer than usually, but if you are willing to wait up to 21 days then you can save a great deal of money - even 80% off.
There are two things that you can do to improve your budget. First, you can always look for some vouchers and promotional codes. Sometimes you can find them at Picodi website, sometime it's good to sign up for a newsletter. You can check vouchers that you own at "My voucher" subpage. You can use them during the checkout stage, just follow provided instructions. Another great deal is a referral programme. This is not something that you can find at other similar sites. You can invite your friends to Ozsale and for every friend that you invite, you will receive $20 voucher! Only few conditions - you will get it after the first purchase of your friends and the voucher will only work with orders over $40 in total, but it is still a great deal. Your friends get to know a great way to buy fabulous clothes at sensible prices, you get additional $20 for your own shopping. Sounds great, right? So what are you waiting for? Register now and jump right into the sale season.
Are you a fashion monger? Don't stop looking for the best deals, check out also Matches Fashion. Men will be interested in Huckberry website and girls will surely find splendour lookbooks at Princess Polly.