eBay ◦ promo codes ◦ April 2017
Here you can find the latest eBay promotions
eBay Promo Code: 5% OFF on Aussie Sellers!
Get 5% off on selected Aussie sellers at eBay! Redeem the promo code at checkout. Offer is valid on the minimum spend of $30. Shop now!
New Deals Every Day from eBay Deals
New Deals Every Day from eBay Deals. Click to get to the discount area on the eBay website.
Top Deals in Electronics at eBay
Top Deals in Electronics at eBay. Click to get to the discount area and shop with up to 20% off.
eBay coupons, codes and deals that you've missed:
Similar promo codes, coupons and discounts
$20 & Under in the Myer Sale
$20 & Under in the Myer Sale. Online only. Click to get to the discount area on the Myer…
Already used by 387 people
25% Off Men's Casual Clothing and Accessories
25% off when you buy 2 or more items of Men's Casual Clothing and Accessories. Click to get to the…
Already used by 363 people
Free Click & Collect at Myer
Shop online at Myer and collect in store for free! Click the button to learn more about the Myer click…
Already used by 174 people
Upto 90% Off on Clearance Items
Shop clearance items at Crazy Sales. The best bargains in even better prices! Click to get to the…
Already used by 160 people
Get $3 Coupon at AliExpress
Sign up for the latest promotion updates and get a free US $3 coupon at AliExpress. Click to…
Already used by 123 people
Grays' Computers & Electronics Deals
Grays' Computers & Electronics Deals. The offer is available onsite.
Already used by 76 people
Price Drop: Up To 50% OFF on Selected Products!
Save even 50% off on selected products at Kmart! No promo code is required in this offer. Shop now!
Already used by 47 people
ON SALE! UP TO 60%!!!
Make sure that you'll check the Sale section! Buy more - pay less!
Mother's Day Sale: 9% Off on Everything!
Save 9% off on everything at Newfrog! Apply the promo code at checkout and enjoy your savings!
Up To 60% OFF on Ralph Lauren Tees
Save even 60% off on Ralph Lauren tees at Catch Of The Day! No discount code is required in this…
10% Off New Members at Fab
Sign up for the Fab newsletter and get 10% off. Be the first to know about exclusive offers and special…
Free Standard Shipping!
Enjoy free standard shipping at Oxfam Shop! Minimum spend is required: $50. Use this promo code…
eBay promo code reviews by Picodi users:
product.opinion.alert.label !product.opinion.alert-description.label
Fill in the missing fields, check e-mail address is correct
eBay Promo Codes
About eBay

 eBay is an American e-commerce company. It provides consumer-to-consumer and also business-to-consumer sales services online. eBay Inc. is one of the biggest companies in this category. Today it is a multibillion-dollar business with operations localized in over 30 countries! On their website ebay.com you can purchase variety of goods and services. You can also participate in auctions to get those items. Website is totally free for buyers. However if you want to sell something, you have to pay a fee. 
You will find here almost everything you need. To start looking browse plenty categories or use search engine and filters. You will find there many brands like Nike, Vans, SONY, Apple, Samsung and many, many more! You can buy here sports equipment, office furnishings, apparel, cars and motorcycles and electronical goods. The products may be either new or used due to fact that people can sell things that they owned for some time. Every product is described and there is at least one photo of it. You can buy thing from users or from companies like Target, ToysRUs or Dell. eBay range is worldwide which means you can use it wherever you are.
How it started
eBay was founded in 1995 by Pierre Omidyar in San Jose, California. Originally it was a part of his personal site which was much larger. First item sold on eBay was broken laser pointer! Next year eBay started to grow, so Pierre had to hire someone to help him. He also started taking first fees for selling, because he was supposed to pay for site which would work smoothly with the high traffic. Thanks to the quick development, eBay could afford to buy other companies. That's how eBay Inc. acquired StubHub, Skype, Craiglist and PayPal. From side hobby to biggest online auction website in 20 years – that's impressive! 
Here you can see how the categories of products are divided on eBay, and that is just one letter! 

And here's how the subpage of a product looks. You can look at more pictures and check different details.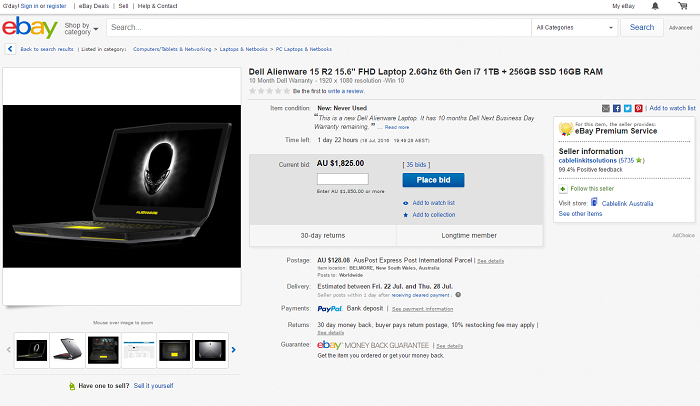 Creating an account on eBay

 To do shopping on eBay you will need an account. It's pretty easy to make one. Here are few steps to registration.
Click on the "register" button.  
Fill in all the boxes. Make sure you didn't do any mistakes.  
Click on the blue "Register" button.  
Continue to eBay and shop for whatever you want or customize your username.  
Your account is ready!  
If you have a business you can also register for a business account.
How to use eBay promotional codes in 5 super-easy steps:
When you are familiar with eBay it's time to learn how to save your money with our eBay promotional codes. It takes only few steps, are you ready?
Step 1. Visit Picodi.com and find eBay page.
Go to homepage of Picodi.com and type eBay in the search engine.
Step 2. Select a promotion.
Here are the available promotions for eBay. You have two options. First is a deal, so when you choose it you can continue your shopping directly on eBay. When you click on the green "Get the Deal" button, you will be redirected to their website. Second option is a code. When you click on it you will be able to copy the code to your clipboard and apply it later in your cart when you finish your shopping. If you picked one of them, we can go to next step!
Step 3. Shopping.
Shopping on eBay is very easy. If you know what you want to buy, just click blue "Add to Cart" button. If you want to participate in auction you can make an offer by clicking the right button. Now when you know how to fill your cart, it's time to do that!
Step 4. Go to your cart.
If you are sure you have everything you need in your cart you can proceed to checkout. To do that just click blue "Proceed to checkout" button. 
Step 5. Checkout.
Here you can redeem your code. You can also change the address and pay for your shopping. To redeem a code, just paste it to the box and click "Apply" button. The price is now lower! If you need to, you can add a message to the seller. See below how the box for the promo code looks:
 
Leave your feedback for the supplier so other users can make a good choice!
Short version:
1. Go to Picodi.com
2. Type eBay in search engine and select promotion.3. Shop.
4. Go to checkout.5. Enter the promo code.
6. Pay for your shopping with a lower price.
If you liked shopping at eBay, you might also be interested in GraysOnline, AliExpress.
Check out this short video about eBay promotions.