More about Premier Inn:
Superb accommodation for every guest
Travelling across the country can be a drag. Crowded motorways, long hours of driving, people on the bus who know no personal space… but there is one thing that helps you get through all of that. Knowing that at the end of the road, there is a bed – perfectly comfortable with a proper pillow and duvet, with tea and coffee facilities available whenever you want, and with breakfast that will fill you with energy for the entire day. Premier Inn.
Picodi is just the thing you need when you're travelling and you don't want to spend too much money. You have total access to all the exclusive deals published on the website and you can see for yourself that there is nothing stopping you in finding a perfect online bargain.
Sleep in
Premier Inn has been known to be the most affordable and stylish chain of hotels in the country. It strives to be much more in quality and just as much in money as a budget hotel. This means that you don't pay much more and you get much more. Whether you are going on a city break, shopping spree, family holiday or a business trip – you will sleep in the most comfy bed ever, eat the most delicious breakfast ever and meet the nicest customer service ever. Worth every penny.
The hotel is well-known among all groups of people. Ladies have fantastic beauty facilities in their rooms to keep all of their lotions and potions and prepare for whatever the night out of town can offer them. Couples can have an intimate evening in their room, not being disturbed by anyone else and request breakfast to be delivered to their bed in the morning. Parents can sleep well knowing that their little ones are well taken care of and appreciated as guests.
Premier Inn operates more than 750 hotels in Britain so it makes sense it's the most frequently booked accommodation for business people. If this is true for you, why not sign up for a Business Account to allow all of your employees sleep well when on a business trip? It's free, it's quick and it makes the entire process of booking and invoicing all the most convenient. You don't need to pay straight away because you get a credit account – you just have to pay your bill within the next 6 weeks. Great!
Premier Inn appreciates all types of guests. If you're a bike lover, you can safely keep your equipment on the premises to get moving in the morning. If you need constant access to Wi-Fi, you can get it for free, all you need to do is ask. It's very important for many people to be able to communicate with the world, wherever they are.
But more importantly, it's the beds that make the hotel Premier. The string mattresses, which have been known to be the most comfortable on the market and gentlest on the spine. You have a choice of firmness in your pillows so that you get the most of your sleep. You can dip into the duvet and hide from the outside world if you just want to rest. It's all about you.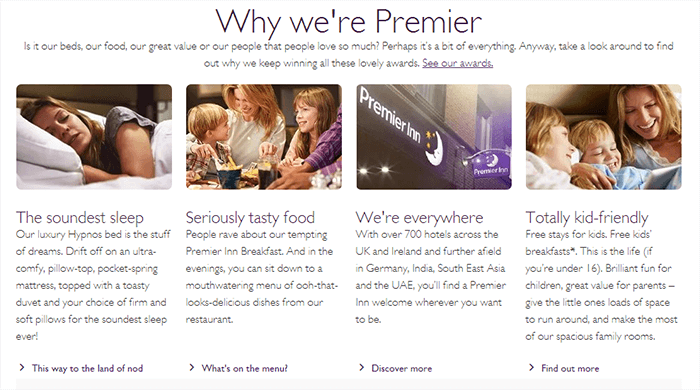 Premier Inn vouchers
If you want to see for yourself what it means to sleep the Premier style, book your hotel room next time you're going away. And here's the good news – you don't need to do it paying the regular price. With vouchers and discounts, you can save plenty. Just:
Find the best deal for yourself.

Click on it and see if a promo code pops up. When it does, you only need to copy it. If it doesn't, it means that there are other promotions available.

When you're on the hotel's website, simply start your booking process. Search by name, city or postal code. Then, enter the date of arrival, the number of nights, people who are travelling with you and the type of room you need.

Click on 'Search' and appropriate hotel results will appear in front of you. If you have a small baby, you also have the option to request a cot.

The list of available venues will appear on your screen. The more nights you stay, the less you pay.

Choose from two options, flex, in which you can cancel the booking and get a refund, or saver, where you have no option to cancel your reservation.

Book your hotel and follow the instructions. Enter the names of people staying in the room, and enter your voucher code.

Pay as usual.
when way on a business trip or a family holiday, don't forget to check Picodi every day when you shop and go to restaurants.