About Currys special offers
Currys is a leading and one of the biggest electrical retailers in the United Kingdom. Of course, the brand specializes in retailing white and brown goods of such categories like kitchen appliances, photography, televisions, DVD players, gaming, audio, and video. Some UK stores happen to be dual branded with the PC World company name.
The quality of products offered on Currys is second to none, as confirmed by numerous polls and satisfied clients. The shop offers items from very popular worldwide brands, such as Sony, Philips, Samsung. Whether you are looking for home appliances or entertainment items such as gaming consoles or televisions, you can find all of it on the Currys website with over 6000 products in the offer.
Visit us regularly to start saving money while shopping on Currys!
How to use Currys discount codes
Do you want to buy a new electronic appliance, but your partner has the birthday soon and you don't have enough cash? Don't worry, Picodi.com/uk/ has a perfect solution for you! Just follow our guide and both you and your partner will be satisfied.
Step 1: Search for Currys on Picodi
Do you want to ask us how is it possible? Well, it's easy. Simply decide that you don't want to overspend and choose Currys on our website.
Step 2: Two types of Currys discount buttons
Your left click takes you to all the Currys discount codes and deals being offered at the time. You'll quickly notice that grey buttons are inactive discounts, but the green ones are still available for you to grab them. There're two kinds of green buttons:
a Currys voucher code is needed for a price reduction
no Currys discount code needed, there is a general price reduction at the store
Step 3: Pick your desired Currys discount code or deal
You'll also quickly notice that every Currys coupon has a description stating what you can buy with it at a reduced price. Choose the best option for you and move on to step 4.
Step 4: Visiting the shop's website with your Currys discount code or promo
The box contains very useful information, namely – if you clicked on that then the code will be shown there. This is the code that you'll have to enter in the later phase to obtain price discount (IMPORTANT! The code is not going to disappear, so relax and concentrate on your shopping).
Step 5: Shopping on Currys
Take your time, there's no rush and choose what you want to buy. You can choose from a variety of products, such as:
microwaves
gaming
televisions
laptops
Choose the item you're interested in and click "Add to Basket". 
Step 6: Proceeding to checkout
In the basket, you can choose the method of delivery and installation options. If you also want, you may choose one of Whatever Happens Care Plans. Now, if you're ready, click Proceed to checkout. That is where the discount code will have to be entered, but before you can apply it, signing in is required.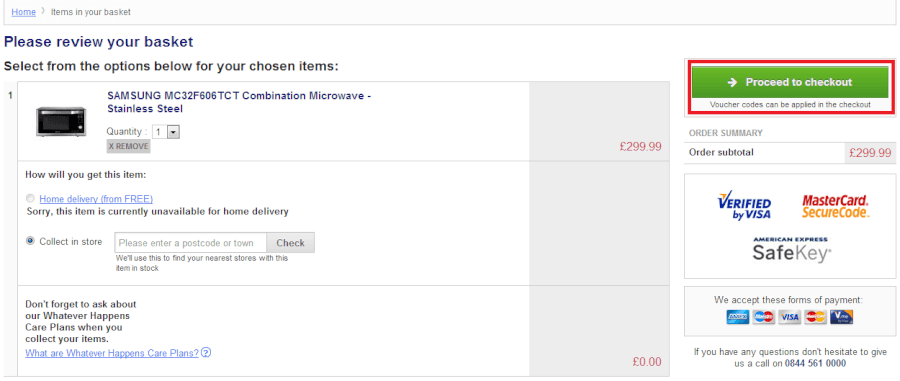 Step 7: Registration
If you already have an account, sign in. If not, register and benefit from convenient checkout, full order history, and special offers. Type in your e-mail address and then fill in all of the mandatory fields. Create your account and move on to delivery options.
Step 8: Entering your Currys voucher code
Now, it's time to enter the Currys discount code. Type it in and click apply. Well, congratulations! You've just saved money and you can buy something really nice for your partner as a birthday gift. Maybe you can find another good deal with Picodi.com/uk/ on Currys? To finalize your purchase click Continue.
Step 9: Confirmation 
Go through order summary, choose a payment method and pay for the appliance. You'll have to confirm your purchase, too. And… that's all. It was quick and easy, wasn't it? We told you from the very beginning that shopping with Picodi.com/uk/ is all pleasure and fun! Maybe you can share it on your Facebook, so your friends will also have a chance to save some money. Well, you've made one good decision today, why not make another?
A Quick Guide to Shopping
Go to Picodi.com/uk/, choose Currys and the product(s) you want to buy.
In the voucher code(s) field, located at the checkout, enter the Currys promotional code and apply it.
Choose the shipping address and method, then payment method.
Confirm your order.
Currys video:
If you liked what you've found while shopping on Currys, try having a look at our other partners' websites - CCL Online, Dell, and ao.com.