More about Singapore Airlines:
Would you like to arrive at the destination of your choice safely? Would you like to get there fast? Do you like flying? Choose Singapore Airlines and enjoy your journey without spending a lot of money!
About Singapore Airlines
Based at Singapore Changi Airport, Singapore Airlines is the flag carrier of the Republic of Singapore. It is one of the largest airlines in Asia. The history of these airlines starts with the incorporation of Malayan Airlines Limited in 1947. The first flight of these Asian airline was a chartered flight from the British Straits Settlement of Singapore to Kuala Lumpur. The airlines grow and destinations available for the passengers increased in number. Singapore Airlines offers exclusive possibilities for their customers for almost 70 years. The fleet of the airlines consist of Boeings and Airbuses. The tradition of the company is portrayed by The Singapore Girl – the stewardess dressed in the sarong kebaya; she is representing Asian hospitality recognized all over the world. You can check it yourself – book a flight now and enjoy your travel!
Flying with Singapore Airlines
Are you considering travelling with Singapore Airlines? Check out their website! Select the section called "Flying With Us" and discover the amazing world of Singapore Airlines! Choose the destination and add some extras! Look for comfortable lounges, check the cabins available, take a look on Dining and Entertainment sections. 
Do you have more questions? No worries! Here's the helpful advice! Visit the website and find "Travel Info" section!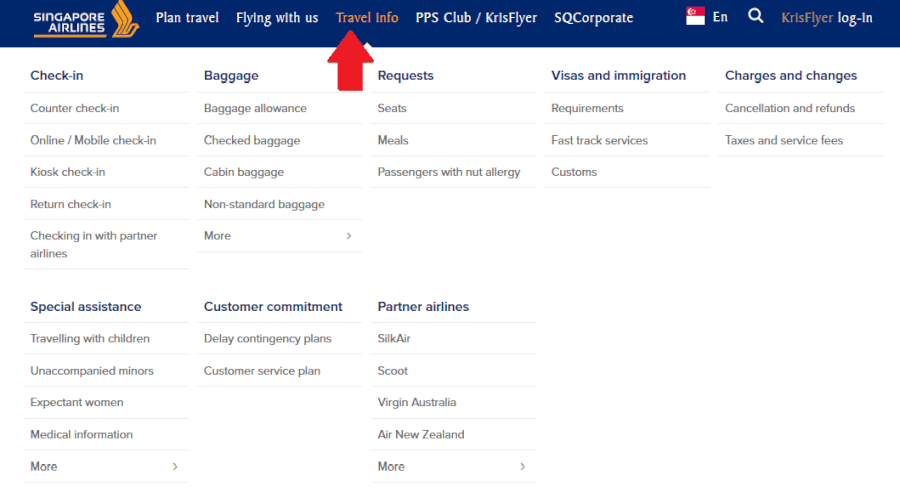 Here you can find information about check-in, baggage, special requests, charges, special assistance and many more! What is more – check out the rules of the loyalty program of Singapore Airlines. Join the club and benefit from the membership. Earn when you fly, get discounts at the duty free shops and get exclusive privileges. 
Follow Singapore Airlines social media and be up to date with the flag carrier of Singapore!