More about FlowerAdvisor:
Flower Advisor Malaysia coupons
Flower Advisor is the leading online florist in Malaysia. It thrives on its policy of same and next day delivery service. It delivers flowers within Malaysia and to all countries across the world. The entire idea behind starting Flower Advisor came about on account of the absence of a strong brand for flower deliveries on an international basis from within Asia.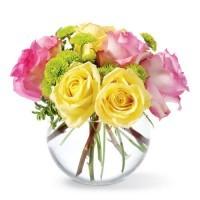 Online users have always found it difficult to rely on a trustworthy online flower site that could also handle delivery of flowers, gifts and hampers to all their loved ones at various destinations in the world.
Roses and Bestsellers
Flower Advisor constantly updates its floral decorations and presents it on its `Bestsellers' page. Roses have always been the preferred option that people have chosen to give as gifts to their loved ones. Flower Advisor has a whole range of roses that include champagne rose, red roses and yellow roses, peach roses, mixed roses, blue roses, pink roses, white roses and orange roses. It is not all about roses; you can opt for lilies, sunflowers, orchids or tulips.
Ideas for New Born Babies
Flower Advisor has also become a great source for picking up gift ideas, wines and hampers. For new born babies, consumers can pick up packages of diapers, booties, baby clothing and mittens and they could also pick up a rattle, a set of bowls, combs, cups and bottles. Baby strollers are also on offer for new born babies.
For nice gift options, you can think of cufflinks, cakes, teddy bears and chocolates. On special occasions like Valentine's Day, flowers and chocolates are excellent gift choices and they can be delivered not only to a location within Malaysia but to any place in the world. When your loved ones go away somewhere on business or on tourism or for studies, you can still make them feel special with beautiful gifts and bouquets.
Flower Advisor Offerings
Flowers

Gifts

Wines and Spirits