Jetstar is an Australian airline based in Melbourne that carries 8.5% passengers coming to and going out of Australia. The airline came into being in 2003 when Qantas, its parent company, decided to launch low-cost carrier. Since that time, Jetstar has carried more than 200 million people. Some of you may remember this company, because it is the first Australian airline that gave customers the opportunity to select seats upon reservation. Today, it is one of the largest low-cost carriers by revenue in Asia Pacific region, which operates more than 4,000 flights a week to more that 75 places. Jetstar Group fleet consists of: Boeing 787 Dreamliner, Airbus A320, Airbus A321 and Bombardier Q300 - quite an impressive fleet for such low-priced airline.
Price Beat Guarantee
Jetstar Price Beat Guarantee is a money-saving program run by Jetstar. The company slogan is "Australia's No. 1 Low Fares Airline" and they intend to honour it. So if you find that other airline has cheaper flights available online, you can ask Jetstar for a discount. It applies not only to flights, but also to holiday packages. Find similar offer at Jetstar's competitors with cheaper price and they'll offer you the same package with 10% discount!
How to claim it?
First, go to http://www.jetstar.com/ and scroll down the website. At the bottom you will find "Price Beat Guarantee" link, click it and look for "Start online chat" button. You will now contact their support team - send them the website with better offer and wait for a bit, so they could verify the comparison. If it's legit, you will get 10% discount, but you must book the flight immediately. You will receive an itinerary within 72 hours.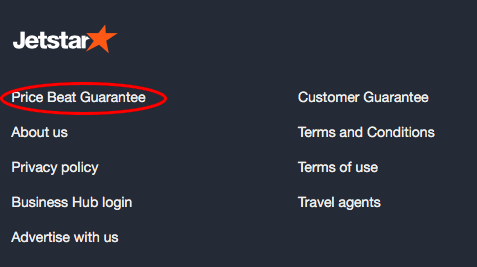 There are some terms and conditions that you must remember. All of them are listed on Price Beat Guarantee website, here are some of them: both flights must be open to the general public (online) and they have to be in the same currency. Cheaper price must include all necessary fees and taxes. Also, the route must be identical — the place of origin and destination must be the same.
Jetstar values their customers so they implemented 10-point consumer guarantee. Among other, few are worth mentioning: call centre open 24/7 and letting you know about every change that will delay your flight by more than 45 minute — if the airline won't meet this commitment then they will give you $50 Jetstar voucher.
Another thing that could save you some money is pre-purchasing food. If you are a frequent flyer then you must now that during the flight, attendants gives you the opportunity to buy all kinds of things like coffee, newspapers or food. If you want to save some money on those things plan it beforehand. When you book your flight you can also pre-purchase those things - just click it when you are making a reservation on your flight and on the plane, you will be provided with everything you ordered — you save some money, because pre-ordering is often cheaper, but this also saves you some hassle, because there is no need for you to look for your credit card or money during flight.
Price Watch
Looking for a flight, but the price is to high? Don't worry; just use Jetstar's price watch. Go to the Jetstar website, then click on "Deals" on the menu. Check those discounted flights, but if you are looking for better prices then scroll down the website and find price watch at the bottom. Click "sign up".
When you click it, you will see a Price Watch sign up form — you have to provide information like Destination airport, price range, number of passengers and, most important, your e-mail. After that click "choose dates" and pick a timeframe — you can choose a range, or a month or if you didn't choose a date yet, you can just click "anytime". After that just click "save" and you are good to go. Make sure to use e-mail that you check regularly, because as soon as the price on your flight drops to selected level you will be notified by e-mail, so can book your flight right away when the price is low!
If you're interested in Jetstar, you may also want to check out Jetstar's parent company - Qantas or other site like ingogo to find transport. Planning a trip? Visit airbnb to find your perfect bed&breakfast.