More about Uniqlo:
A unique clothing company
The company was founded in 1949 in Japan as a manufacturer of textiles, and it was in 1984 when it opened its first store. Its mission is to make affordable and wearable clothes that are universal and elegant at the same time. With such an approach, they cater to the needs of the largest customer base who are looking for everyday fashion ideas.
The company embraces the change that technology brings, which is why they always strive to bring new ideas into their development processes. More importantly, Uniqlo makes clothes that last longer so that their customers get value for their money while at the same time not filling the landfills with used textiles.
Uniqlo has always made their clothes with the focus on quality. It's not a surprise, therefore, that the collections caught the attention of famous athletes, both in Japan and abroad. The company is proud to have sponsored Shingo Kunieda who is a Grand Slam winner in wheelchair tennis, as well as Kei Nishikori - an ATP champion. Finally, it also sponsored the world-class pro golfer Adam Scott from Australia. Such connections prove that the clothes made by Uniqlo are worth every penny and are good for practicing sports as well.
The environment and the community
As a Japanese company, Uniqlo recognizes the impact the fashion industry has on the environment. Without changes proposed to create new processes, it harms it in the form of carbon dioxide, water usage as well as the number of clothes being dumped in landfills. This is why it started the initiative called the All-Product Recycling in 2006, which puts the main focus on what happens with the clothes after the user doesn't need them anymore.
What happened was that Uniqlo realized that most clothes which are donated for recycling are still in good condition. It means that those, who don't donate, throw away perfectly good textiles. Therefore, if they are still in good condition, the clothes are given to the less fortunate, people who couldn't afford to buy them. This way, not only the clothes are given a second chance, but the lives of the communities change.
Benefits of having an account
You can shop at Uniqlo without having an account. You can use the website as a guest and leave your order as it is. However, there are certain benefits to opening an account. One of them is the fact that whenever you shop at the store, your process will be quicker. Your data will be stored securely, and whenever you log in, you won't have to enter them over and over again. You won't have to use the same payment method every time - this can be changed even with an account.
Another reason to have an account is tracking your order. Once you place it, you can check at which stage it currently is. It comes handy when you don't receive it in the time you thought you would, or you want to prepare for signing the delivery.
When you shop, you might see an option of adding the item to your wish list instead of your basket. When you do that, the product is saved for the later date, and you don't need to pay for it right away. With an account, these saves don't get lost, and you can return to them at a later date.
You don't have to opt for home delivery if you don't want to. Uniqlo gives you an opportunity to place an order online and collect it from a store. In rare cases, you might order something, but in the end, it's not available. Don't worry - you will not have to pay for it and then expect the refund because the store charges you once they dispatch the order from their warehouse.
How to order
Placing an order is really easy, and you don't need any particular skills to do that - internet connection will do. When you use the categories, and you find an item you want, simply click on it. You can also find something on the front page right away because new collections and sales are also advertised there.
When you see the webpage of the product, select the filters - size, colour, and quantity. You will also see recommended products that would look great on you. Add your item to your bag and continue shopping. Then, go to checkout and check if everything's right with your order. Follow the instructions and make the payment.
Delivery information
In general, you have two options for having your goods delivered. First of all, you may want to have them delivered to the store for Click & Collect, in which case you don't need to pay anything. You might also want it to be shipped to your local convenience store, in which case your delivery charge will be £4.95. However, if you prefer to have your package shipped to your house or office, you can purchase an option of standard delivery, next day, or a nominated day.
It might happen, though, that after all, you won't be at home for the delivery. In such a case, the delivery person will leave a calling card. However, you can also request for your package to be left with a person you trust, such as a neighbour. Simply contact the store as soon as possible to let them know.
Returns
Uniqlo takes every precaution to send you the exact items you ordered, in new, undamaged condition. However, you might receive a wrong product or perhaps it's not as good as you expected. In such a case you are entitled to a return and the store will help you as soon as you contact them.
For any other reason, for example when you change your mind, or you see that the size isn't right, after all, you can return your product within the 28-day time slot, however, you will need your proof of purchase. Although the store doesn't offer exchanges per se, once you're refunded the full amount, you can place an order for another product. It's a different story with a stationary store, where you can return an item and immediately try another one.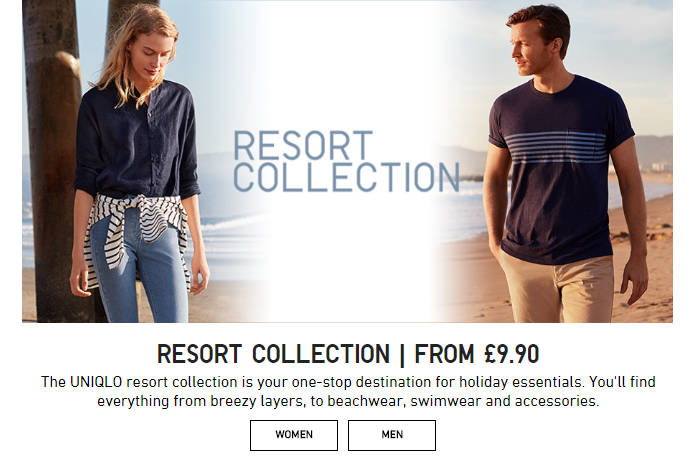 Making the payment
When it comes to making the payment for your order, you have more than one option. Although the store doesn't accept payment by cheque or by phone, you can pay with one of the following cards: Visa, Visa Delta, Visa Electron, MasterCard, Maestro and American Express. If you do not wish to use your card for your online payment, you can easily use your PayPal account. With this option, you will be redirected to PayPal's website to log in and finalize the payment.
If you need your items to be sent to a different address than your billing address, that's not a problem. As long as they are both in the UK, you can send your order somewhere else.
Some people are afraid to pay with their card online. However, Uniqlo makes sure that your payments are secure. The SSL technology protects all the information you put into the system while paying for your products. Besides that, even though you type your card number in, it reaches the seller in an encrypted form which means no one on the other end of the transaction can see it.
Other practical information
It's always better to buy in bulk because you can save on delivery. The warehouse might send you your order in different parcels, so if you see upon delivery that some items are missing, you can check your account and confirmation email with a tracking link (that's another reason to register for an account!). If you see that this is not the case, simply contact the store as soon as possible so that the missing product can be sent to you accordingly.
Uniqlo also offers a service involving alterations on certain products. Sometimes you might see that the product is great in quality and generally in size, however, it should be altered a little bit. You can have that for free for your pair of bottoms priced above £19.90. In other cases, the alteration service will only cost you £3.00. To arrange that, all you need to do is visit the physical store and request it. All you need to bring, apart from the pair of bottoms, is your proof of purchase so that the store knows if they should charge you for the service or not.
The range of products at Uniqlo online store
The idea behind Uniqlo is that anyone can shop there. Whether you are looking for smart wear for work or something casual for afternoon activities, you are in the best place. Uniqlo offers you and your family a shopping experience that will stay with you longer for all the right reasons. Because they are made with the best quality fabrics, they aren't disposable as with other chain brands which also contributes to the wellbeing of the environment and the better state of your finances.
The easiest way to shop at this online store is to click on the chosen category at the top of the page. You will then see what other subcategories are available and this way, you will have an easier job finding a product you're interested in. In women's and men's category, for example, all items are categorized as follows: outerwear, knitwear, tops, bottoms, innerwear and loungewear and, finally, accessories.
However, there's more. Uniqlo understands that every person is unique in their way and, therefore, wear different sizes. It's safe to say that they meet each of their customer half ways and offer them extended sizes. For petite and plus size women, you will be able to look for products from XXS to 3XL. You no longer need to worry about shopping just for you as Uniqlo will accentuate your strong features no matter the size.
There is also a variety of items which are sold online exclusively and cannot be found instore. It makes the online shopping experience at Uniqlo all the more worthwhile. You might not know how to combine trends or what is appropriate to wear for specific occasions. When you click on Lookbook, you will see how the experts do it and perhaps you will get inspired too. Ideas for the entire family and great prices are what makes Uniqlo the best place to shop for wearable fashion.
Those who have kids must know how expensive they are. It's that one thing that makes all the parenting a little bit more difficult - as soon as you buy clothes and shoes for your kids, they immediately grow out of them. This is yet another reason to save money whenever possible and to find good deals on children's clothing.
No matter how young your child is, you will find all the essentials at Uniqlo. For the youngest babies, even at the age of 3 months, you will find garments that are both cute and comfortable for the little ones. They are made with breathable fabrics so that their skin can breathe freely. Some types of baby clothes include one-pieces, bodysuits, bibs (the more, the better, right?), and when you baby reaches the age of 1, you can get the tops, dresses, bottoms as well as innerwear and loungewear. If you like licensed designs, Uniqlo carries the selection of Disney Project, Studio Sanderson, Thomas and Friends and Peppa Pig.
Saving opportunities
There are various saving opportunities for all those savvy shoppers who always want to extend their pound. The first thing you can do is register for a Uniqlo newsletter. When you do that, you will instantly receive a one-off £10 discount on your first order. Another thing is the promotions. Simply click on the right category, and you will see products for men, women, baby, and kids.
When you click on a specific gender, you will also see Limited Offers. When you go there, limited-time deals will be displayed on your screen. With this kind of promos, you need to make your decision quickly because once these products are gone, they won't return at such competitive prices. Another way to shop for the discounted items is to find the SALE tab inside each gender's category. Be sure to check it out thoroughly so that you don't miss out on anything.
The Picodi factor
It's best to have all the information about saving money which is why it's recommended that you register an account with Picodi. You will soon receive your first newsletter with personalized offers from your favourite stores and service providers. Whenever you see something interesting, you can visit the platform and see the promotions in more detail.
Such a solution has got quite a few benefits. First of all, you get an overview of all offers in one place. Therefore, you don't need to waste time going from one store to another to search for a discount. Another thing is that you can find different types of deals - vouchers, free deliveries for a limited time, flash deals, bargains, complimentary gifts and discount codes. You can make your own decision on what you want to use.
Finally, using Picodi is always free of charge. You can log in at any time, and you get access to deals from stores from all over the world. Just because you're based in the UK doesn't mean you can't shop in other countries!
You can find more deals in various shops such as Asos and Very.