Shopping with Sainsbury's voucher codes
We can all agree that sometimes doing shopping at a big store, with hundreds of other people being there with the same purpose as yours, long queues both to checkouts as well as to fitting rooms, lacking sizes and mismatched prices… can be really bothersome and take all the pleasure from that enjoyable activity. Sometimes it is easier to sit comfortably in your armchair after work with a cup of green tea and a chocolate cupcake, play your favourite music in the background and simply do your shopping on-line. And you know what? Sainsbury's caters to all your needs without much effort from your side. You can choose whatever you need from the wide range of categories prepared especially for you, which cover all the essential aspects of living…
A brief history
The supermarket chain Sainsbury's was established in 1869 and now is the longest-standing major food retailing chain with 788 stores and with an aim
"...to be the consumer's first choice for food, delivering products of outstanding quality and great service at a competitive cost through working faster, simpler and together."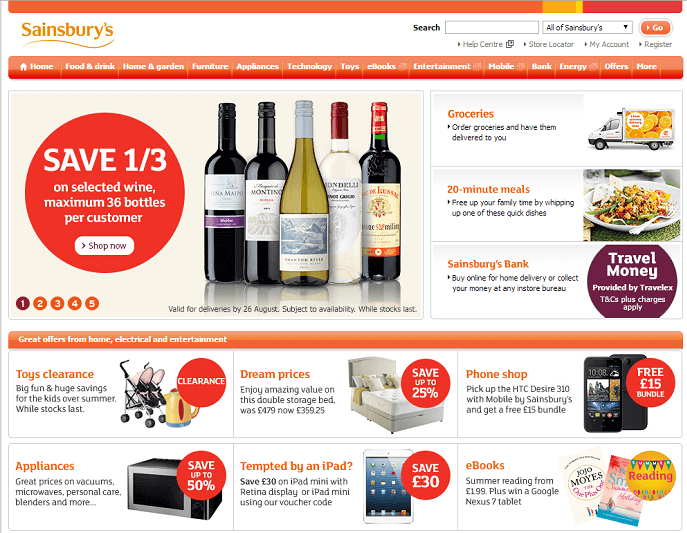 There are hundreds of brands available at Sainsbury's on-line store, both famous ones as well as those less known, including:
Canon, HP, Epson, Kodak, BIC, Stabilo, CiF, Cilit, Dettol,
Domestos, Raid, Merchant Gourmet, Nestle, Cadbury,
Kraft Foods, Douwe Egberts, Dove, Nivea, Gillete, Colgate,
Aquafresh, Arla, Castello, Cathedral City, Coeur de Lion, Heinz,
Hellmann's, Lego, Fisher-Price, Apple, Nintendo, Play Station,
Perfecta, Layezee, Sealy, Russell Hobbs, Tefal
and the list could go on for at least 3 or 4 next pages.
So, do you have enough of your comfortable armchair and would like to set off for a journey? Well, do not get up yet as you can buy everything you need at Sainsbury's and save money on everything, from delicious pizzas or local cuisine!
Sainsbury's Christmas TV Advert
How to use Sainsbury's voucher codes
Well, Picodi is an expert in its field, that is the field of discounts! Follow our short guide to learn how our codes work!
Step 1: Search for Sainsbury's at Picodi
Go to Picodi and type Sainsbury's into our search engine.
Step 2: Two types of Sainsbury's voucher buttons
Look for active, green discount (either get the deal or reveal the code, both are very welcome options), because grey ones are no longer available. Each offer button has a description on it telling you how you can use it.
means that we will have to enter the Sainsbury's voucher code
means that the code is actually not needed
Step 3: Pick your Sainsbury's voucher code or promotion
Choose the button that matches your needs, take three deep breaths and click a green button.
Step 4: Visit Sainsbury's website
Your click opens a new web tab. If you see the code in the box on Picodi site, enter it in when required (but do not worry about the code as the box will not magically disappear).
Step 5: Shop for your favourite products
Now, take your time and put products you want to purchase into your basket. Being sure that you do not need anything else, go to checkout.
Step 6: Place your order
To place your order, you have to be a registered customer of Sainsbury's. Sign up or sign in.
Choose delivery options, enter your personal details, decide on delivery address and payment method.
Finally reach order summary section as vouchers can be entered on the order summary page. Now it is time for you to act, so enter the code from Picodi and apply it.
Well, do not believe those who say magic does not exist… You have just saved yourself from overspending and it was effortless, right?
Step 7: Enjoy your savings!
And this is magic – magic of doing shopping with Picodi. Now, sit comfortably and think of ways how to use money you have just saved! OR you can shop some more at such stores as Tesco, Marks and Spencer or Domino's Pizza.
Have a Happy Discount Shopping!