High end to high street
What is London known for? Picadilly Circus, St. Paul's Cathedral, London Eye? It's one of the fashion capitals of the world so no wonder that fashion is one of the city's trademark. And Harrods, probably the most well-known department store in the world, has gone online so that customers don't have to travel to London just to experience wonderful customer service and buy amazing products. Those who live in the city, don't need to find time to go to the crowded store and can order their goods online.
Picodi has good news – now you can shop at Harrods for much less. Simply visit the website regularly and take advantage of deals and offers available on the platform. Don't go chasing promotions on each individual's brand's website and come to one place to find everything you want.
About
Harrods has always been considered an exclusive store, but with coupon codes, its range is more accessible to many people across the country and abroad. Instead of keeping up to date with discounts all by yourself, and wasting time looking for offers, Picodi is all you need to find them in a matter of minutes. Designer clothes are not that far from your reach anymore and by having 24/7 access to promotions, you save both time and money.
If you want to feel like a celebrity and wear designer labels, you should look in a place, in which a broad range is paired with the best prices. Don't stick to just one brand and mix them to create your fantastic, exclusive outfits. Clothes from Balmain or Dolce & Gabbana are waiting for you to grab them. Are you looking for a dress to go to a ball? Choose the one that suits you and your personality best from Divine Dresses category. Burberry, Patricia Bonandi or Valentino will end up in your wardrobe straight from the runway. If you're looking for something more high-street, but still exclusive, you'll be happy to see Self-Portrait or Sandro discounted to very affordable prices.
An elegant man should always have certain clothing items in their wardrobe. These include a dress shirt, a suit and an elegant pair of shoes. Other than that – men's clothes are quite versatile and can be put in different combinations. To this end, a polo shirt is one of them, and it looks completely different with a pair of trendy jeans or suit pants. Plain or patterned, you can be sure you will find all you need in one place. New Arrivals will always show you trends that rule the runways so you can be as fashionable as you want to be in jackets, coats, jumpers, and trousers.
Harrods isn't just about fashion. For quality wine and top-shelf food, visit the store or the website to stock up your shelves with delicious and decadent products. Need some expert beauty items? Fear not, as best brands in the world sell their products there for you to choose from. When you're looking for a perfect gift for someone special, check out the Gifts' section to get rid of a big weight off your chest and when you travel abroad and want to take something with you, go for Souvenirs.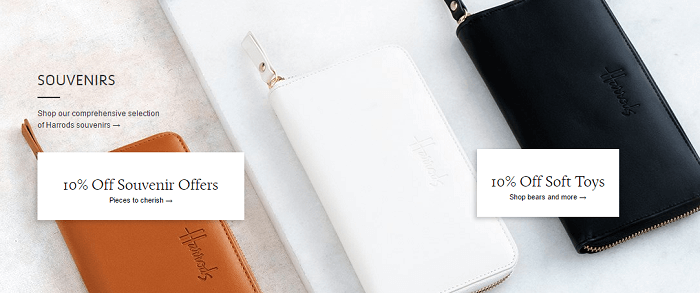 Harrods vouchers
Now you don't need to look for promotions all over the web, wondering how much your next shopping session is going to cost you. All you need to do is find your favourite brand or shop on Picodi and:
Check which vouchers and offers are currently available. Some of them expire within a few days, some of them are ongoing but there are also flash sales that go away in a day.

Click on a deal you like and either go to the store's website or copy the promo code provided.

When you're on Harrods' website, you can now start shopping. When you see an item you really like, simply add it to the bag.

To review your order and amend it at any time, click on the bag icon in the top right corner. Add something more or remove items you don't need. Or leave it the way it is.

Paste or type your promotional code into the right window. Go to your checkout and pay using your personal and card details.
All payments are made via the secure system.
If you like shopping on your phone, get a new one from Currys.