More about Godaddy:
GoDaddy
GoDaddy is the world's largest domain registrar and web hosting company. It operates from 14 facilities located in the world's most known tech corridors. With its offer directed mainly to small, independent ventures, GoDaddy was able to provide more than 14 million customers with their services and to manage over 63 million domain names to date. The company hires around 5000 people to ensure around-the-clock availability and high quality of their services. GoDaddy's aim is to help small enterprises to begin their online existence, attract customers and manage their work. The company maintains an active role in the community, sponsoring sports events and supporting charity initiatives.
Offer
GoDaddy offers a set of services that thoroughly satisfy the needs of small business owners when it comes to their online presence.
Domain names – finding a good and original domain name (which is not already taken) is an important step on the way to build your brand on the Internet. GoDaddy provides you with a search engine to find a domain, auctions for buying and selling domains as well as useful tools for domain management.

Website – your website is one of the best marketing tools you might have. If it's well-made, that is. GoDaddy offers you two ways of creating a fully-functional, tastefully designed website. You are offered a set of tools to create a website by yourself. If you don't have the time or skill to build your own website, you can use GoDaddy to find and contact a local web designer to create a professional website for you.

Hosting – without hosting your website wouldn't really exist on the Internet, so you can guess how important it is to choose the right hosting plan. GoDaddy has a wide range of hosting options for you, including web hosting, Virtual Private Server, Managed WordPress hosting but also dedicated servers or cloud servers.

Web Security – in this area, GoDaddy protects your website (or websites, if you wish) with different SSL certificates adjusted to individual needs of every business. Additional SiteLock function features defense software for a constant protection of your website and an emergency malware clean-up for urgent situations.

Online Marketing – GoDaddy wants to support you on every step you take to achieve a stable and profitable online presence. To promote your business on the web use GoDaddy's tools for SEO and e-mail marketing or hire an expert in SEO services who will help you to become more visible to web users.

Email & Office – this service, offered in co-operation with Microsoft, will cover your needs for a professional email on your domain. You can also buy the newest version of Microsoft Office in a package suited to your requirements.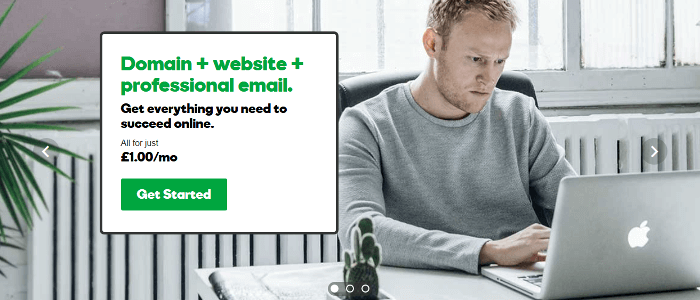 Shopping
Every category of GoDaddy services includes detailed guides which will lead you, step by step, to choose what's best for your business.
If you need a domain, enter a name you would like it to have, and check whether such name is free or taken. Then, you can choose additional services. On the left side of your basket, you will see a place for entering a promo code. You can see it encircled in red in the picture below.
The best and easiest way to find a promo code is to visit Picodi.com/uk. Find an offer for GoDaddy and browse the list of available promotions. Among them, you will find codes hidden under "Reveal the Code" buttons. Click on one of them and copy the code that will appear. Go back to GoDaddy, go to your basket and enter the code into the proper place. Apply and proceed to checkout. Log in or create an account. You can also sign in with your Facebook account. Enter all the necessary details and confirm your order.
GoDaddy Garage
GoDaddy has its own blog divided into three parts: Small Business, Web Pro, and Tech. There are, for the most part, articles with useful advice and information. You can learn how to launch, advertise, manage and secure your business. You may also increase your proficiency in web design by reading articles devoted to WordPress, web security, design, and development. In Tech section you will get to know popular and some less popular programs and applications. If you want to get in touch with GoDaddy community, follow the company on Twitter or Facebook and visit their YouTube channel.
Promotions
Visit Promos section on GoDaddy's website to find the latest hot deals and huge bargains on all the services. To never miss any great promotion and discount sign up for a newsletter – and wait for special offers to be sent straight to your mailbox. Don't forget to visit Picodi.com/uk to find all the newest deals and bargains, not to mention all the coupons you may get for free!
Whatever internet services you would possibly need, you can have them cheaper than ever before – with a little help from Picodi! Check out our offer for NordVPN and more.