ASDA George discount codes on Picodi
ASDA is a British supermarket chain selling food, clothing, general merchandise, toys and financial services. However, today we will give our attention solely to its own range of clothing called 'George' which was established in 1990. ASDA George is nothing else but trendy clothing, accessories and beauty products at reasonable prices. There is also one interesting thing that you may buy at ASDA George.
Imagine that you are planning a wedding, but you are tight on a budget. You do not even want to picture yourself in a second-hand dress… well, actually you do not have to. ASDA George is the first supermarket to sell wedding dresses, which are part of George clothing line, at affordable prices – imagine getting a nice wedding dress for only £60. If your partner is also looking for a suit, ASDA George has something for him, too – trendy suit for £40! That means £100 in total – what a fantastic value! What's more, if you're lucky, you can save even more with ASDA George discount codes, but you must have your eyes wide open because these super deals usually last for a limited time only!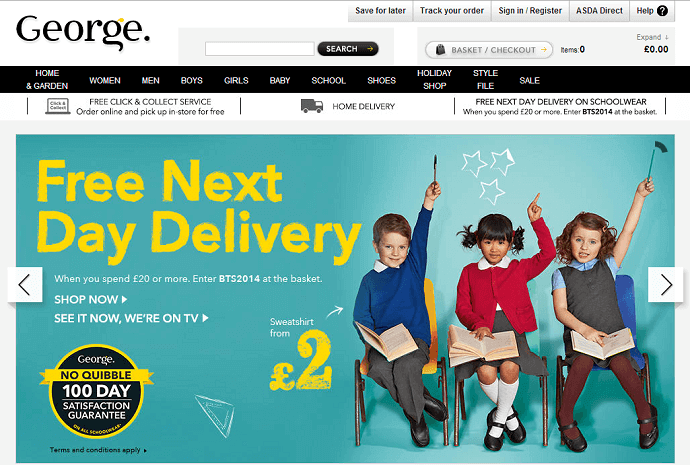 But let's leave the topic of weddings for now. Summer is going to end soon and Autumn with new fashion trends comes in. We know that you want to look good at home, work or wherever you go. Good news is that you do not have to spend a fortune to look chic. At ASDA George new trends come at affordable prices.
ASDA George TV advert
What would you say about some nice feminine pieces with floral paints, animal prints or tartan – those seem to be overtaking the clothing market this season. Check this wonderful feminine long-sleeve top and let your inner romantic shine. The floral heart design is kept simple and chic with the understated cut and loose-fit jersey fabric. You can combine that top with trendy PU Ponte Leggings that will put your pins at centre stage. What about shoes? We highly recommend something fashionable, yet comfortable and Metal Heel Ankle Shoes seem to be perfect for the task. The whole outfit is less than £50 pounds, so what about nice bracelet, e.g. Assorted Facet and Beads Bracelet, emphasizing your delicacy? Classic, yet so sexy…
ASDA George has a number of its own brands dedicated solely to women:
Moda,
G21,
Barbara Hulanicki,
or to men:
Charlie Allen,
Boston Crew,
South Dean Street.
How to use ASDA George promo codes
Shopping on ASDA George is cheap, but shopping with Picodi.com/uk/ is even cheaper… would you like to learn what we are talking about? No problem! Just follow this simple guide which was written especially for you to save you from overspending!
Step 1: Search for ASDA George at Picodi
Type Picodi.com/uk/ and search for ASDA George in our search engine. If you are interested in other branches of ASDA, e.g. ASDA Groceries or ASDA Direct, you can check them out as well.
Step 2: Two types of discount buttons
A number of discount coupons will appear. The ones which you can still use will be marked with green buttons stating either Reveal the Code or Get the Deal. Both mean that you are going to save even more money! Now, you will quickly see that each offer has a description. Read the descriptions and learn on which products you can use a particular offer. Ask yourself a question: What do I need? And choose the right deal. Click the green button.
means that we will have to enter the ASDA discount code.

means that thecode is not needed to get a discount.
Step 3: Pick your discount and click the button
Your click opens new page which turns out to be ASDA George on-line store. The box on Picodi will contain an ASDA George promotional code (after clicking Reveal the Code) or information that no code is needed (after clicking on Get the Deal); the latter one means that ASDA George is so generous to already offer what you want at discounted prices. 
Step 4: Shopping at ASDA George 
Have you put everything you wanted in your bag? Good. Here comes the time to use the promo code. Go to your bag and under item details you will find an interesting question: Do you have anASDA promotional code?Of course you have! Click the question and a field for entering the code will reveal itself! We have marked the field on the picture below with a red rectangle.
Step 5: Use your code
Enter the code and validate it. Oh yes, we have probably forgotten to mention that doing shopping with us is all pleasure… Hope you do not mind it?
Step 6: Enter all the necessary details and confirm your order
The last steps to do: go to checkout, decide on the delivery address and method, select payment type and place your order. You have just saved money and it took you only five short steps. No need to thank us, you are the one who deserved applause for choosing the path of a money saver rather than a money waster!
Do not forget about famous annual event - the Black Friday. Check what we have expecially for you at https://www.picodi.com/uk/inspirations/black-friday
Remember to visit us before your next online shopping! Looking for some Debenhams discount codes? We've got them! Plus, there are still plenty of discounts at Missguided or Marks & Spencer for you to grab!
 
Every year ASDA George prepares special offers for Black Friday and Cyber Monday. 
All promo codes and discounts for Black Friday 2018 and Cyber Monday 2018 can be found on dedicated special pages.