Melissa Shoes – Plastic Dreams
Melissa is a world-famous fashion brand producing plastic footwear. Melissa Shoes, beloved by sophisticated and stylish individuals, have been now walking the globe for more than 40 years. Their unique, plastic design and catchy colours make them an interesting addition to any girl's shoe collection. Fashion models and designers, celebrities, superstars and the rest of the world hailed them as being an absolute must-have in footwear fashion. The reasons for this are obvious - Melissa shoes are comfortable, eco-friendly, stylish.
Melissa offers a wide range of jelly shoes and accessories such as bags, jewellery, and fragrances. Melissa excels in individuality, comfort, great data-style and eco-friendliness. Its hallmark jelly shoes are made of plastic that is 100% recyclable.
If you don't have your own pair of Melissa shoes yet, you will fall in love with them. You can find them in Zalora, MDreams, Asos online stores.
It all began when…
The brand was founded in 1971 in sunny Sao Paolo, Brazil. It soon became popular in more than 80 countries, including Philippines, Australia and the US. Melissa Shoes have grown to become one of the largest footwear manufacturers that operates over  12 factories and hires over 20,000 devoted staffs. Each year, the company is said to produce almost 200 million pairs of shoes and launch 400 new products. If you are wondering what was the key to the brand's international growth, it was sustainable development. What makes Melissa different from other companies is their attitude towards the world surrounding us. They do protect natural resources for future generations in order to create a harmony within business, society and the environment.
Popularity
Such iconic designers as Vivienne Westwood, John Paul Gaultier, Zaha Hadid, the Campana Brothers, Judy Blame and Lovefoxxx are a just a few of the world's famous figures who have engaged themselves in creating fashion shoes for Melissa. Constantly pushing the boundaries, the designers follow the philosophy that shoes are not only footwear, they  are pieces of architectural art! These pieces of art have become popular among celebrities such as Katy Perry, Katie Holmes, Agyness Deyn, Anne Hathaway, Cate Blanchett and Shingai Shoniwa of The Noisettes. Famous Lady Dragon heart heels were promoted by Pamela Anderson.
Technology
The shoes are manufactured with a special type of plastics, called Meflex. This material is recyclable,  isothermal, comfortable and most importantly odourless. This unique formula enables the jelly shoes to provide more comfort to your foot. Its resistance and waterproof qualities also ensure that Melissa's shoes are durable and long-lasting.
A team of dedicated researchers is still toiling by the sweat of their brows with the aim of combining technology and design. One of their improvements to the Melflex technology is the Velvet Melflex  making it possible for the Melissa's shoes to display both a matte and shiny surface simultaneously while maintaining the comfort and durability of its shoes.
Melissa data-styles
At your disposal there is an impressive variety of data-styles, from wedges to flats, from boots to high heels, from flip flops to slippers. There are even cute data-styles for toddlers.
Little fashionistas can wear them with floral dresses or shorts and patterned blouses. They can match them with jeans and t-shirt for a cool, more stylish look. The most recent collections include:
Roller Joy – as the name suggests, these are roller skates inspired by a sporty way of life, a retro design combined with sport spirit
Sebastian Errazuriz – they are inspired by innovation and humour
Melissa Star Walker – a great in number collection featuring flip flops, flat shoes, high heels, boots and much more…
One By One – they are sold as half pairs, they fit both the left and the right foot
Eat My Melissa – they are innovative with a touch of vintage data-style
Jason Wu – inspired by the femininity
Vivienne Westwood – they are surrealist and gorgeous
Karl Lagerfeld – they are made by a man who has become an Icon in fashion world, what else can be said here…
Alexandre Herchcovitch – they are recognized by pointed-toe, shoelaces and stitched collar
J. Maskrey – they are just perfect for the brides that would like to be comfortable on their special day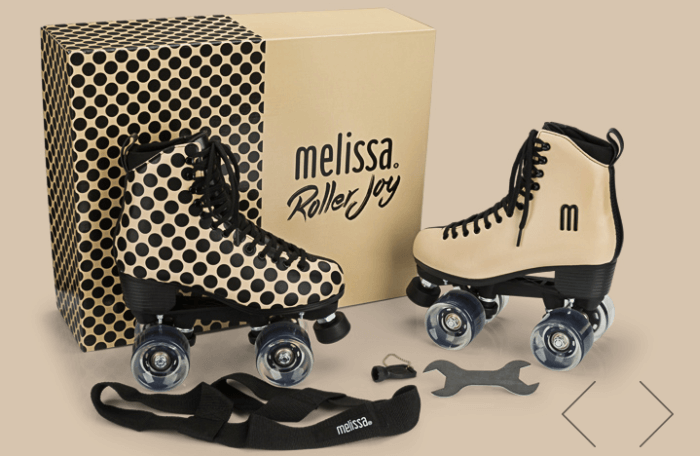 Where and how to buy Melissa shoes?
In order to get price-breaking Melissa promotions and deals, go to Picodi homepage and type one the names of the online stores listed here:
There you can find numerous ongoing voucher codes on Melissa shoes. Click on the red banner to get the deal or reveal the code. Once you are redirected to the store's website, search for Melissa shoes and add them to your shopping cart. Always review your cart before going to Checkout.