WatchPortal ◦ promos ◦ January 2018
Here you can find the latest WatchPortal promotions
Find special deals at WatchPortal. Save up to 55% off. Click the link below to go to the WatchPortal website and start saving money today!
Enjoy getting all your orders delivered to you doorstep for free.
Join mailling list at WatchPortal to get all the special promotions. Sign up at the bottom of the landing page.
WatchPortal coupons, codes and deals that you've missed:
Similar promo codes, coupons and discounts

Enjoy End of Season Sale and save even 80% off and get an extra 13% off thanks to this promo code! Minimum…
Already used by 923 people

Get even 50% off women's accessories at Natasha! Click to go to the discount area on the website and…
Already used by 21 people
Students get 10% off at Forever 21. Click to start saving money!
Already used by 734 people

ongoing
Sign up for the newsletter at Straightforward and enjoy special offers! Be the first one to know about…
Already used by 108 people

ongoing
Enjoy saving up to 50% while buying fashionable women's clothes on American Eagle Outfitters. No special…
Already used by 113 people

ongoing
Register and enjoy 60% off coupon code on Romwe.
Already used by 398 people

ongoing
Big sale at Mall Icons! Save up to 80% on your online order. Visit landing page and pick something for…
Already used by 135 people

ongoing
Download the Uniqlo app now and get P100 Off! *Minimum single receipt purchase of P1000.
Already used by 57 people

ongoing
Sign up and get 15% discount on your next purchase. Macy's code will be sent by email.
Already used by 494 people

ongoing

Enjoy free shipping at Little Emily Shop. Order products for P2000 or above.
Already used by 161 people

ongoing
Shop for children PJs at Mango and enjoy prices as little as $14 on selected styles.
Already used by 7 people

ongoing
WatchPortal promo code reviews by Picodi users:
More about WatchPortal:
About Watchportal
Founded in 2015, Watchportal is an e-commerce website which is focused on watches for affordable price. Their goal is to provide every customer with best products for the lowest prices and make online shopping as easy as possible. 
They offer many top quality brands like CASIO, G-SHOCK, DKNY, Ferrari and Valentino Watches. Shopping on their website is very easy, but if you still feel uncomfortable with buying things online, the customer service of Watchportal will help you as best as they can. Just call them and ask as many questions as you need. 

Using Watchportal promotional offers
If you liked the items avaialbe at Watchportal you should get to know how to save your money with our Watchportal promo codes. Follow our really simple guide, good luck! 
Step 1. Visit Picodi,
The first thing that you have to do is go to Picodi.com and type "Watchportal" in the search engine.
Step 2. Select a promotion,
On this page you can see all available promotions for Watchportal. Pick a deal or a discount code. The deal will redirect you to the Watchportal website. But if you prefer using a coupon code, you have to copy it and use it later.
Step 3. Shop at Watchportal.com.ph,
Go to their webpage and add some fancy stuff to your cart. If you liked one of the items add it to your cart and if you finished filling it up, simply click "Go to Checkout" button. Now we can move on to the last step!
Step 4. Finishing your order and using a promotion code, 
While at checkout area, you have to add some personal details like name, address or contact number. Choose shipping and payment method and find the special box for coupon codes from the picture below. Paste your code from Picodi and apply it. The price is now lower! Congratulations, you've saved your money!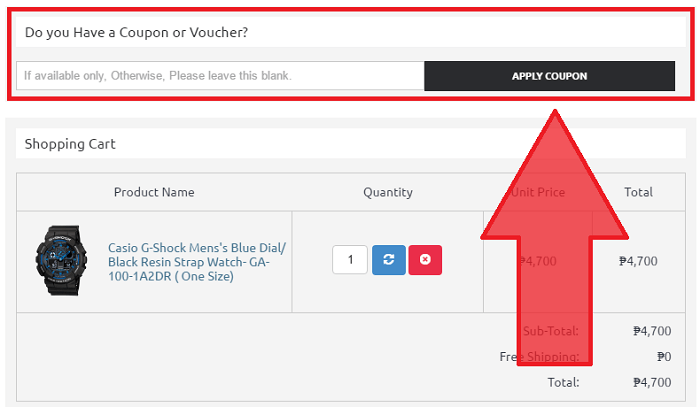 If you liked shopping at Watchportal, you might be also interested in Lazada or Gearbest.
Stay connected with Watchportal by: