About Takatack
Takatack advertises itself as the biggest discovery platform in the Philippines, but what exactly does this vague term "discovery platform" mean? Imagine an online store, just like one of the thousand e-commerce shops popular today. Only think bigger, improved and revamped. Regular online shops are constricted by having to actually "fill the shelves," which means freezing a lot of money. And that only means that most shops can't afford to fluctuate prices according to the need and demand of the market. Competition offers lower price? Sorry, we can't, because we have bought this product at a different price few weeks ago and can't afford to sell it cheaper.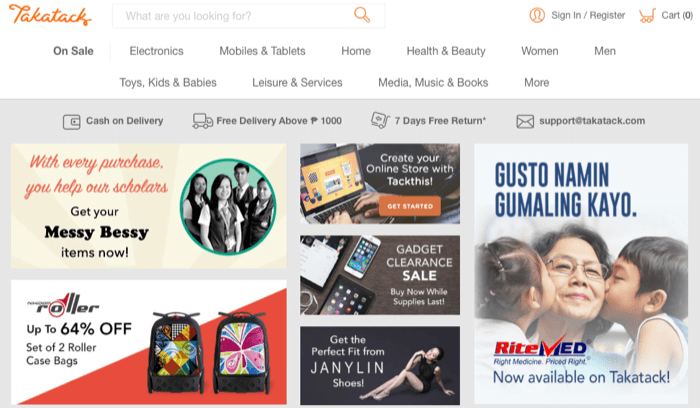 Think of it as an enormous marketplace with many different vendors — both small businesses that offer hand made quality products and big brands and labels that everybody knows and loves. As an entrepreneur you get a chance to find a lot of new customers and as a person who loves shopping you can find everything you need in one place - Takatack selection is impressive and it features everything from high end electronics from well established companies like Apple, Samsung and Xperia, through clothes, cosmetics, home accessories all the way to toys and gift cards. Everything at the best possible prices.
Shopping at Takatack is easy and no different from any other shop. Smooth payment is secured by partners and popular services like PayMaya, PayPal, BDO and dragonpay. Fast shipment is provided by number of carriers like Send, 2GO Express, JamExpress and BlackArrow. Even though Takatack is like a marketplace, you can still find famous brands here like Zalora, Galleon and Philux.
Fulfilled by Takatack
Only difference is that there are two types of products on Takatack. Those that are signed by "Fulfilled by Takatack" badge are available to buy straight from Takatack website. Apart from the green icon, they have a "Buy Button" next to them, which will take you to your basket, where you can finish the transaction. Other merchandise that is available at Takatack belongs to Third Party Shops and Affiliates and that mean that instead of "Buy Button" you'll get a button with a price of the item, which will transfer you to the partner's website, where you will be able to conclude your transaction.
Your own online store with TackThis
Takatack apart from great platform for shopping is also a very powerful tool for sellers. Especially those, who don't posses their own online infrastructure, which can be quite expensive. In a few easy steps, people with their own businesses can make their mark in online shopping world. A beautiful online shop will speak volumes about you and your shop whereas easy store management tools will help you keep track of your transaction, customers and orders that are still waiting to be shipped. TackThis is highly sociable, so you can easily expand to reach your customers at popular social media websites like Facebook or your own blog. This tool provides you with inventory management, reports and analytics, customer profiles and built-in marketing options that will help you getting new customers with newsletter, promo prices, discounts and coupon codes. Small business can try it out for free, bigger ventures can choose a monthly plan that will suit them perfectly. There's plenty options to choose from. Registration is easy, you can even do it with your existing Facebook profile. Just log in to gain access to hundreds of exclusive offers and promos from partner merchants at Takatack. As always, using coupon codes is highly advisable, so stay up to date with ongoing promotions at Takatack by signing up for Picodi newsletter. Benefits are endless, you can get free shipping, extra discounts and even gift cards if you're lucky!
If online marketplace with a selection of different products is something that you find interesting, check out also Trends N' Deals to continue your shopping spree!