One place, one roof, everything under it.
With so much choice of online stores, it's difficult to find a place where you can buy genuinely good quality products that will last and don't cost a fortune. As long as these items are small and inexpensive, you can afford to buy them just anywhere. But when it comes to furniture, consumer electronics or home and garden appliances, it's important to know where to look. Gear Best is exactly that place.
However if you want to find deals and offers to use in store, go to Picodi. These promos are always valid and some of them can be used multiple times. Find your favourite one to enjoy exclusive discounts at many different stores and brands.
About
Gear Best is the place where you'll find all you gadgets at. You can start easy by looking into the current deals where you can find limited time hot promotions or $0.99 zone. Anything from LCD projectors to led toilets, will undoubtedly find their way into your house or office. If, on the other hand, you would prefer to pay the full price for an item that isn't yet available anywhere else, simply check presale section to view all the upcoming products. Robotic vacuum cleaners or Onda tablets have become bestsellers before they became fully available in store!
If you know exactly what you're looking for and want to compare the makes and prices, shop by department. Simply click on any one of them to unveil the countless virtual shelves filled with products you want to purchase. Massagers available in the health and beauty section are available at competitive prices for any budget and in a range of options. Kids' watches will make learning to tell time a truly fun activity, not just something that needs to be done. Action figures from everyone's favourite cartoons and films will constitute a great past time activity which can be done with friends or family members.
Are you in need of some inspiration today? Check Explore department to see what's new in the gadget industry and whether you could find something for yourself there. Freshly bakek breakfast waffles cooked with the use of elastic, heat-resistant moulds are a perfect addition to your kitchen if you like to eat breakfast with your family. Do you need to buy a gift for someone? A 40% off on magic magnetic ball puzzle (supposedly only for children) is a great save both financially and idea-wise.
When your child stops being a toddler, get them toys that will develop their imagination rather than letting them spend all their time in front of a computer or a tablet. Play with him using action figures from Mama Department. Younger ones will love their brand new teddy or panda bears and extra-soft couch cushions.
Customer Care
If, for any reason, your item is faulty in any way, you have a 45-day money back guarantee within the first 45 days from the day of your delivery. After this, you can enjoy a one year warranty for any fault on your devices, unless otherwise stated on the product's website. Of course, you can turn to customer service for advice and answers to any questions. The Gear Best team is dedicated to providing only the best shopping experience to anyone who shops there.
It's not the end, though. When you write a review, you are subject to receiving a voucher in the amount between $5 and $100. Just for speaking your mind! If you become a person whose opinions count in the online community, you might even earn free shipping to your door. If you refer a friend to making a purchase at Gear Best, you might also receive free gifts in the form of the store's bestsellers. Worth a shot, isn't it?
Gear Best coupon codes for you
When you start shopping at Gear Best you already see what the difference in prices and quality between the store and its competition is. More can be done, however, and here's how you do it:
Check one of the many available deals here on Picodi. Pick one you think is the most profitable for you. If there is a code involved, copy it.
Click on the deal and go to Gear Best's website to start shopping. Use the menu to your left or go straight to the Sale's section.
To see read more information about the product, simply click on it. You can also enlarge the photo.
In order to buy it, just add it to your cart and continue shopping.
When you're done, simply proceed to checkout. At this stage you should also apply any promotional code you have.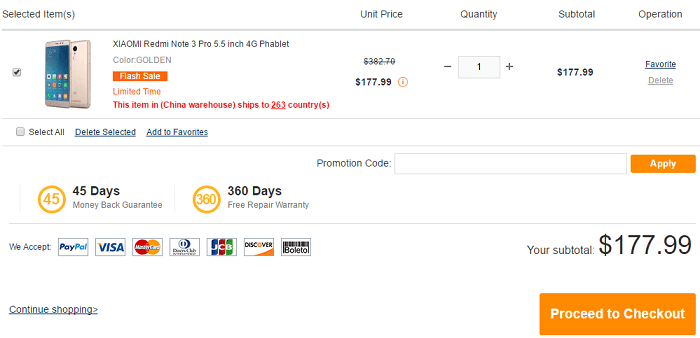 Register your account if you're a new user or log into an existing one.
Confirm with your name and card number.
Now that you have all the fancy gadgets at your disposal, find your holiday spot with hotels.com and order food with Foodpanda.
If you want to grab more discounts and enjoy sizzling savings, visit our special Black Friday 2018 and Cyber Monday 2018 websites to unveil them. There are plenty of items up for grabs at amazing prices!