More about Black Swallow Boutique:
If you are a young woman who lives in Australia and you are interested in fashion than you must have heard about Black Swallow Boutique! You can find it at Suite 72 on Kippax Street in Surry Hills, Australia, but the Internet is where they excel. Online shopping allows them to provide people all over the world with great products! Your support and opinion matters, so Black Swallow Boutique is available on many different social media sites, which include Facebook, Instagram, Twitter and Pinterest – don't be afraid to leave them your feedback.
Black Swallow Boutique offers wide selection of intimates: bras and bralettes as well as playsuits, accessories which include necklaces and sunglasses, but also cosmetics like lipsticks and hair extensions in many different colours.  Black Swallow's product range also include outwear and dresses: just browse the website to find yourself a nice and comfy sweater and anorak or fancy cardigan and jacket – it's all there! Black Swallow online shop is a place where you can get dressed from head to toes, literally, because shoes are also part of the assortment. Just take your time and browse some online catalogues. 
Are you afraid shopping for clothes online? Have you ever been in a situation where clothes that you ordered looked completely different than on the professional pictures and models that were posted on the store's website? You don't have to worry about it in Black Swallow online store, because it features a gallery section. But not the kind of gallery that you may think, it's the section where customers can send in their photos of store's products. Black Swallow Boutique uses Instagram to encourage its customers to show their shots – others can use it to see how the products actually look like, but also use it as a kind of look book - to find new inspiration. Use Instagram to post your photo, use our hashtag #BSBABES and have a chance to win a $200 voucher code to use it online in Black Swallow Boutique! If you don't have Instagram account, then you can use shop's website to post your photos directly. If you find something interesting, just click "Shop now" and every item visible on this particular photo will be presented to you with links that will allow you to buy it right there.
Black Swallow Boutique does not limit itself with Australian borders. People from all over the world can use it to buy great clothes at a good price. If you order something before 12:30PM to a metro area in Australia, you can be sure that the parcel will be at your doorstep the next business day! Want to save some money? Check out the "Sale" section, where you can find fashionable products at a discount price. Not satisfied yet with the price? Well, if you choose $50 worth of products then they will send them to you for free, no extra fee for shipping. There is a similar offer for international customers – spend $150 in Black Swallow Boutique online shop and get a free shipping within in 1 to 3 business days. Don't worry if you don't want to spend $50 or $150, the store has got very affordable shipping pricing. Only $7 for shipments to Australia and $15 for international shipments. Another possibility to save some money is to use one of Black Swallow Boutique coupon codes. You can redeem your code before you go to the checkout, view your bag and find section "Use Coupon Code" – this is where you should enter your coupon and confirm it by clicking "Apply Coupon". A step so simple, yet very profitable. Keep it in mind.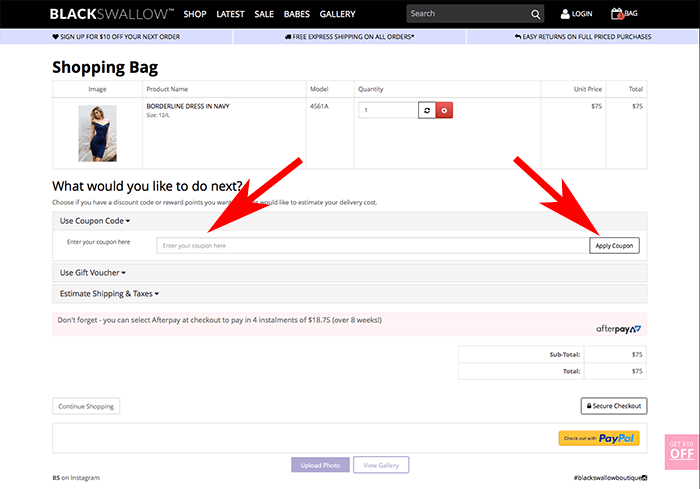 Used your Black Swallow coupon code? Great, now you can continue straight to checkout. Just click "Secure Checkout" and follow instructions: choose whether you want to register an account or use the store website as a guest. After that provide your account and billing details, delivery method and payment method and Black Swallow team will do their best to send you your clothes as soon as possible. Of course you will be emailed with notification about your order, which will also include tracking number. It is also possible to use Black Swallow Boutique gift vouchers. If you received such a voucher from someone, you can use it in the same place as coupon codes – just one section lower. Remember that Gift Vouchers are very nice present that you can give to someone you really care – it very simple, just go to website, click on "GIFT VOUCHERS" and fill all of the necessary information. Voucher will be emailed to the recipient immediately after you pay for it. 

Still looking for more fashion-related products? Visit other shops that may interest you – try Debenhams, Uniqlo and Sephora!
Black Friday is one of the biggest shopping events of the year. Even though not all brands take part, most household names will participate in this sales event; and while some shoppers head to the stores in person, many prefer to browse deals online in comfort from home. Visit our Black Friday dedicated subpage to find the best deals and promo codes in the Australia!