MRP Sport ◦ promo codes ◦ July 2017
Here you can find the latest MRP Sport vouchers
MRP Sport coupons, codes and deals that you've missed:
Similar promo codes, coupons and discounts
Get even 40% off on sale Adidas products at Zando. Click below to find the sale assortment.
Already used by 1442 people

ongoing
Attention South Africa! Shop the Sportsmans Warehouse "Promotions" section and browse current deals and…
Already used by 571 people

ongoing
All Adidas orders over R400 are delivered for FREE. Like this deal? Feel free to express your opinion…
Already used by 358 people

ongoing
Sign up to the Adidas newsletter for exclusive updates about new products, the stock availability and…
Already used by 242 people

ongoing
Shop Nike End of Season Sale to get even 30% off on women's shoes and apparel. Click to enter the discount…
Already used by 216 people
Save 15% off with newsletter sign up at Adidas. To get the discount, click the below offer button and…
Already used by 206 people

ongoing
Free shipping on normal size orders over R500 at Sportsmans Warehouse. Valid only within South Africa.…
Already used by 170 people

ongoing
Join Adidas Facebook to get the latest offers and deals from Adidas. Click to get to the discount area…
Already used by 143 people

ongoing
Shop Adidas Mid-Season Sale to get even 40% off on selected apparel, footwear and accessories. No Adidas…
Already used by 114 people
Shop Salomon Sale to get even 30% off on selected products. Head to the landing page to enter the discount…
Already used by 77 people

ongoing
Shop storewide at Myprotein South Africa and get 25% off on your first order over R450 thanks to this…
Already used by 66 people

ongoing
Shop Pollywog Clearance Sale to take up to 50% discount on surf gear and accessories. Head to the landing…
Already used by 51 people

ongoing
MRP Sport promo code reviews by Picodi users:
shop.opinion.alert.success.label shop.opinion.alert-description.success.label
shop.opinion.alert.error.label shop.opinion.alert-description.error.label
Shop Sports Apparel & Accessories with Mr Price Sport


Do sports your way
Sport has never been so crucial to our health. Constant stress, little time to relax and poor diet all constitute the unhealthy lifestyle we lead every day. Doctors recommend practising some sort of sport regularly to maintain good blood pressure and sugar levels and eliminate the risk of obesity, diabetes and other dangerous illnesses. Now you can do any type of sport wearing extra comfortable and durable clothing for less.
If you buy sportswear with Picodi, you will be able to save even more money. This website allows its users to find best deals on the internet with most popular stores in the country so that you don't have to worry about the costs. Using it is extremely easy but more on that later.
Ladies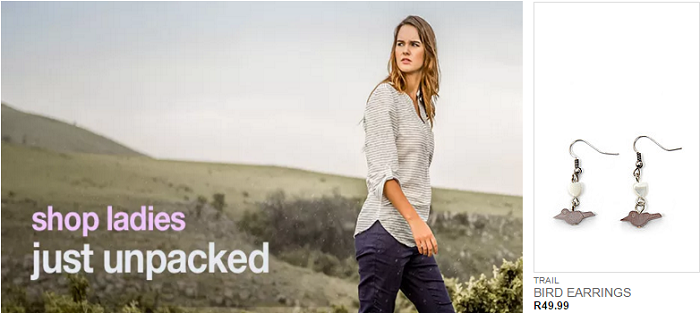 Women like to do sports with trends in mind. Comfort and data-style are just as important and MRP Sport brings both to the table. High quality padded sports bras will keep tissues intact after even strenuous routine while tops made of cotton can help you keep your cool even in the hottest weather. If you're not a fan of boring and plain training bottoms, MR Price Sport promo codes allow you to purchase patterned trousers in various designs.
Clothing is not everything, though. One needs accessories to be able to transport their clothes from one place to another and the online store has a wide range of bags, headwear, towels and even bottles for water and isotonic drinks. So if you're just starting your adventure with exercising, you can easily get everything in one place.
If you like to think of yourself as sport fashionista, complementing your training attire with some extras shouldn't be a problem. Choosing from a catalogue of earrings, necklaces or scarves will make you stay up to date with latest trends in sports fashion.
Footwear has always been one of the most popular products at Mr Price Sport. In a nutshell, they've got shoes for every type of physical activity or terrain so don't be shy and explore what's on offer. From thongs for those nice strolls on the beach to ladies' runners for morning jogging, there truly is no point going anywhere else.
Men
Just as with ladies wear, men can find their perfect sports clothing with MRP promotion. Think you're not that keen on doing sports indoors? That's ok, because the store can offer you a vast choice of outdoor garments. A long-sleeved shirt made of high quality cotton will make both practical and stylish accessory to wear during your trekking trips. A pullover hoodie with detailed patterns will be ideal for late night bonfires and barbecues. That hot summer weather will not make you feel heavy if you wear comfortable cargo shorts.
If you like to train in a gym or fitness room and want to maximise your results, get a set of properly made compression tops which work out with you to help you burn those calories and build your muscles. You can also wear compression tights under your shorts or trousers to make sure your body temperature stays intact. Your skin can breathe while you train, which is the key factor in keeping your body in good shape.
Outdoor
Some of us don't necessarily like to sweat their kilograms away but do love to spend as much time in the fresh air, as possible. Fortunately Mr Price Sport sale includes items for nice weekend get-togethers with friends and family. You can now pack your lunch and keep it warm in thermal jugs so your freshly made cream of tomato soup will not go to waste. In case your picnic gets prolonged you will have a lantern in the trunk of your car so there's no need to go home too early. With medicine kit that will fit in any bag or backpack you know you and your comrades are safe at all times. And nothing will seem impossible with a multi-tool that can fit in any pocket.
How to use Picodi to get MRP Sport clothing and more
When you're on picodi.com/za/mr-price-sport website you can see all the deals that are available at that particular time.
Choose one that interest you and click on it. You'll see some seasonal items that are currently on sale at amazing prices.

Shop your way through and when finished, click on the black shopping bag in the top right corner.

When you're happy with your choices, enter your address details and pay. The store accepts all major cards but if you apply for MRP money card, you can get even more discounts which are not available to others.

Your shopping experience is now complete. Enjoy.
Need something more? Check out amazing deals at Amazon or Columbia. Also on Picodi!
If you want to see before you buy, take a look at Mr Price Sport youtube channel: