Travel away
Having the time of your life can mean different things for different people. Some like to embark on a journey of a lifetime while others prefer light entertainment in the comfort of their own home. If you're the first type, you probably want to travel internationally as often and as cheaply as possible. With Cheap Tickets, it's not just within your reach but it's actually too good to pass.
Picodi is available in over 30 markets, therefore it promotes the idea of traveling to other countries. This way you can learn about new cultures and meet new people. When you subscribe to the service, you gain access to deals and promotions not just in Singapore but also in the places you're going to and all of that is available for free!
Oh so cheap!
When you're planning a trip, there are plenty of things to consider. One of them is the accommodation because we all need to sleep somewhere and leaving it to the last moment when we actually land at the airport is a bit of a stretch. If this is your biggest issue with traveling, all you need to do is click on a small icon at the top and you will see the wealth of hotel opportunities, all available at an affordable price.
You also need to think about the means of transportation you're going to take and in this case, Cheap Tickets can help you immensely. You don't need to book a package deal (more on that in a sec) to have a lot of fun and with just a few clicks, you will be able to choose the cheapest plane tickets possible. Booking does not require any additional fees and new saving opportunities are published daily. This way you are informed about them on a regular basis and if you cannot find anything interesting today, you will tomorrow.
However, some of us like to go on a holiday where we don't need to arrange anything because everything is provided. Cheap Tickets can do that for you as well. If you click on a baggage icon, you will see various deals on holidays, for example, flight + hotel, flight + hotel + drive and flight + drive. Whichever you prefer, it's for you to take. For example, you might have a holiday home somewhere or you're going to visit some friends. In this case, a flight + drive deal is best for you while a family of four would prefer an all-inclusive promotion.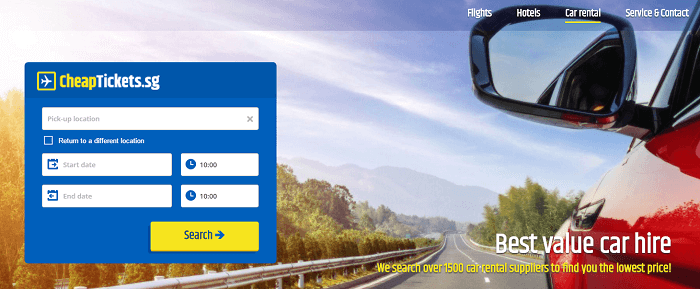 Everybody likes to get a bargain and Cheap Tickets understands that perfectly well. If you're one of those people, you can see hot deals published every day when you scroll down. Be fast, though, because once it's sold out, it's not coming back and some of those promotions are true bargains. Transfer services, city breaks and last minute deals are all up for grabs for you and your family.
CheapTickets promotions
There is nothing stopping you from going on a holiday of your dreams because at these prices, you can surely afford it. With Cheap Tickets, it's not only affordable but you can also go next week or month. Adopt a 'no more excuses' policy and:
Find the best deal for yourself and click on it to get the promotional code. Copy the code and go to Cheap Tickets website. If there is no code, you only need to go to the website to start the booking process.
When you're on the website, just click on one of the icons or stay on plane ticket reservation site. Follow the instructions, that is, choose your dates, the number of people traveling with you and any other amenities which are specific for that service.
You'll see a list of available saving opportunities and you only need to choose one.
When you've decided, confirm and add your promotional code. Apply it and confirm by providing Cheap Tickets with your personal and card details. Make the payment and await your holidays.
Going on a holiday requires some preparation. You should, for example, take care of your skin with cosmetics from Watsons.