One online store, the whole family wardrobe - this is the main idea that lies behind Centrepoint's existence.  Because of that, Centrepoint is able to deliver a wide range of garment choice for whole families at reasonable prices. 
Centrepoint - that's a jackpot!
Established in Kuwait in 2005, Centrepoint puts a vast impact on design and comfortable shopping experience. Because of that, the visual side of this retail is of a paramount importance. As a result, we have a pleasure to observe a fast-growing, promising and forward-looking mid-market retailer. 
Picodi understands the value of accessibility to any product as quickly and efficiently as possible. Time is an expendable resource, and managing it to give as much love and attention to the loved ones is a priority for most of us. Because of that, we offer discounts and promotion codes to buy any piece of garment you'd need online - to give you a chance to focus on what's important.
Shopping with Centrepoint
So much stuff to buy, so many decisions to make - how to get whatever you need from Centrepoint store? Well, the answer is quite simple - look at the menu on the top of the displayed site. Each category you may deem interesting is here to expand and search through.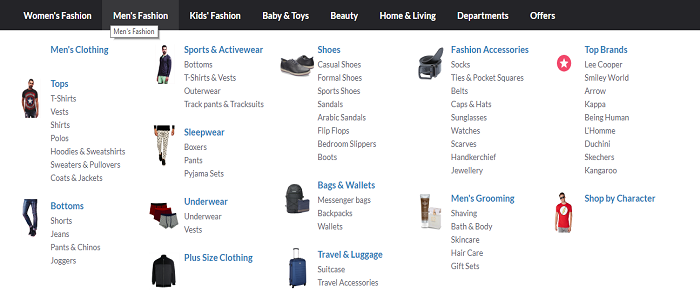 Centrepoint consists of four segments - Babyshop, Splash, SHOEMART and Lifestyle - each touching upon the different retail concept.
As the name suggests, Babyshop focuses on products made for children - including clothes, shoes, toys, even furniture - no matter which age group is to be considered.
Splash is the part of retail that aims at delivering garment for both men and women. It offers a vast list of well-known brands, including Lee Cooper, Bossini, ELLE and Being Human. 
Shoemart is one of the region's most well-established deliverer of footwear, accessories and bags that enlists a wide range of well-known brands such as Puma, Kappa, Skechers. Disney, Marvel and Barbie. Established in 1990, now it operates in 174 stores in the area of Saudi Arabia, Kuwait, Bahrain, Qatar, Lebanon and other countries.
Lifestyle offers a wide range of unique, elegant accessories, including bath decor, jewellery, school bags, toys and decorations. It offers products from such brands as NICI, Kimmiedoll, Disney, Happy House, Jansport and much more.
All four brands combined create a unique, rich shopping experience for everyone. No matter if you'd like to purchase anything for a child, an adult, a man, a woman, a fashionista or a pragmatic household guardian - each and every person is going to be deeply satisfied with their choices. 
White Friday and Cyber Monday 2018 - aim at Centerpoint
As we can observe, this year's White Friday and Cyber Monday are going to be exquisite - and with Picodi's broad promo code offer, you will be able a lifetime's purchase opportunities just by sitting in front of the computer! Check out regularly the offers on our website to be sure that you won't lose any occasion to get best bargains offered both by Centerpoint and Picodi combined!