More about Daraz Bangladesh:
Daraz Bangladesh - Daraz.com.bd
Daraz Bangladesh is the number one destination for online clothes shopping in Bangladesh! Being one of Asia's fastest growing online marketplaces it offers an unparalleled shopping experience to its customers. Daraz is home to the widest range of clothing, beauty products, consumer electronics and many other products in the Bangladeshi markets. You can see the full product range list below;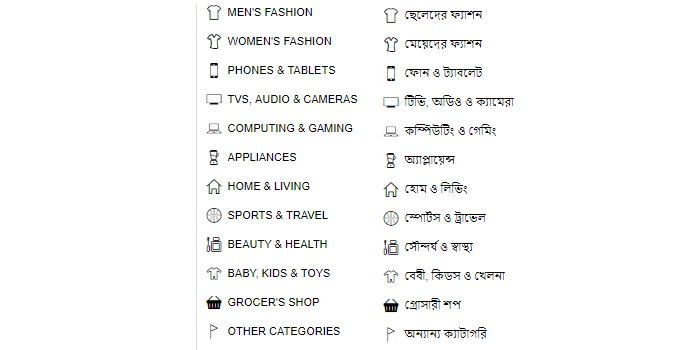 Daraz privileges the customization of product range and the security of all customers above anything else! When you shop at Daraz you can expect safe transactions and 100% satisfaction guaranteed! You can choose any payment method that works for you! You can see all the Daraz Bangladesh payment methods below:
bKash

Cash On Deliver

Credit/Debit Card

Visa 

Master Card 

American Express
Swipe
When shopping at Daraz Bangladsh you can expect a 24/7 shopping facility which empowers you to shop whatever you want, whenever you want to with no effort at all. If your day to day activities are keeping you busy, then you can save your precious time by choosing online shopping at Daraz.bd where you can find everything at one stop. what makes the shopping experience even more unique is that you get the sterling taste of eminent diversity whenever you visit Daraz.bd at amazing prices!
What makes Daraz.bd shopping experience even more convenient is the fact that you can always return any of the products in the unlikely case you are not 100% satisfied with them. Daraz.bd has set up the most convenient return policy; through a simple step by step method you can return your product and exchange it or request a refund.
Daraz.bd has reached the top of the Bangladeshi online shopping site list and here at Picodi we always make sure that you get access to the exclusive offers first! You can find all the newest coupon codes, promos and offers on Picodi's dedicated Daraz Bangladesh site, This way you can always get the best offers available. If you don't want to miss the Daraz.bd offers then make sure to download the Daraz app which is now available on iOS & Android devices. 
If you have any specific enquiries regarding your order or the products on the website then you can use the Daraz bd contact number to speak to one of the Daraz representatives: +880 9610-096111  
Daraz Bangaldesh Every year Daraz Bangladesh prepares special offers for Black Friday and Cyber Monday. 
All promo codes and discounts for Black Friday 2018 and Cyber Monday 2018 can be found on dedicated special pages.