For your eyes only
The world has changed drastically in recent years, and e-commerce is undoubtedly one of the most significant aspects of that change. You can buy literally everything you want on the internet, and you're no longer restricted to your location. The wide range of products and services also includes the sex toys industry which is gaining popularity by the minute. If you're looking for a store that can guarantee a fast and discreet service and shipping of your chosen goods, you simply must visit Wild Secrets – your online destination when you're searching for pleasure.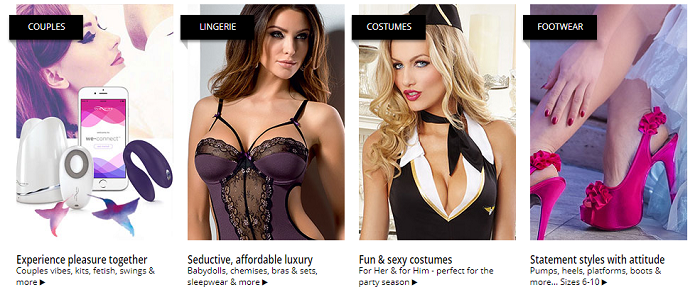 Picodi is a discount code platform that can lead you to cheaper shopping. You can use it every day for free, and with an online subscription, you will soon start saving money on products you usually buy on the internet. Explore it in more detail and use at your every convenience.
The store
Wild Secrets provides their customers with a wide array of products related to their intimate life. From apparel to accessories which are aimed at spicing up your love life, you will find products such as sex toys for her, him and couples, bondage, lingerie, costumes, footwear, novelties and essentials. It can be something very subtle or an item that will change your life entirely and help you live your wildest fantasies – the world of Wild Secrets is your oyster.
Wild Secrets is committed to making their customers happy at all times, which is why it gives you the Best Price Guarantee. When you find the same item in any of Australia or New Zealand's store cheaper, they will match that price for you. But there are other advantages to shopping with this particular store. All items displayed are in stock, they are dispatched discreetly and quickly, and you get a no-hassle exchange policy.
For loyal customers, the store has prepared programmes that will likely increase the satisfaction of shopping with them. One of them is that whenever you buy products for more than $100, you are guaranteed a gift. If your order is over $150, you will get two presents whereas if you spend $200, you will get three extra items. To ensure you are happy with your gift, you get to choose it from an extensive catalogue of goods.
Another programme you can enjoy when shopping at Wild Secrets is the Loyalty Dollars. Whenever you purchase as a registered member, you will earn incentives which will be added to your account. When you accrue the right amount, you will be able to spend them towards your future purchases. You will then save money at the same time as you shop for the desired products.
Wild Secrets promotions
Using the store and searching for products is easy but if you're afraid that cheaper shopping requires a lot of strategy and energy, you're wrong. These simple steps will uncover how convenient it is and that with Picodi – everything becomes more affordable.
Subscribe to Picodi if you haven't done so already. When you add Wild Secrets to the list of your favourites, you will receive a personalised email whenever a promotion is coming up. If that happens, just follow the link which will take you here – your depository of promotions.
Read terms and conditions of your chosen promo, check the expiration date and click on it. If there is a code, you will need to save it. Go to the shop's website and start looking for products you're interested in.
When you're there, search according to categories or check out the goods displayed on the front page. If you decide on a product, add it to your online shopping cart, select quantity and other filters, if applicable. Keep shopping or go to your checkout.
Enter your code when applicable and make the payment using the modes available. Leave your details and don't worry about the packaging – it's discreet.
If you want to see more online promotions in Australia, simply click on adidas and Clarks.
While Wild Secrets offer great discounts all year long, be sure not to miss out on the opportunity to save even more during the upcoming Black Friday and Cyber Monday! Visit our dedicated pages - Black Friday 2018 and Cyber Monday 2018 - and be up to date with all the best deals offered by hundreds of merchants - Wild Secrets included!