Nike ◦ discount coupons ◦ June 2018
Here you can find the latest Nike coupon codes
Nike coupons, codes and deals that you've missed:
Similar promo codes, coupons and discounts

Use our exclusive GuavaPass promo code to get $30 discount for the first month on all GuavaPass memberships…
Already used by 1899 people

Book a power-assisted bike at oBike and save even 39% on 2 standard packages + 2 extra battery packs!…
Already used by 87 people
Get even 70% off on Yonex raquets, accessories and gear + get free shipping and free gifts extra with…
Already used by 2555 people

ongoing
Save up to $75 off when shopping in the outlet at Under Armour. Click to go straight to the dedicated…
Already used by 490 people

ongoing
Shop the latest promotions at Royal Sporting House and save while doing shopping! Find the best deals…
Already used by 942 people

ongoing

Refer a friend and get a 1-month unlimited yoga membership for free at Platinium Yoga. To avail this…
Already used by 335 people

ongoing
Nike promo code reviews by Picodi users:
More about Nike:
About NIKE
Nike is an American sports brand that specialises in sportswear and athletic shoes, founded in 1964. Until 1978, the company was known as Blue Ribbon Sports. The brand's name "Nike" is derived from the name of the Greek goddess of victory - Nike - and the logo (Swoosh) symbolizes her wing. Together with Puma and Adidas, Nike is one of the most recognisable sports brands in the world. The Nike collection includes Nike T-shirts, pants, shoes, jackets and other clothing sports style. Nike is a company with long-standing tradition, being founded in 1964. The company hardly has to be introduced to anyone, as its a global mark recognised basically in every country. The company is a big favourite of people who lead an active sports life as it's a leading brand in designing, manufacturing and selling footwear and apparel as well as sports equipment, accessories and services.
Shopping at Nike, you can be absolutely sure that you are purchasing first class items. The prestige of the brand is unquestionable, with Nike being a sponsor of such football clubs like FC Barcelona, Manchester United or the national team of Brasil. The Nike website is designed in such way that enables the customer to shop comfortably and efficiently whatever he or she is looking for.
The opportunity of enjoying the combination of the extremely user-friendly Nike online store and our Nike promo codes is one you cannot afford to miss! Visit us regularly and stay up to date to save a lot of money shopping at one of the most recognized sports brands in the world! 
Read on to learn how to use Nike promo codes, but before that, we would like you to take note of the Black Friday and Cyber Monday events. Those two are the greatest shopping events in the world, and Nike is participating as well! What's in it for you? Even bigger discounts on Nike brand! Make sure to visit our Black Friday 2017 and Cyber Monday 2017 pages to see what's up for grabs in your favourite stores this year.
How to use NIKE promo codes
We are very happy that you have found us and our promotional codes. We assume that you're one of those smart people who doesn't like overspending when there's a chance to save. Here is the instruction explaining how to use Nike promotional codes. Complete the steps and enjoy the discount. At the end of the long description there's also a short one, so you can go directly to the bottom of the page.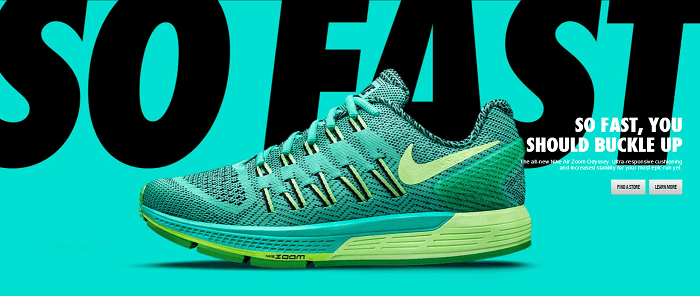 Step 1. Search for Nike at Picodi.sg
The first thing to do is very easy, decide whether you want to save or overspend. The choice is quite clear. Then search for Nike on our website.
Step 2.  Two kinds of discount button
You can now see all the discounts. The red colour of a button means that the deal is still valid and you can use it. The grey colour of a button means that the deal is already expired, don't look at those. You have certainly noticed that there are two types of buttons: if you follow the button, you will have to use a special code in order to pay less, it will be explained a little bit later, if you follow the button, you can continue your shopping at a reduced price without doing anything, because the shop offers a general discount.
Now read the descriptions of the discounts. You can find there all the information necessary to determine which one is the best. When you finally can decide which discount to choose, click it.
Step 3.  Go to the Nike's website
The button takes you to the Nike's website. But there's something more in addition to that website. It's our bar. Look at the top part of the window. We have designed it specially for your convenience and to make the whole process of shopping easier and more pleasant. The bar contains the information you will need later. Depending on which button you clicked earlier, you can see the following content:

If you followed the REVEAL THE CODE button, look for an area with the Nike promo code. That code is very important, it will come in handy later, but don't worry it won't disappear, the bar is there all the time.

If you followed the GET THE DEAL button, you won't find any Nike promo codes but a note that you are in the discount area and codes are unnecessary.
Step 4. Add selected products to cart
Now it's the best part of the shopping – browsing through products and searching for something special. It can be very inspiring, you may start thinking of a new sport to take up. Or maybe you will find a perfect gift for your friend who has his or her birthday very soon. You can choose from such products as:
shoes (eg. running, football, basketball, training)
clothing (eg. shirts, hoodies, shorts)
accessories (eg. balls, bags, socks)
Take your time and whenever you're ready click ADD TO CART on the page of a product.
Step 5. Double-check your order
Now click VIEW CART. You have all the products you are ordering there. But there is also a more important field. It's now time to enter the promotional code. Note, however, that this kind of field may be placed somewhere else depending on a shop. It may also have different name.
Step 6. Enter Nike promo code
With the help of our practical bar, fill in the Nike promo code field. Copy the code from the bar or just type it. Then click APPLY.
Step 7. Checkout
Proceed to checkout. If you are already a member and have an account in this shop, click MEMBER CHECKOUT. If you are doing the shopping in Nike for the first time, use the GUEST CHECKOUT option. You can become a member during the checkout.
Step 8. Provide necessary information
Now you have to fill in all the required fields. Be careful to give valid information, no one likes typing everything again and again. You also have to choose a delivery and payment methods. You have several options to choose from.
Step 9.  Make a payment
The last step is payment. You can still return and check whether everything is okay. If there are no problems, pay for your shopping. Isn't that wonderful? You can now see that you have saved some money. And you have such incredible new things!
Step 10. Enjoy your savings!
Yes, there is something else to do – celebrate! Why don't you call your friends and tell them about us and invite them to your place to make plans about practising sport in the near future. With the arrival of the courier they will be green of envy. They will definitely order something for themselves instantly.
Short version:
Go to Picodi.sg and search for Nike.
Choose a deal and then look for products.
In your cart, apply the Nike promotion code which you can see on our bar.
Specify all necessary information.
Pay for the product.
Nike video:
If you've liked the products offered by Nike, you must visit our other partners' websites specialising in sports - Adidas, Lazada and Rakuten.