The latest Nike promo codes and discount codes. Select one, go to Nike and save money on your purchase!
Nike Promo: End of Season Sale up to 40% OFF

Check out the latest items added to the Nike Sale (Nike Saudi Arabia). Enjoy up to 40% off men, women and kids' collections.

Interested in promo code? Very clever, good for you!

promo codes are great, but cashback is even better! Sign up and start collecting cashback for every purchase you make at popular stores! Enjoy it for free!

Pay less at Nike this September

Save huge in September at Nike without any Nike promo code needed.

Shop Nike Air Max from SAR 199

Click & discover Nike Air Max trainers for Women, Men & Kids. Prices start at SAR 199.

Nike Promo: Yoga Apparel up to 30% OFF

Discover Yoga apparel on Nike Israel & save up to 30% off.

Shop National Team Kits at Nike Saudi Arabia

Discover available National team apparel at Nike KSA today!

Sign-up for Free Nike Membership & Enjoy Benefits

Sign-up for Nike membership to gain access to new products, sales & more.

Free Delivery Available At Nike Saudi Arabia

Fast delivery. Free shipping for orders over SAR 299. Payment by Cash on Delivery, Tabby & More.
Nike promo codes and deals that you have missed.
Archive offer
Nike Jordan Collection from ₪99.90
Nike Jordan shoes for kids, women, men are available from ₪99.90
expired: 2023-05-25
Archive offer
Nike Promo: Shop Dance Apparel for Women
Shop Women's Dance essentials now on Nike.com!
expired: 2023-05-25
Archive offer
Nike Promo Code: Save 15% OFF Sitewide
Get 15% off your order during checkout by entering the promo code SHINE23.
expired: 2023-05-16
Archive offer
Nike Promo: End of Season Sale up to 40% OFF
Check out the latest items added to the Nike Sale (Nike Saudi Arabia). Enjoy up to 50% off men, women and kids' collections.
expired: 2023-05-31
Archive offer
Nike Promo: Pegasus 40 x Member Days
Member Days are here. To begin our five days of celebration to thank you, Nike Member, we've got Members First Access on the new Pegasus 40 Premium.
expired: 2023-05-02
Archive offer
Nike Promo: Yoga Apparel up to 30% OFF
Discover Yoga apparel on Nike Israel & save up to 30% off.
expired: 2023-04-30
Archive offer
Shop Nike Pegasus 40 at Nike Israel
Back in its fourth decade, the Pegasus 40 is springier than ever with a more cushioned, personalized fit.
expired: 2023-04-21
Archive offer
Nike Promo: End of Season Sale up to 30% OFF
Check out the latest items added to the Nike Sale (Nike Israel). Enjoy up to 50% off men, women and kids' collections.
expired: 2023-04-30
Archive offer
Nike Promo: Discover Air Max Pulse
Inspired by the energy of London's music scene comes the Air Max Pulse. A tough silhouette infused with an unreal sensation of Air.
expired: 2023-04-06
Archive offer
Free Delivery for Nike Members (Nike Israel)
Nike Members get free standard delivery on every order. Every time.
expired: 2023-05-25
Similar promo codes, deals and offers.
CODE

SSSports promo code: Flat 20% OFF Next App Order

Download the official mobile app, save 20% off, and get access to exclusive deals.

CODE

Verified

JD Sports code: 20% OFF Selected Items

Enter this JD Sports code at checkout to save 20% off selected collections from JD Sports Global. *valid on full-price.

CODE

Only at Picodi

MyProtein discount code: Extra 12% OFF Your Order

Apply this exclusive Picodi coupon at checkout before paying to enjoy an additional 12% off at MyProtein.ae

CODE

Only at Picodi

Verified

MyProtein discount code: Extra 10% OFF Your Order

Enter this exclusive Picodi promo code at checkout to get an extra 10% off at MyProtein UAE.

PROMO

Sporter KSA Promo: Whey Protein up to 45% OFF

Discover a selection of whey protein supplements at Sporter Saudi Arabia and enjoy markdowns of up to 45%.

PROMO

GoSupps Discount: Sports Nutrition Combo Offers up to 25% OFF

Check out Sports Nutrition combo offers on GoSupps.com & save more.
PROMO

September Best Deal

On the hunt for the best deal? Check out these fantastic offers right away!

PROMO

GoSupps Promo: Free Shipping on Selected Products

Add selected products to your GoSupps order and enjoy free shipping!

PROMO

Free Shipping Available On Sporter

Spend as low as SAR 280 and have your order delivered to you for free!

PROMO

Sporter Promo: Multivitamins from SAR 28

Order multivitamins at a great price from Sporter.

PROMO

Subscribe to Sporter Newsletter & Enjoy Special Deals

Sign up for the newsletter & receive the latest news, offers, deals from Sporter.

PROMO

GoSupps Promo: Save up to 40% OFF Hair Products

Enjoy Haircare products at great prices at GoSupps.com.
More about Nike:
Change your idea of an active lifestyle with Nike
When you decide to take up sports as your activity of choice, you immediately start thinking about the equipment and the apparel you can use. Depending on the sport - whether it's running in the park in your leisure time, or maybe everyday training sessions at the gym, it's important to reach for the best. Purchasing the absolute best on the market means, in fact, saving money in the long run. Nike is a leader of sportswear and gear in the world so why wouldn't you want to use it?
Nike designs, manufactures, and develops sportswear since the 1960s. Its founders - Bill Bowerman and Phil Knight named their company after the Greek goddess of victory. And rightly so, since it's currently the world leading brand and it creates the wear for the best athletes in the world. Even though the founders first sold running shoes made in Japan, they soon started making their own. And this was the turning point in the company's history. In 1980, Nike's share of the sports shoe market reached staggering 50%, and soon enough, the company went public. It was the ultimate sign that it was deemed to succeed.
At the moment, Nike focuses on two major trends - athletic sportswear and street fashion. To view both types, you can simply walk into any of the Nike stationary stores or visit the website, which carries all products under one roof.
Inspired to change
A company with such a big impact on their customers, the environment and the people who work in it, has a responsibility to do everything in their power to make the world more sustainable. People behind the company know that the resources are not everlasting and strive to create their products in a way that allows for more. Nike Flyknit is a series of footwear that is made with as little material as possible to achieve better results and help you reach for more with a clear conscience. With this technology, there is much less fabric going to landfills, and apart from being eco-friendly, it's also beautiful.
Nothing beats the feeling of walking barefoot on soft grass. Feeling the ground with bare senses and not being restricted by anything. Nike Free is a range of footwear that lets you feel this way while you're running. No burden on your foot, no restrictions - only pure pleasure and better results. The natural motion can now be achieved with one and only collection that inspires athletes all over the world to be better than before and reach for the stars.
For those who want to wear footwear that allows for more cushioning which, at the same time, helps you walk more vigorously, Lunarion is the best choice. The foam that is both soft and resistant makes it effortless to walk, run, jump and do all other activities. Such technology also prevents injuries to the sole of the foot while walking on uneven ground.
Making sports attire is so much more than just a design. It takes sophisticated technology to create clothing that can serve its purpose better than anything else. With this assumption, Nike, which always strives to be at the forefront of sports apparel manufacturing, created Dri-Fit. For those who train more, longer and make a great effort to excel their desired results, the material allows for quicker drying by taking the sweat away from the skin. This way, the skin stays comfortable, and the moisture evaporates. Dri-Fit is a polyester microfibre fabric that is one of the secrets to the athlete's ultimate comfort.
When it comes to innovation and sustainability, Nike is also known for their take on the traditional fleece jackets. Super comfortable, it received a new life with some sophisticated touches in the form of lightweight and flexible fabric. Excellent for your training sessions and everyday errands.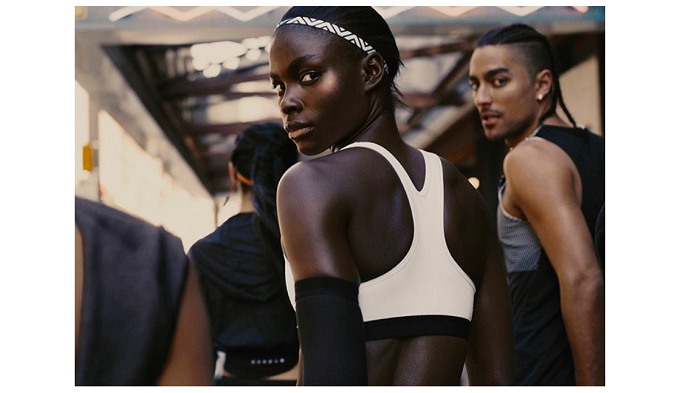 Delivery information
If you decide to shop at Nike's online store instead of the stationary one, you will find this delivery information useful. First of all, Nike allows you to join the programme called NikePlus. With it, you will automatically receive free standard shipping on all your orders, and you don't even need to spend a minimum amount! If you opt for not joining at this time, you will have to pay a fixed fee of SAR 40 on all orders of SAR 750.
If you're in a hurry to receive your new Nike merchandise, you can order it with the next day delivery. All you need to do is place your order by 12 pm from Monday to Thursday. Orders placed on Friday by 12 pm will be delivered on Monday. Simply choose the next day delivery at your checkout, and that's it.
If you want to purchase a gift card for someone, you can order it in the store and have it delivered for free as well. Simply choose the amount of money you want to gift and either have it delivered to your address or the other person's. Then, they will be able to pay for Nike range themselves, and you won't have a problem with thinking about the perfect gift. If, on the other hand, you cannot have the products delivered to your home address, you can opt for a click and collect option. There are a variety of pick up spots in your city; not just Nike stores so just choose the most convenient one.
What else should you know about delivery service? You can track your order once it has been dispatched. By clicking on the link, you will see where it currently is so you can manage your time accordingly. If you need your delivery to be organized at a particular time, you can choose the option called "Precise." With that, you can choose a one-hour time slot on a particular day.
Returns and exchanges
If you change your mind with regards to the item you bought and you wish to return it, you have 30 days from the day it was delivered to you. The item needs to be unworn and undamaged, and some exclusions apply. You might also want to have it exchanged, for example, if the size or colour is wrong. Other times, it might be that it was a gift that wasn't really to someone's taste. In such a case, you might request to have another one sent to you. What's important is that you don't need to return or exchange your items via the online service, but you can bring it to the store if you wish. It depends on you completely.
What if it was you who got a present from Nike brand and you wish to exchange or return it? Nike will help you with that, and the person who organized the gift will not be notified. Simply contact the Nike team, and everything will be arranged.
Customised items
It might be that you like the footwear that Nike has already designed, but nothing is truly to your taste. You might want something slightly different, perhaps that one element just doesn't fit who you are. If this is the case, don't worry - you don't have to wear the standard Nike merchandise. With Customise service, you can design your own shoes and create them almost from scratch. Wearing designer footwear when you're the designer? That's the dream!
Nike has done everything in their power to make the process so easy and convenient for you. Everything can be done online; you don't need to leave the house. In the first step, you will be asked to choose the style of the shoe that you want to design. You can select one from five options: lifestyle, training, running, basketball and football. You know yourself, and your sporting preferences best so make an informed decision.
Once you click on the style, you can choose your gender and then one of the models of the shoe. Then, click on Edit Design and customize each part of the shoe, including heel, toe, and tongue, swoosh, quarter and more. Choose from a variety of colours for each element or leave it blank and when you're finished, click "Done." When you're sure, you wish to purchase the pair, select the size and add it to your cart. Don't think you need to finish your order right now - you can continue shopping.
Shop online
And here it's worth mentioning that it's better to be already registered to the NikePlus account. It will allow you to make your purchases much faster and not waste time on entering your details every time. If you're browsing around the catalogue and you aren't ready to buy anything just yet, you can click on the heart icon next to the "Add to cart" button to save it for later. With an account, your choice won't be lost, although you must know that once stock runs out, your wish list will not be valid.
If you want to shop right away, you can start by clicking on your gender on the front page. When you click on women, you will see the further selection which consists of shoes, clothing and accessories and equipment. You can shop by sport if you know what you're looking for: running, gym and training, yoga, cross-training, tennis, golf, basketball, football, surfing and netball. Why not take advice from experts if they know best what works in a particular sport? You might also want to shop by brand if you're interested in a particular one: Nike Sportswear, NikeLab, Jordan, Hurley, NikeSB, and ACG. Need a trend to identify with? Check out statement prints, lightweight looks, neutral tones, machine green, BIG logos, pink is power and burgundy. Each stands for something special so that you can express your views as well.
It's important to get children interested in an active lifestyle so that they can develop physically in the right way. A healthy diet is an important factor towards a good life, but the sport has got plenty of other benefits as well. Building a team spirit, playing outdoors and bettering your overall health is something Nike wants and can help you with. From baby and toddler (because why not?) to older kids of up to 15 years old - it's never too early or too late to get your children to be active in the gym or outdoors.
So when you find an item you want to have, and you're ready to purchase it, you should choose the size and, if required, preferred colour. You have a size chart link with every item so you can make the right decision. Then, when finished, go to the checkout and review your order. Is everything ok with it? Proceed with your purchase. Enter your details, make the payment and don't forget to enter a discount code if you have it. Pick your shipping option and await your delivery.
Payment options
You get a variety of payment options that will suit your needs. If you don't have a problem making the payment with your card, you can use Visa, MasterCard, American Express, Visa Electron, Visa Debit and Maestro. Even though your payments are always secure, you might not want to leave your card number online. In such a case you can use your account with PayPal. It's by far the safest way to pay for anything online. Finally, if you have a gift card from someone, you can pay with it as well.
Possible savings
Everyone likes to save money, especially if they can get first-class quality products. It's no different with Nike. First and foremost, it's recommended to subscribe to a Picodi newsletter. With quick information on deals and offers, you will stay in the loop as soon as the flash promotions arrive. You don't need to pay for your account, and you can use it at any time. You will also get an insight into a range of discount codes, a range of vouchers and gifts.
Another saving opportunity is your student ID. At Nike, students get a 10% discount. All you need to do is register with UNIDAYS beforehand to have your status verified. This way, every time you pay for your Nike products, your discount will be applied.
Finally, sale items can be found in each gender category. When you click on SALE, you will see a range of products of which prices have been lowered. It's your best chance to score best picks from the leading sportswear brand for less money.
News
Nike likes to collaborate with athletes from all disciplines of sports to create collections, inspire fans and bring news. Serena Williams, Cristiano Ronaldo, and of course, the one and only Michael Jordan all have their collections of sports footwear. You can view their designs and buy them on the website, but you can also get involved with the brand by reading the Nike News. Read what inspires Neymar Jr, Kylian Mbappe, and Harry Kane. You will also see the product news so that you're up to date with what is going to be released.
Now that you know everything you need about Nike, its impact on the development of the sporting activities, the quality of their products and the fantastic customer service, all that is left to do is go to their online store and shop away.
When you finish, and you think Picodi helped you save money in the process, just come back and find more deals to Namshi and Amazon.