HomeAway ◦ discount codes ◦ June 2018
Here you can find the latest HomeAway voucher codes
Book your vacation accommodation online with HomeAway and travel with more confidence. Choose a rental from the world's best selection of rooms, houses, apartments, villas and even castles. Go to the landing page and get directly to the searching area.
Sign up for HomeAway newsletter and stay current on vacation rental deals and special offers. Enter your email address at the bottom of the landing page.
Similar promo codes, coupons and discounts
Ride with Taxify South Africa for the first time and get up to R250 off thanks to this Taxify invite…
Already used by 1474 people

ongoing
Sign up on the landing page and get R359 Airbnb credit applicable on your first booking. This Airbnb…
Already used by 1005 people

ongoing
Check Travelstart Flight Specials section to find the latets Travelstart special offers and save even…
Already used by 2887 people

ongoing
Subscribe to newsletter and receive R100 off Travelstart voucher code applicable on your next booking.…
Already used by 1549 people

ongoing
Don't hesitate to take advantage of topdeck trips on flash sale up to 30% off at Flight Centre! Go to…
Already used by 93 people

Head to the landing page to browse flights or hotels deals available at Wego and save even 50%. Click…
Already used by 468 people

ongoing

Check latest Kulula fares to get massive savings on flights. Head to the landing page to get all promo…
Already used by 2024 people

ongoing

Head to the landing page to enter Flight Offers section at Tripsta.co.za and save even 40% on your international…
Already used by 64 people

ongoing
Find accommodation in South Africa using TravelGround search engine and get even 50% off. Click to check…
Already used by 669 people

ongoing
Book your stay at Windu and get apartments even 50% cheaper than hotels!
Already used by 129 people

ongoing

Don't miss out on this deal at SafariNow! Save up To 33% and enjoy the best accommodation at the best…

Register for DriveClub for free and get 20% off on all bookings and many other great benefits. Don't…
Already used by 35 people

ongoing
HomeAway promo code reviews by Picodi users:
More about HomeAway:
Feel at home when you're away
Travelling can now be relatively cheap and it doesn't require as much preparation, as it used to. With credit cards at hand, you can withdraw money anywhere, buy missing holiday items and simply enjoy your time away. Some people prefer beach holidays with all-inclusive deals at fancy hotels while others like to camp with backpacks full of absolute essentials and heads filled with adventure. If you're somewhere between the two and love to have a solid roof above your head but still don't like to live according to the hotel's schedule, use HomeAway to find your perfect holiday destination. Meet local hosts, who offer travellers their couches, rooms, and even entire apartments for prices much lower than five star hotels.
If you want to be informed of any deals at HomeAway, use Picodi to pay even less. This discount code platform will enable you to stay up to date with any promotions that appear on the website and if you subscribe, you'll know exactly when and where to look for them.
The idea of Travelio
The website, which serves as a sort of accommodation marketplace, was created for people who wanted a true travelling experience. Those, for whom sight-seeing and eating hotel-restaurant meals just isn't enough. By renting a space at a local person's place, you can get the feel of how people live, what they eat, what they talk about and the general gist of their culture. More importantly, you can make friends for life.
With HomeAway, you become richer financially (think of all the savings you're going to accrue) and spiritually. The range of accommodations is vast, from a room any student could afford, to a villa with all luxurious amenities. If you find your perfect spot, you can book it through the website. No need to look for contact details of the host and you can make the payment straight away. You know exactly how much going to pay for your place to sleep because there are no hidden costs.
If you're wondering whether it's a safe option for you and people you're travelling with, there are some steps you can take in order to protect yourself. Guests can leave reviews related to their hosts so this should give you a general gist of who this person is. Secondly, if your host isn't hiding any contact details or any information you would find helpful in getting to know him, this should also give you a sense of trustworthiness. Finally, many of the hosts link their HomeAway accounts with their social media, which is now widely used to identify people across the world. Your family and friends will know exactly whom you're staying with and where.
For hosts
If you have a vacant place to stay and would like to earn some money along the way, you can advertise with the website. It's free and you don't need to pay any monthly fee just because your accommodation is listed. All you need to pay is 3% of a successful booking and the website takes care of it anyway. You can also attract more guests by using various tools, like discounts and last minute offers. Guests look at these in the first instance so make sure you use them from time to time.
HomeAway is a marketing tool in itself but if you become a host, you can take advantage of some more exposure via Google and Facebook. Upon registering, you'll get access to your online calendar which you can manage yourself. If, for example, you have a guest from outside of the website, simply mark this space as not available and that's it! There's no non-competition clause so you're free to advertise wherever to get your results.
If you like to travel and not just accommodate others, you can make friends from all over the world, who will be happy to host you as well. This is the most effective, the cheapest and the safest way to find a place to stay across the globe. It would have been a shame not to take full advantage of it.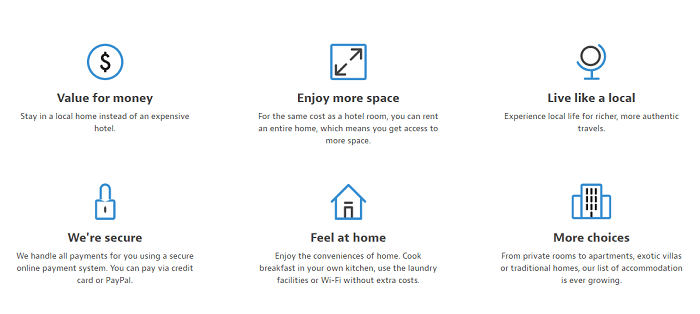 How to book with Picodi
With HomeAway discount codes you already get the best value for money. Here's how to explore your options.
First, you need to check what kind of deals are available at the moment. Do you need to act fast or can you wait?
Click on Reveal the Code and you'll see a magic wand appearing on your screen. Actually it'll be a pop-up window with a discount code, but you know – the same thing.
Go to HomeAway website to start booking. Use the menu to choose the options you're most interested in.
Read carefully through the offers. See which one correlates best with your personality.
Book it, if it's available, and when making payment, use the code you got from Picodi. Your price will be discounted to the amount you're supposed to pay.
Go on your dream holiday and enjoy every second of it!
Excellent choice! Now, remember to stock your suitcase or backpack with clothes from Zando and electronic devices form Takealot!