Romwe
Do you think that to complete a decent outfit you need to drain your budget? Do you believe that high quality comes only with high price? Do you feel like spending all your savings on some hot new collection? If you answered "no" to all these questions, I have good news for you – there is a place where people agree with you. This place is called "Romwe".
Romwe is an online clothes retailer based in Nanjing, China, delivering its products to countries all around the world since its beginnings in 2009. The company offers the latest women's fashion in clothes, shoes, jewellery, beauty products, bags and accessories. They claim their aim to be "to bring top fashion into your day". Romwe creates and sells clothes of various styles, patterns and fashions to meet the expectations of customers all around the world. They try to introduce new products on a daily basis and one of their main concerns is keeping a great quality with a great affordability. Romwe produces clothes that reflect its passion, dedication and huge optimism.
What can I buy?
At Romwe you can find fashionable, original, high-quality clothes for every woman's taste. Browse "Clothing" section to find basic clothes like T-Shirts, blouses, skirts, jackets and others. For all kinds of dresses check... "Dresses", obviously. In the "Shoes" category you will find a wide selection of boots, sneakers, wedges, flats, pumps and sandals. "Shop" section is divided into Jewellery, Jumpers, Handbags, Accessories and Beauty. If you're looking for the freshest products, check out "Daily new" category which features new entries every day. When looking for inspiration and styling ideas, visit Romwe on one of the social platforms. You can find them on Facebook, Twitter, Pinterest, Instagram and YouTube. You may also download the Romwe app, available for Android and iOS, for fast browsing, easy shopping and ultimate convenience.
How can I buy?
To buy something on the Romwe website, browse the offer to find the product you like. Click on its picture to read description and see the photos.

Choose the size and add it to your bag. If you are a registered user, you can also add the product to your wishlist to save it for later.

Go to your bag to check your products' summary and proceed to checkout. Sign in or create an account – don't worry, it takes a few seconds and comes with plenty of benefits.

Fill in your shipping address details and choose your shipping option.

Under the shipping details you can see a place for using your coupon. Find a coupon code on Picodi.uk and enter it in the proper place.

Select your payment method and, optionally, write special instructions for delivery.

Place your order, pay and wait for the delivery.
What is a freebie?
In the above picture, you can see a place for a coupon code and for "freebie". What's the difference between the two? It's simple.
Coupon code – a promotional code that you can acquire for example from Picodi. Just visit Picodi.uk and find an offer for Romwe. Look for a green button "Reveal the code". These buttons contain free discount codes to use on your shopping. The amount of discount and its purpose are explained on the left side of the button. Other green buttons visible on the website are called "Get the Deal" and inform you about current deals of a particular store. In short, coupon is a code that gives you a free discount on your order.

Freebie – this is a kind of credit that you can use for your purchase. One freebie is worth US$1. They can be earned by sharing your videos on Romwe YouTube channel or taking part in the Outfit Program. This is a contest in which you post a photo of yourself wearing Romwe outfit and other customers vote for you. Every winner is rewarded with 10 freebies. In short, freebie is a reward point worth US$1 that can be used along with money to pay for your order.
Can I use both at once? Yes, you can! On every order you place, you can use one coupon code and any amount of freebies you currently have.
Is Romwe really cheap?
Yes, it is. There is no catch in it. Romwe gives you plenty of opportunities to pay less for great, fashionable clothes. It offers a free shipping on orders over US$50. After creating an account, you're rewarded with 60% discount on your first order. It's enough to browse the offer for a while to realize that almost all the products are on sale. Depending on current promotions, the amount of discount may vary but it's always there. And you can easily earn freebies, not to mention free codes from Picodi. So... what are you waiting for?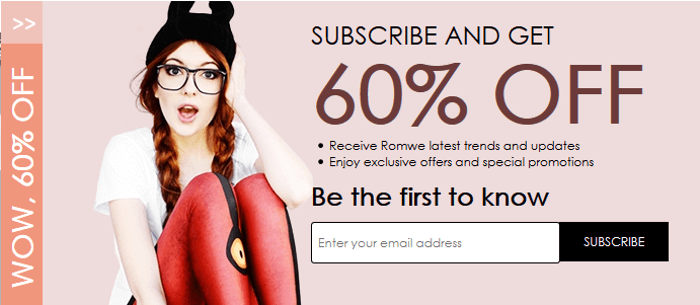 If you want to expand your wardrobe even more, check out Picodi's offer for Missguided, Shein, Very and many others.
 
To save on fashion, furniture, electricals and more, check out our Black Friday 2018 and Cyber Monday 2018 special pages! You will find a collection of all Black Friday and Cyber Monday deals, gathered in one place! Expect fantastic discounts and look for Black Friday promo codes enabling you to save some more money!