More about B&Q:
You can do it yourself!
Do you need to call a home improvement specialist every single time you need something done? If you have the financial means to do so, you obviously can. However, wouldn't it be more satisfying to know that you have achieved something all by yourself, only with the use of great quality tools and your own knowledge and experience? B&Q is enabling you to become a specialist yourself. With a fantastic range of products from any home section you can imagine, there's nothing to halt you.

You can also stop worrying about the costs. Picodi has deals and promotions for B&Q shoppers whether they buy for themselves or they're tradesmen. Check out the website regularly to hear about best bargains in your town!
Even if you know something about DIY, you might need some personalised advice from an expert. B&Q's team is happy to answer all your questions, from minor (like: which hammer should I use or which slug deterrent is better for the environment?) to bigger ones (how do I fit this magnificent wardrobe into my bedroom?). All you need to do is ask. A fully trained customer advisor is at your service both in store and online or over the phone.

What is it?
B&Q, part of Kingfisher Plc, has everything related to your home you can possibly think of. Whether you need to slightly refresh your walls with new wallpaper, paint and pictures or you think your house needs a complete makeover, you will find everything and more at the store. When you use the website, you will be overwhelmed with the wealth of deals and seasonal offers you can take advantage of.
The menu is very clear and intuitive. You won't have any problem finding what you need in many of the well-stocked sections of the online store. Being a passionate gardener is much easier if you have proper tools for replanting and weeds removal. Decorating your first home with stylish furniture is now possible, even if you need made to measure furnishings.
Need some advice? The website and the store itself have got plenty of handy manuals on how to do stuff at the house and outdoors. How to plan your kitchen, buyer's guide to barbecues and how to replace a radiator, are just a few of them.
Additional
You can join B&Q Club to be the first to know about discounted offers and promotions. What do you get in return? That's 10% off at B&Q Cafes, where you'll treat yourself to delicious, freshly brewed coffee, scrumptious baked goods and tasty meals. As a new member, you will also get a voucher for £5 when you spend your first £50 instore or online, and a card you can use at any B&Q store. But there's more! Seniors are much valued customers at DIY, so they can apply for a Diamond Club, part of B&Q Club programme. Upon registration, they will get a 10% discount on any given Wednesday.

This is Picodi
With B&Q voucher codes, everything is super easy and super cheap!
Check the deals, which are available on Picodi at the moment.

Click on the one that you like the most.

When you're on DIY's website, shop just the way you would before.

To add an item you want to your basket, simply click on it.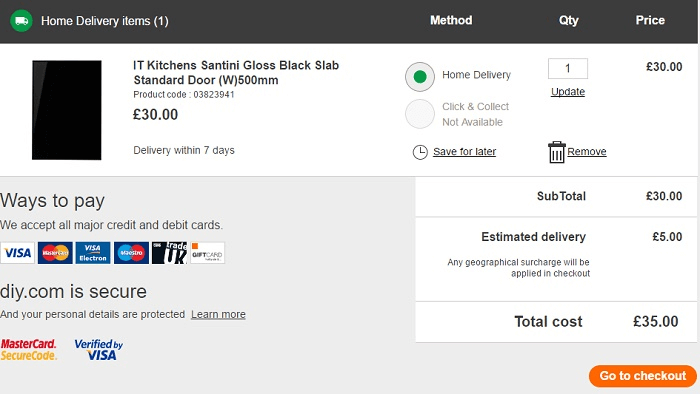 At the end, click on your basket, review your order and enter all details needed for product dispatch: name, address, card number.

You don't need to be a registered B&Q user to be able to shop at B&Q.
Now that you've done all the hard work yourself, there comes the time you and your family can sit around the table and have dinner together. Buy groceries at ASDA or Morrisons with the use of Picodi discounts to make that happen.