About ASDA
Before you begin your shopping, it's good to know something about the place where you spend your money. You will learn about the history of ASDA, what kind of products you can buy there and how to use ASDA discount codes available for you. Here we go!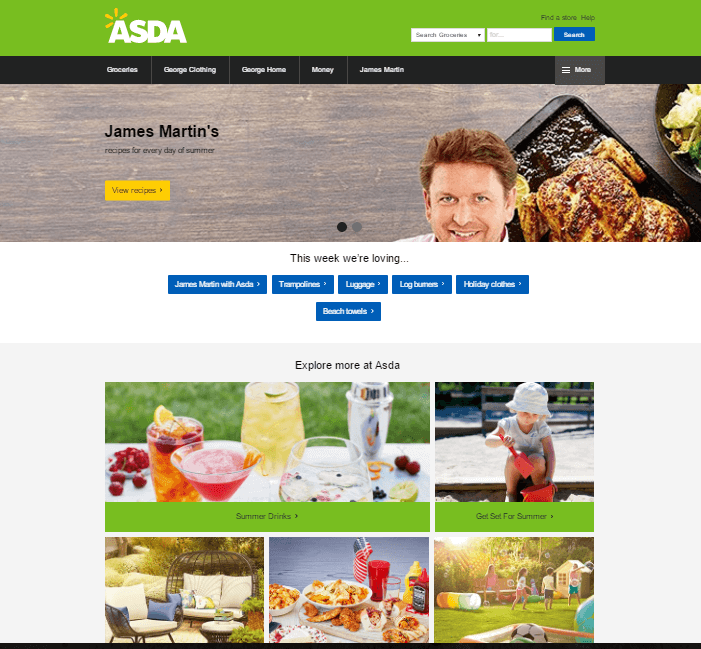 How it started
Not everyone knows that the very first company that eventually turned into ASDA was established by a group of Yorkshire farmers. This company was Hindell's Dairies and it was formed in 1920. At the beginning, the company developed and changed very fast. One of the most important moments in its history was when in 1965, as Associated Dairies, it merged with the Asquiths brother's business, who held a chain of Queen's Supermarkets. The new company was called ASDA Stores Ltd., the name coming from Asquith and Dairies.
Since that moment, ASDA has changed its offer to meet the needs of the customers. In the blink of an eye, you could buy there anything, starting from food and ending at motor cars. As every company, it had some dark moments in the history, but fortunately it managed to recover. Right now ASDA is an expanding business, with numerous areas available for the customers. Apart from the most popular ASDA Supermarkets, there also ASDA Home Shopping service, ASDA Financial Services and ASDA.
Product categories
ASDA is a shop, where you can literally buy everything.There are such categories as:
George Clothing,
Baby Zone,
Electricals,
Home Appliances,
Music, Video, Games & Books,
Furniture,
Home,
Outdoor & Gardening,
Toys,
Sports & Hobbies,
Beauty, Gifts & Party 
DIY & Motor
Groceries
As you can see, no matter who you are – a woman, a man, an adult, a teenager, and no matter what your tastes are, you will always find something for yourself. Let's say that you have recently moved into a new house and there are still so many things to buy that when you think of it, you just want to jump off the bridge. Wait a second! It doesn't have to be so painful. You can just sit comfortably in your chair and choose everything you need, just by clicking! So a new washing machine, lamp, chairs and decorations of all kind can be delivered to you and you don't even have to leave your home!
There is also an option called Click & Collect in Store, which is a free service thanks to which you can collect your order on the next day after you've made your choice. 
How to use ASDA promotional codes
ASDA cares for its customers, and that's why there are various promotions available all the time. For example, you can save 25% if you decide to buy any two products from selected furniture ranges.
The shop also organises bigger events, during which you can find your dream products at very low prices. Going back to school, or university, searching for Christmas gifts – ASDA is always there for you.
But what we would like to draw your attention to is the chance to save your money with us, Picodi. We offer you ASDApromotional codes, which will lower the cost of your shopping. Just follow this short instruction:
Step 1. Search for ASDA on Picodi
Go to the Picodi.com/uk/ and search for ASDA. You will see all the promotions that are available in the shop at that time.
There are two kinds of buttons 

 button, which indicates that you'll have to enter a promo code, and
 button, which indicates that the shop already offers you a discount and you don't need to enter anything.

means that we will have to enter the ASDA discount code.
means that the ASDA code is not required to buy something at a discounted price, because many products are already at new, lower prices.
Step 2. Pick your discount
Take a look at the promotions and choose the one that suits you the best.
You are redirected to the ASDA website, but there's also our bar with the promotional code that you'll use later.
Step 3. Browse the Asda range of products
Now it's time to shop. Choose your lamp, a hair dryer, a bike and all the other things you need so badly for your new house and proceed to the basket.
Step 4. Enter ASDA promotional code
In your basket, you will be able to use your ASDA promotional code. Look for the area with it, once you expand the message, you will see the following box:
Enter the code and click VALIDATE. This is all you have to do! Isn't it too easy to be true? It may be hard to believe, but it's true. Now you will pay less for all your shopping.
Step 5. Proceed to checkout
The next step is proceeding to checkout. You have to enter your email address and choose the way to get your order. You can either collect it from the store or have it delivered. The choice is yours!
Step  6. Make a payment
After you have provided all the information necessary to get your order, you just need to pay.
Is there anything else? Of course! Come back for more money-saving fabulous deals and discounts you can find at Tesco, Harrods or Debenhams! You won't be disappointed. 
Watch the ASDA Video!