Imagine you're in a truly giant shop with millions of books. How vast it could be and how long would it take to find a title you're looking for? With an Internet bookstore such as OpenTrolley.com, the thing is far more simple. Although they really store over ten million books from all over the world, it is still quite easy to spot the wanted title! Since the opening in 2008, Open Trolley has gained over 50 thousand regular clients, among them many passionate readers and genuine bookworms!
You can search by titles or browse through books by different categories. To be precise - there are over 4000 of them! The main 50 ones are divided into more specific sub-sections - that's why the final number is even quite hard to imagine!
As you see above, Children Fiction books are precisely classified and systematized, like in the largest university library ever! For example, there are children books on numerous animals, such as apes or alligators. and you can enumerate the animals whose names begin with almost all letters of the alphabet! This sharp precision can be useful in a lot of situations - e.g .when you look for books addressing specific topics, or you're just being in search for new inspirations or gifts for family and friends with particular interests.
All the OpenTrolley.com customers enjoy discounts and promo deals just from the first purchase on - all you need is getting through the registration! The whole procedure takes literally seconds - after checking your e-mail account, you can shop books at reduced prices - even 25% off!
Continuous discounts on books from various sections will make you come to OpenTrolley quite often! If you're keen on various topics, just shop here every month or every two months. It's a smart idea to expand your own home mini-library - the prices are affordable even before applying any open trolley voucher codes! with the bookstore you can be well-read an you will not spend too much at the same time!
Ready for a shopping spree? At OpenTrolley.com.sg they're open 24/7!
Online bookstores are accessible anytime from anywhere. With an user-friendly interface, you won't get lost - select books by category, price range, publication year and binding type! Have you known that there are many discounts for simple paperback editions?
The paperbacks have many other advantages, by the way. They are lightweight and you won't even feel that your everyday carrier bag is a little bit heavier if you take your book with you to read during the lunch break at work or at school!
A fashion addict? Find books on topics that appeal to you!
There are many discounted books so you can just hunt for your favourite ones at reduced prices. strike best bargains and save money! Then, if you spend less, you are more likely to come there next time! Classics, romance or fantasy titles are at your fingertips now, and if they are 20-25 per cent cheaper with deals and coupons, why not buying them now?
How about delivery - do they send for free?
You have three delivery options: free self-collection (convenient for only for the capital city dwellers) and paid Office or Night/Home Delivery. They can bring the books to your workplace between 8 a.m  and 12 noon (on weekdays) or to your home in the evening - 5pm - 8pm (weekdays and weekends).
Partner store HAKO at 313@Somerset, Orchard Road is a place for self-collecting the pre-paid purchases, but there's also an exciting option for people who live somewhere across the country. If you pay more than 60 SGD, you're given a free delivery voucher! Don't miss the deal and have your orders delivered to your doorstep absolutely free of charge! This rule applies only for in-stock or low-stock books (there are also re-stocked and pre-ordered items and the staff can place a special order on your behalf as well).
1. Picodi.sg is your trusted partner when it comes to different deals or discount offers. Visit us and look for the latest open trolley voucher code - actually, there are lots of them every time! We have also hot deals for particular book categories that are updated on a monthly basis.
2. Select the best deal for you and register at OpenTrolley.com
3. If you're already an user, just log in.
4. Admire their huge offer and pick some worthwhile titles. Buy books from the discounted categories - 25% price reductions are tempting, aren't they?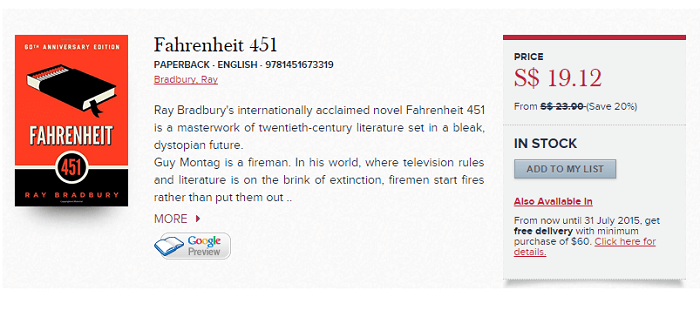 If you have no particular idea, maybe this month's staff picks will be helpful?
5. The coupon code concerns the free delivery voucher - avail it at the checkout!
6. Choose your delivery slot and then have your books sent to your doorstep. Don't forget to come here next month!
Book lovers will also like the OpenTrolley's Twitter profile. Subscribe their Facebook page and stay informed about the hottest promos and deals!
How about online shopping at Book Depository or Popular? We have prepared discount codes for you - get ready for best summer deals!
--------------------------------------------------------------------------------------------------------------------------------
Established since 2008, OpenTrolley Bookstore is Singapore's online destination for more than 2 million of book titles. You can save over 50 categories that include popular titles discounted up to 25% off. Find out your next favourite book at OpenTrolley and use OpenTrolley voucher codes to save on your order.