Converse – The Classic of Classics
Converse is a Nike-owned brand that we associate mainly with flat-footed, star-sided, toe-capped sneakers beloved by everyone from Rihanna to Kristen Stewart. Nonetheless, Converse is more than shoes. It offers fashionable eyewear, clothing and accessories that cater to men, women and children alike. Manufacturing its products under the One Star, Chuck Taylor All Star, and Jack Purcell trade names, the brand sells them through its stores and retailers. You can quickly get the classics at Zalora and Lazada online stores.
Converse origins
It all started in 1908 in Malden, Massachusetts when Marquis Mills Converse, a manager at a footwear manufacturing company set up his own rubber shoe company specialising in galoshes. Soon after, Converse decided to use the rubber to make sneakers. BINGO! Soon after, a consistent line of sports performance and sport-inspired footwear including canvas shoes for tennis, Chuck Taylor All Star basketball shoes and Jack Purcell® shoes were produced. Some of you may wonder how a company that initially intended to make their shoes to sink jump shots on the court became one of the most iconic sneaker brands all over the world. The answer is quite apparent. Those were the people who took to Converse sneakers so much that they started to do everything they loved wearing them. People played music, made art, skated the streets and worked with Converse. Those were the people who saw the potential in them!
The story goes on…
Over the years, the brand has been creating collections in Sports Performance, Sports Lifestyle and Sports Classics. A curious mixture of original ideas with new colours, materials, prints and other features enabled Converse to become a favourite worldwide. Everybody loved the updates of Converse Chuck Taylor All Star and the Converse Jack Purcell.
The Cons
Beloved by skateboarders, the Cons were promoted by such famous sports figures as Kenny Anderson, Anthony Pappalardo, Nick Trapasso, Sammy Baca, Ethan Fowler, Raymond Molinar, and Rune Glifberg. The Cons One Star Pro was created to preserve the iconic look of their prototype of the 90s, the time when street and skate came together.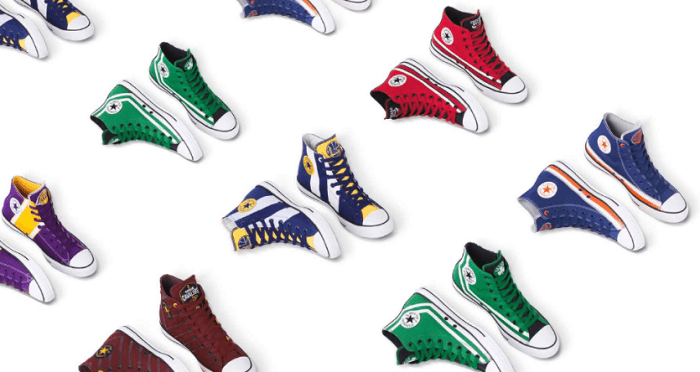 Converse and Andy Warhol
Andy Warhol, we can call him an icon too, once decided to photocopy his face. The eye-catching graphic turned out to be the inspiration for the line that is named Chuck Taylor All Star '70 Andy Warhol. Legend has it that the line was released to inspire the people to push boundaries with their creativity.
Converse and Kids
Some people believe that Converse sneakers look better and fit better when they are worn and dirty. Who do you think is good at making shoes dirty? Surprise, surprise – KIDS are! Let your kid's Converse get dirty. Remember that the unmistakable silhouette and vulcanised rubber sole will always remain intact! The converse is more than happy to see the next generation of athletes, artists, philosophers and dreamers wearing their shoes!
Where to buy?
To get 100% authentic classics it's highly recommendable to shop them at the authorised online and stationery retail stores such as Lazada and Zalora. To buy them at the most affordable prices, go to Picodi.com/sg, type one of the names listed above and enjoy the price-breaking Converse coupon codes and deals!
How to buy?
Go to Picodi.com/sg and type for example the phrase "Converse" in the search box.
Pick the most attractive promotion or deal and click on it.
Once you are redirected to the store's homepage, search for Converse shoes, clothing or accessories.
Add your desired products to the shopping cart and follow the steps listed by the shop to place your order.
Enjoy the best voucher codes on Converse shoes all over the Web!